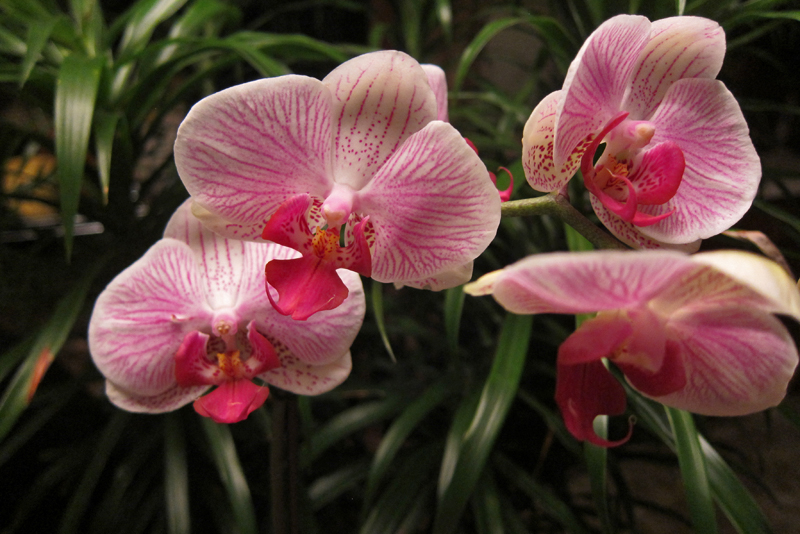 Try a couple of plants in S/H
Move some of your plants into a semi-hydroponic (S/H) growing environment. S/H culture requires less watering and provides more constant moisture for the plant. Most orchids can be grown this way with the notable exception of Tolumnias or equitant oncidiums. Try a couple of your plants to see if this is an option for you.

Spaghnum moss and S/H culture
If you are trying semi-hydroponic (S/H) culture and notice that the roots of your newly potted plants are dying at the point where they are entering the media, it may be due to dry conditions. Put some sphagnum moss on top of the media to keep the roots moist until they can establish in the new growing conditions.

Try a time release fertilizer
One truly useful tip is to use a time-release fertilizer such as Nutricote or Dynamite instead of using other fertilizers. These new fertilizers are used once or twice a year and provide your orchid with small doses of fertilizer each time you water. The more you water, the more fertilizer is distributed so that your orchids will get and use more during the warmer growing months and less when they have slowed down during cool months. It is truly a time saver.

Layer your orchids
Most orchid growers quickly run out of room to contain all their plants. One solution, either inside or in a greenhouse, is to layer your plants. High light plants can be grown closest to the light source with lower light varieties should be placed below them. Try to group types of plants that like the same humidity and temperature, such as Vandas and Phals, so that you can provide the growing conditions they need.

Be sure to let fresh air in your greenhouse
When possible during winter months, try to get some fresh air into your greenhouse or growing area. A stagnant environment will provide a breeding ground for mold and mildew spores which will attack your plants. Good air circulation will help, but if you don't vent out some of that air you are simply moving the problem all over your growing area. The best time to do this is on a sunny day when your greenhouse has warmed up from the sun and you expect the sun to stay out long enough to keep it warm. Allow a small amount of outside air in and out to replace the air in the enclosured environment.

You Should Also Read:
Orchid Gifts Under $50
Winter Orchid Growing Tips
Flowering size plants


Related Articles
Editor's Picks Articles
Top Ten Articles
Previous Features
Site Map





Content copyright © 2022 by Susan Taylor. All rights reserved.
This content was written by Susan Taylor. If you wish to use this content in any manner, you need written permission. Contact Anu Dharmani for details.