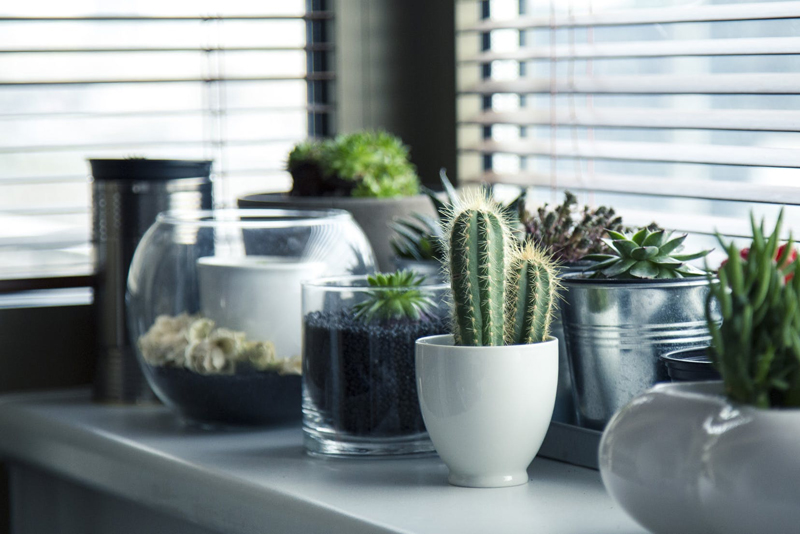 The novelty of carnivorous plants make them interesting and exciting to grow. Unfortunately, being interesting does not make them easy to care for. Carnivorous plants often need very specific conditions to thrive and it can be very difficult to provide the environment they require. Venus Fly Traps are among the most popular of all carnivorous plants and are the type people are most likely to grow.

Venus Fly Traps like very bright light and high humidity. This is why you usually see them sold in clear egg-shaped containers or mini-terrariums. Terrariums are actually one of the best places to keep Venus Fly Traps; what better way to keep humidity high?

Don't keep your terrarium where the midday sun will hit it, as temperatures will skyrocket inside. Temperatures should remain warm throughout their active growing season, spring through fall. In the winter, Venus Fly Traps go dormant and temperatures should be right around 50 degrees Fahrenheit. Place your terrarium where your plants will get a few hours of direct sun early or late in the day, but observe them to be sure the plants don't begin to wilt from over-heating.

Never use fertilizer with Venus Fly Traps. It is best to use rain water to irrigate and keep a few tiny crickets in the terrarium to feed the plants. If the crickets die before the plant gets them, just gently place them on one of the traps for the plant to use. You can also use insects you may find dead around your home, but only if you are sure that they died of natural causes. If the insect was poisoned, the poison may be passed on to your Fly Trap. Never feed your plant hamburger.

You'll want to replant your Venus Fly Traps every couple of years. Use a poor potting soil for them, such as a combination of peat, perlite, sand and sphagnum moss. Venus Fly Traps prefer acidic, nutrient poor-soil, so don't think that buying pricey, professional potting mix is better. Also, keep your plants trimmed up neatly by removing any dead leaves. This will help prevent disease from occurring.

Venus Fly Traps can be propagated from seed or from offshoots of its rhizome. Seeds must be planted right away or stored in a cool dry place until you use them. If you aren't interested in planting seeds, you may want to remove flowers when they begin to form. The production of flowers takes a lot of energy and if you remove them, all that energy can be used for growing bigger leaves.

Now that you are armed with this information, you will have greater success growing Venus Fly Traps. Carnivorous plants can be quite difficult to grow, but the Venus Fly Trap is probably the easiest one to try. You'll have lots of happy little plants in no time.



This site needs an editor - click to learn more!

You Should Also Read:
Phalaenopsis in Flower
Staghorn Ferns
Houseplants Newsletter




Related Articles
Editor's Picks Articles
Top Ten Articles
Previous Features
Site Map





Content copyright © 2022 by Lisa Beth Voldeck. All rights reserved.
This content was written by Lisa Beth Voldeck. If you wish to use this content in any manner, you need written permission. Contact BellaOnline Administration for details.