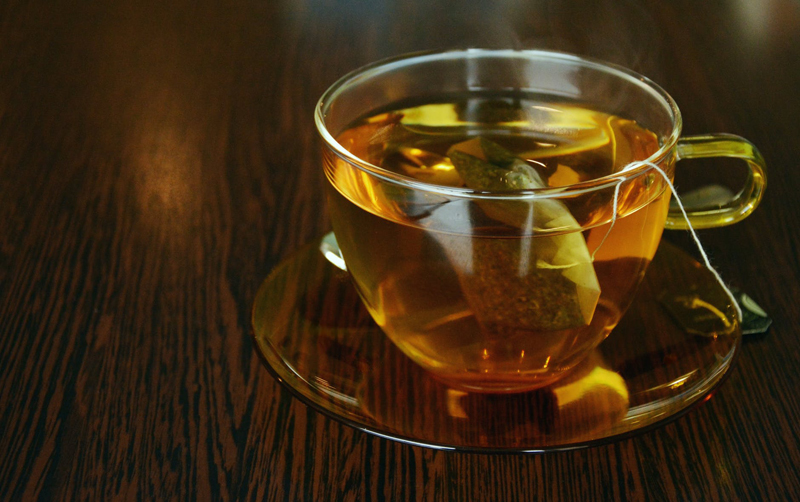 For Love and Tea

"Pass me your cup", she said. He slid the cup across the table while he intently stared at her. Slowly and with calm hands, she poured the piping hot cup of tea. "Here this will warm you" she said.

With a nod he raised the cup to his lips and slowly sipped. She smiled softly at him. He smiled back at her. His mind began to drift as he sipped from the special tea cup rimmed with gold. He smelled the incense burning in the distance, and his thoughts sent him back to a time when they were only ten and eleven. He would stare at her, peek around corners while she played jump rope and felt crushed when the boy down the block sent her a Valentine's Day card. She never knew he was madly in love with her!

He grew up and went on to college and forgot about his sweetheart in town. He was happy and took a job in the big city doing computer security. He lost track of her and went on to marry a wonderful cheerleader-type with long blonde hair. The relationship was very heated and for some reason they could not get along. He was extremely sad and they both amicably decided to divorce. She and he parted their ways and she took the dog. It was over and he knew that he had to move on.

He set up in a small studio apartment, but he could not sleep at night. He was unsettled and brokenhearted and knew for the first time in his life that he made not only one mistake but many mistakes. He knew that he had to change. He realized that he was full of himself. The man he had became had lost touch with the roots that inspired him to grow. He even lost sight of his relationship with his mother. He figured that this would be a great time to go home and visit his family and tell his mother about his divorce.

He remembered that it was Valentine's Day and his mom loved truffles and flowers, so he stopped at the small floral shop on Main St. in town. The snow was falling intensely, and the temperature began to drop. He was freezing, and right next door to the floral shop was a tea shop called For Love and Tea. He stood outside the window and could not believe his eyes! There she was! His heart pounded, and he was drawn in.

He was about to make the best decision of his life, he ordered a cup of tea……......

Happy Valentine's Day everyone!

*This is a work of fiction created by myself and any likenesses to any other story or tea shop name is purely coincidental!*



Related Articles
Editor's Picks Articles
Top Ten Articles
Previous Features
Site Map





Content copyright © 2022 by Mary Caliendo. All rights reserved.
This content was written by Mary Caliendo. If you wish to use this content in any manner, you need written permission. Contact Mary Caliendo for details.