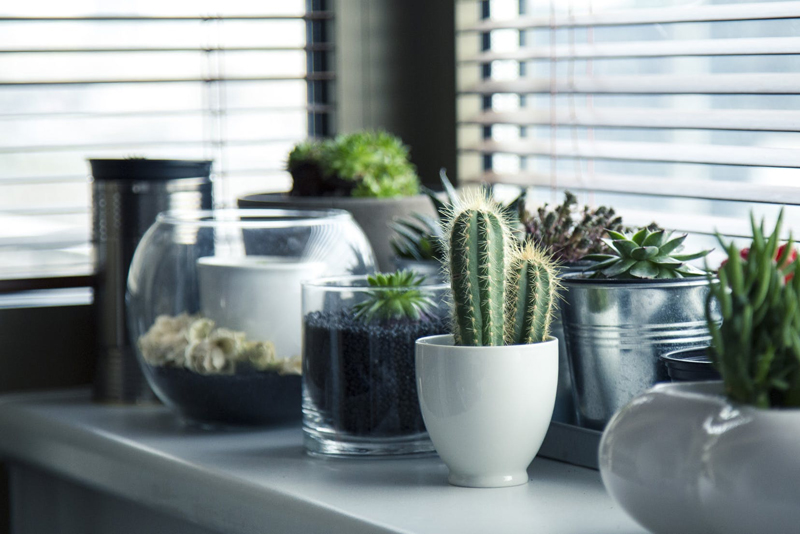 Vanilla planifolia
, or just Vanilla, if you prefer, isn't just a source of one of the best flavors there is: it is a beautiful tropical vine that can be a lot of fun to grow as a houseplant. Other common names of V. planifolia include Tahitian Vanilla, West Indian Vanilla and simply, Flat-leaved Vanilla. The Vanilla Vine is a member of the Orchid plant family and like many orchids has attractive flowers and aerial roots.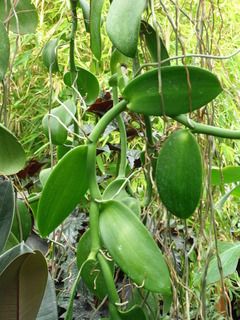 In its native environment in the Caribbean and Central America, Vanilla grows under the protection of taller, leafier plants. This is what makes Vanilla suitable for growing indoors. Low light levels are tolerated well, especially if you aren't worried about flowering. Vanilla's flowers are gorgeous green Cattleya-like blooms, but do not occur often indoors. Ideally you should provide your Vanilla Vine with dappled sunlight throughout the day, just as it would receive in the wild.
Exercise a bit of care when watering your Vanilla; never let it sit in water and try to let it dry out somewhat in between waterings. You don't really want to let the potting mix become dry all the way through. If you begin to see some of the older leaves getting a little wrinkly and its been a while since you have watered, get out that watering can right away.
Vannilla vines have unusual-looking aerial roots that love to be misted regularly. In fact, Vanilla loves high humidity and if you can do anything to increase the humidity for your plant it will pay you back with lush, green, healthy growth…and maybe even a flower or two. Other methods for increasing humidity, besides using a humidifier, include using a pebble tray and grouping your vine with other plants.
Those neat aerial roots have another purpose besides soaking up moisture from the air: they are also used to grip surfaces so that the plant can grow upwards. You can provide a trellis or tie the vine to a pole. Train the vine to grow however you like, but don't plan on moving it once it's established. Vanilla Vine can grow to incredible lengths; if you provide it with everything it needs, be prepared to have to cut it back at some point.
Vanilla is propagated from cuttings. If you find that your plant has become too large and you need to cut it back, it would be a great time to give propagation a try. Cuttings can be rooted in water with a little rooting hormone added. Another method of rooting Vanilla cuttings is letting the cutting rest for a week then placing it in moist propagating potting mix.
The keys for Vanilla Vine are low light to dappled sunshine, high humidity and consistent watering. If you can provide these things then you should have success growing the Vanilla plant. Flowers don't typically appear until the vine is quite long and mature, so be patient if flowers are your goal. Provide the key elements and, with time, you might get your reward.
This site needs an editor - click to learn more!

You Should Also Read:
Phalaenopsis in Flower
Phalaenopsis Leaves
Houseplants Newsletter




Related Articles
Editor's Picks Articles
Top Ten Articles
Previous Features
Site Map





Content copyright © 2022 by Lisa Beth Voldeck. All rights reserved.
This content was written by Lisa Beth Voldeck. If you wish to use this content in any manner, you need written permission. Contact BellaOnline Administration for details.