CD Review - The LoveCrave - Soul Saliva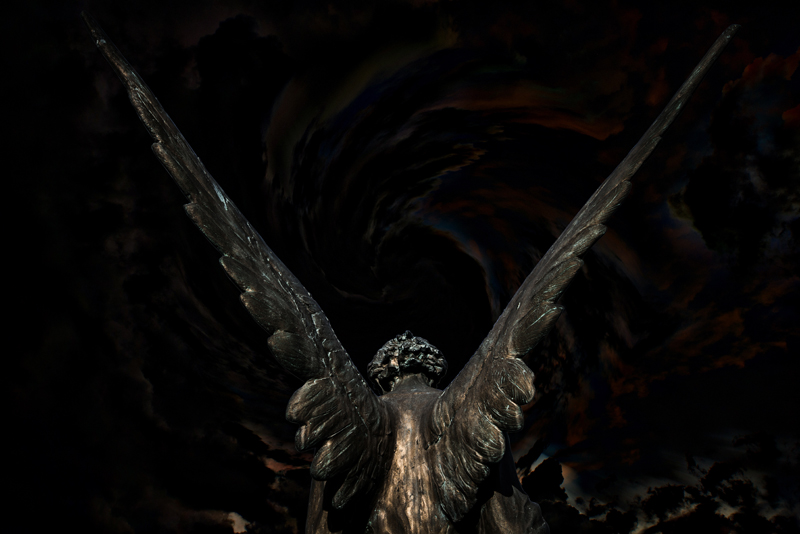 There's nothing better than having something you really like surpass your expectations. The LoveCrave, from Italy, burst onto the scene with their 2006 debut
The Angel and the Rain
and instantly won me over with their infectious songs. The material was solid, memorable and delivered with a dramatic flair that really draws you in. They're back with a new record called
Soul Saliva
but more on that in a minute.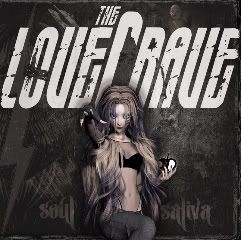 The LoveCrave's style could be easily described as goth but they are much more than that. They are essentially a hard rock band with a smattering of electro (more strings settings than straight synths but somehow the effect is the same) and darkwave trappings that framework the songs perfectly. Front and centre, however, are the two main components of the band; the captivating vocals of Francesca Chiara and the perfectly constructed songs written by Chiara and guitarist Tank Palamara.
Chiara was an established singer in her native Italy before teaming up with Palamara to form the band. Her voice ranges from fragile and vulnerable to a sultry, almost-whisper and then she can instantly summon up an über sexy and riveting vixen delivery that is not quite commanding but instantly attention-getting. And as far as the songs go, the best compliment you can give to a song is if you strip it down to its most basic elements and it still works, then it's a great song. A few years ago, the band (which also includes drummer Bob (the Machine) Parolin and bassist Simon Dredo) took one of their songs from the debut, "Little Suicide", and stripped it down to just acoustic guitar and vocals and it's spectacular.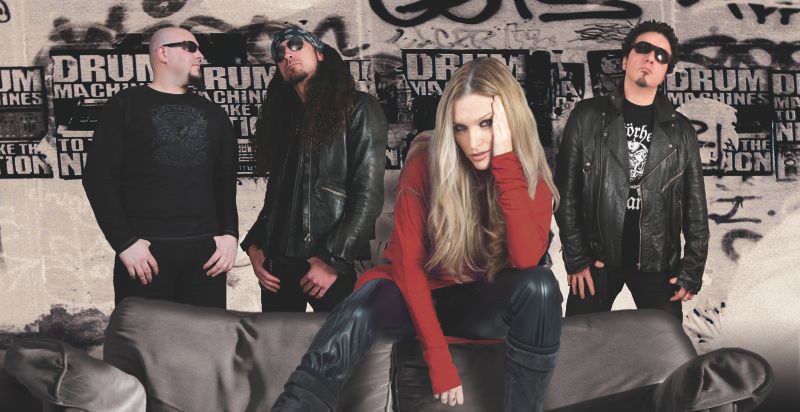 Which brings us to the new record. It's been a long wait (four years --- well it was four years ago that the debut was released but immediately I was looking for the next one) but the record was well worth the wait.
Soul Saliva
is an absolute monster. I was wishing and hoping for something of this quality but was stunned when I first heard the CD. The band sounds great, obviously, but way more confident in their abilities. The material is even better as the band has clearly sharpened their knack for hooks --- there are several songs that rival "Vampires" (from their debut) as standouts.
Soul Saliva
starts off with "The Other You". Francesca gives a brief spoken word intro before the rollercoaster ride starts. This song has several layers to it, starting off with a more demure beginning before rolling into a hard-hitting chorus and yes, Fran….we hear you. Majestic and powerful, this is an excellent lead-off track.
The energy level goes up 100% for "And Scream" and you can just imagine this in a live setting in front of a large crowd. "Warriors" is one of those fist-pumping anthems that makes you want to move. I did just that at my desk while listening to this before looking around embarrassed to see if anybody was watching. If this record was a football team, "Warriors" would be the quarterback. I can't stop playing this song.
One of the biggest surprises of the record for me was the next song "Fade". This is the Bic lighter moment and it's a positively gorgeous melody with a deadly hook. All the elements fall into place perfectly like the cherries lining up on a slot machine. From the higher-mixed bass to the stately string arrangements and even the subtle simple muted guitar notes that pirouette along during the verses, everything comes together into one of the most beautiful aural bouquet of flowers you've ever heard. Francesca sounds awesome and the bridge is just killer.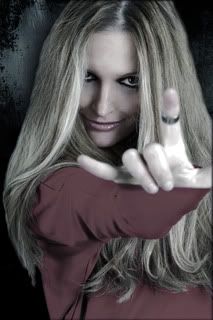 The third in a potent combo of three winners in a row is "Get Outta Here". Pumped up, with more of a guitar-heavy attack, this song is like drinking a couple of shots of pure adrenaline. Francesca is at her best here and the chorus is another of those strong hooks that have you going back for more. The chorus is like Vikings absolutely pillaging a helpless village. Another song I can't stop playing.
When I first heard that they were doing a cover of Michael Jackson's "Thriller", I cringed. Usually these kind of things don't end well. I was proven wrong when I heard it as the band gives their own unique spin on this song and it fits perfectly into the LoveCrave stable.
"Your Fire" starts off with an acoustic intro before surprisingly kicking into a high-energy second verse and you're instantly cranking your head. All until Francesca mentions something about ripping off all her clothes…..and I forget what I was talking about. (coughs)
Another surprise presented itself when I heard the next cut, "Leon's Lullaby". This, as you expect from the title, is a ballad that has sparse accompaniment with piano/violin and bolstered quite expertly with some judicial use of keyboards. This goes back to what I said about a band that can pull things off with songs stripped right down. These guys don't need to mask their songwriting behind a wall of sound. A massively gorgeous song.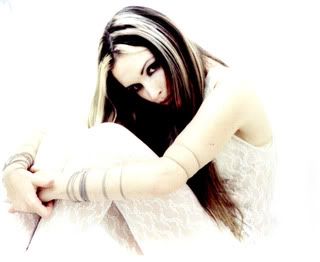 "Tru Blood" is a full-steam ahead rocker that would be great in the live set. The record ends off with the ambitious "Outsider". This is a moody cut that builds slowly "Kashmir"-like (that's Zeppelin, kids) with a wonderful string section that acts as the vertebrae, keeping everything in place. And just when I was wishing for a bit more guitar, Tank gets to stretch out a bit with a tasty solo.
In the interest of being impartial, if I had one complaint, it should actually be viewed as a good one. After waiting all this time, I would love to have more than 10 songs to listen to. But I guess, as a relatively new band, budgets always play a role in these decisions and the band did what they could.
The Angel and the Rain
featured artwork by the talented Francesca of a mascot of sorts. Named Rain, the avatar was given life on the website and the 3d character proved to be very popular. Rain is back on the cover for
Soul Saliva
and looking as provocative as ever.
The record will be released on May 12 in Europe on Germany's Repo Records. There is no news at the moment on a North American release.
I don't rate records on this site but if I did, The LoveCrave's
Soul Saliva
would easily get a "10 out of 10".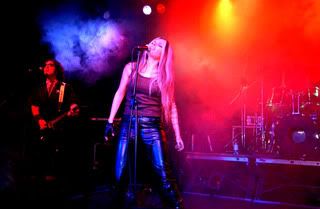 * Editor's note: In the interest of full disclosure, I received this CD free of charge from the record company.
You Should Also Read:
The LoveCrave MySpace
My review of the debut CD


Related Articles
Editor's Picks Articles
Top Ten Articles
Previous Features
Site Map





Content copyright © 2019 by Morley Seaver. All rights reserved.
This content was written by Morley Seaver. If you wish to use this content in any manner, you need written permission. Contact Morley Seaver for details.