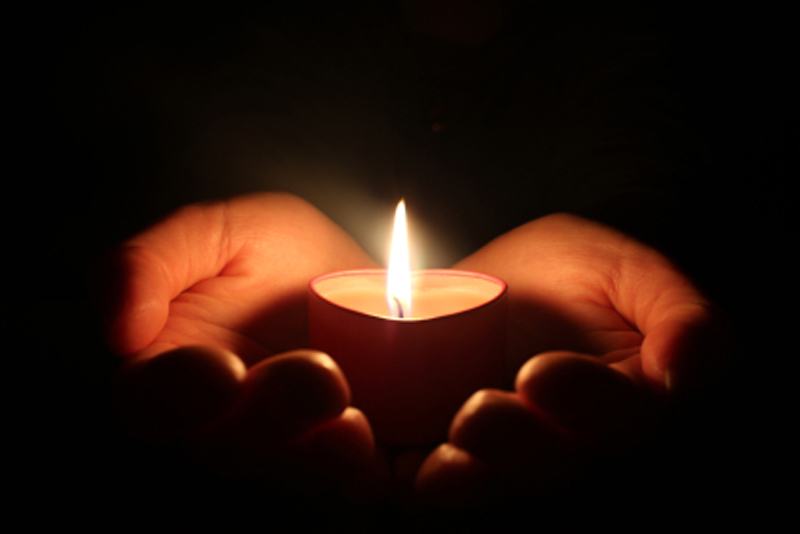 The land is becoming white with the first snowfall of the season. The Fool is still bearing the countenance of Serenity, his inner Strength. He/she chases his little dog Wisdom through the drifting flakes, laughing at her crazy canine antics.

They have been walking for many days, the Fool being irresistibly drawn toward the mountain that is now towering above them. High above, they can see a dim light flickering, and instinctively the Fool knows that this is what he is seeking.

There is a path barely visible through the snow, which is now starting to accumulate on the ground. They climb steadily upward following the winding spiral pathway. The woman/Fool is still wearing a summer dress and sandals, but she does not feel the cold. She is a spirit of nature and thus in complete harmony with the elements.

As they near the top, the light shines brighter until they can make out a figure at the mouth of a cave. It is the Hermit, and he is holding his lantern high above his head. And, the Fool, as is his way, joins in oneness with the Hermit.

The Fool is now looking out into the darkness, high above the plains far below him. He is dressed in a gray cloak which renders him virtually invisible in the darkness. There is a six pointed star inside of his lantern which denotes the seal of Solomon, a symbol of innate wisdom. The staff he holds denotes his position of elder and patriarch of his people, as does his long white beard.

The mountain which he lives upon symbolizes his climb to spiritual wisdom. He has been though many trials and tribulations which have brought him to a higher spiritual understanding.

The Fool understands that true wisdom comes from within and does not have to shared or defined in order for it to shine. He is aware of his own truth and purpose and does not need validation from anyone or anything else. He is a true leader, but will only shine his light for those who understand and are willing to follow. He feels perfectly content and in harmony with self whether he is by himself or with a crowd of people.

The Fool/Hermit stands as a beacon in the darkness for many hours, a light for the wanderers seeking shelter from the storm. As the morning breaks, the Fool settles back into the cave as a small group of spiritual seekers drift into the cave along with the newly fallen snow.

They sit in meditation and contemplation as the day again turns to darkness. Picking up his lantern, he calls softly to his small dog Wisdom. Her once white fur has now turned to a beautiful shade of silver. She too has learned many lessons as the protector/companion of her master.

If the Hermit stands silently in your layout, he is telling you to pay attention to your inner wisdom. Don't be too hasty to share your knowledge. Listen, and gain insights based on your own experience and inner guidance. Be a beacon in the storm for those in need without any expectation of reward or recognition. Sometimes silence is the best solution.





Related Articles
Editor's Picks Articles
Top Ten Articles
Previous Features
Site Map





Content copyright © 2022 by Linda J. Paul. All rights reserved.
This content was written by Linda J. Paul. If you wish to use this content in any manner, you need written permission. Contact Linda J. Paul for details.