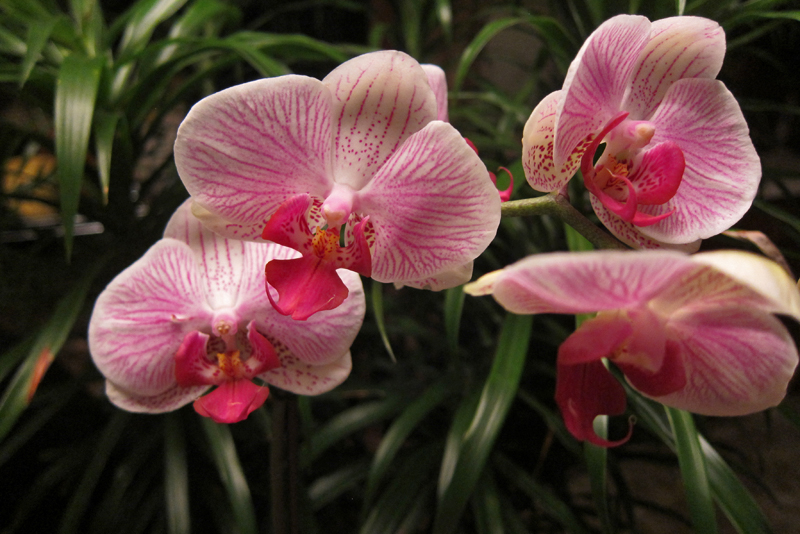 The orchid flower is the main predicator of whether a plant is an orchid or not. The flower must have three
petals
and three
sepals
, with the third petal or
labellum
modified and differentiated from the other two. Here's a good
diagram
of a flower showing all the above. In most cases the flower is zygomorphic or the same on both sides of the flower as in a mirror image and perfectly symmetrical. Notice in the diagram that if you cut the flower in half vertically that both sides will be the same.
The main test as to whether a flower is an orchid is the fusion of the male and female parts in a structure called a column with a complete separation so that in most species it is almost impossible for the flower to self-pollinate naturally. There are a few types of orchids which self pollinate, but that is the exception rather than the rule.
The pollen is held in sacks called pollinia and different species have different numbers of pollinia. The flower is structured so that when a pollinator enters the flower the pollonia touch the head or the abdomen (in the case of wasps and bees) and when it backs out the pollonia are removed from the flower and stick to the insect. When the pollinator enters another flower of the same species, the pollonia are brushed off and attached to the stigma of the second flower, thus the process has reached it conclusion. The pollen moves down to the ovary to complete the fertilization process.
Different species of orchids are adapted to entice their pollinators, in many instances the lip or a modified variety of the common lip, provides a landing place for smaller pollinators such as bees or wasps to land. Patterns on the flowers, especially on the lips, provide visual indicators to the source of the nectar which many pollinators seek.
In the genus Paphiopedilum, the lip has developed into a slipper shaped form, thus the name of "Slipper Orchid." In Masdevallias, the sepals are fused to form the signature triangular flowers. Many other interesting and weird flowers have developed in the orchid family which are one thing that makes them so interesting and diverse. Orchids pollinated by moths, such as the famous
Ghost Orchid
, are white so they will show up in the dark and often have a long a strong odor. They also usually contain nectar which the moths seek when finding the flowers.
You Should Also Read:
Orchid Pollinators
Orchid Diversity
Orchid Distribution


Related Articles
Editor's Picks Articles
Top Ten Articles
Previous Features
Site Map





Content copyright © 2018 by Susan Taylor. All rights reserved.
This content was written by Susan Taylor. If you wish to use this content in any manner, you need written permission. Contact Anu Dharmani for details.