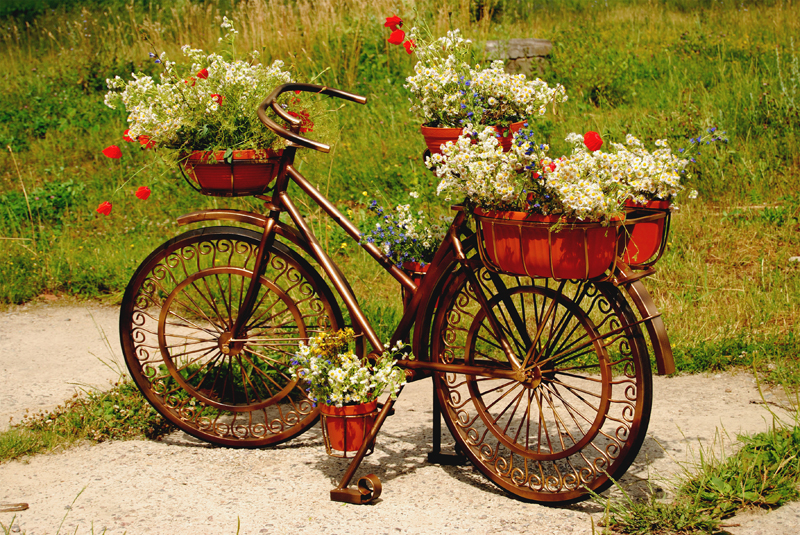 There are as many different types of containers as there are plants in the world, especially if you're the creative type like me! Pretty much anything that can hold a handful of dirt has the potential to house a plant. I've run down some of the advantages and disadvantages of different types of containers for you.

Terra Cotta

Terra cotta pots are made of clay and take their color from the iron oxide found naturally in the clay. Terra cotta pots are relatively inexpensive, available in a wide variety of shapes and sizes and usually come with holes in the bottom for water drainage. The disadvantage to terra cotta is that they are breakable and tend to become more brittle as they age. Terra cotta is very heavy and it's a porous material. Plants in terra cotta containers will need to be watered more frequently, especially if you live a region that gets super hot during the summer, like I do.

Wood

Wood containers are a natural and beautiful addition to any container garden but over time wood will become water logged. The wood will soak up and hold the water its exposed to. Because of this, wood containers will increase in weight as they age, can discolor, develop mold and will eventually rot. Insects are also drawn to wood containers. Although most will not harm your plants, they speed up the decay process.

Coconut liner

I love the look of coconut liners in metal frame hanging baskets. These baskets tend to be relatively inexpensive and come in a variety of sizes and shapes. Unfortunately, the soil in a coconut liner will dry out very quickly, especially if it's hanging in a location that gets a constant breeze. Coconut liner can turn an ugly gray color and become frayed and raggedy looking over time. Because of this, I avoid planting perennials in anything with a coconut liner. Instead, I plant annuals in these baskets. Annuals need less water than perennials and because the flowers are going to die off at the end of the season anyway, it gives me an opportunity to throw away a coconut liner that looks bad.

Ceramic

Ceramic containers can be glazed or unglazed. Glazed ceramic containers will have a high sheen to them. Ceramic containers will vary in size, shape and price. Unglazed ceramic containers have the same disadvantage as terra cotta, they are porous and will lose water more quickly than glazed containers. Both glazed and unglazed ceramics are breakable. An unglazed ceramic pot may chip or crack, but still be usable. In my experience, glazed ceramics simply fall apart when damaged.

Plastic

Plastic containers are somewhat flexible, thin containers. They are inexpensive, come in a wide variety of shapes and sizes and most come with drainage holes. Plastic holds water very well and is lightweight. In years past, plastics had a tendency to become brittle and break when exposed to cold temperatures, but most plastics these days have a different composition and will outlast most of us. In recent years, high density polyethylene (HDPE) has become a popular material for containers. HDPE containers tend to be more decorative than traditional plastics, are extremely light weight and are inexpensive compared to fiberglass or resin. As an added bonus, most HDPE containers are made from recycled materials.

Resin and fiberglass

Resin and fiberglass containers are stiffer than traditional plastics. They are very lightweight and quite decorative, having the shape and look of ancient urns. Unfortunately, they can be quite expensive. Resin and fiberglass containers hold water very well and can last for decades.

Drainage holes in containers are important. These holes allow plants to shed off unneeded water and can create a surplus of water for future use. Holes can be drilled into some of these materials quite easily; others not so much. I'll share my experience with you on drilling holes in containers in future articles.

................................................................................

CASUAL VISITOR … and just browsing? Why not sign up to the Container Garden newsletter? It won't matter what space or how many pots you have or even how much time you have to spend in your container garden; what will matter is that you get our reminders and good advice and ideas all in one interesting article.




Related Articles
Editor's Picks Articles
Top Ten Articles
Previous Features
Site Map





Content copyright © 2023 by Kay Boeger. All rights reserved.
This content was written by Kay Boeger. If you wish to use this content in any manner, you need written permission. Contact Lestie Mulholland for details.