Nobile Dendrobium Hybrids - Orchid Profile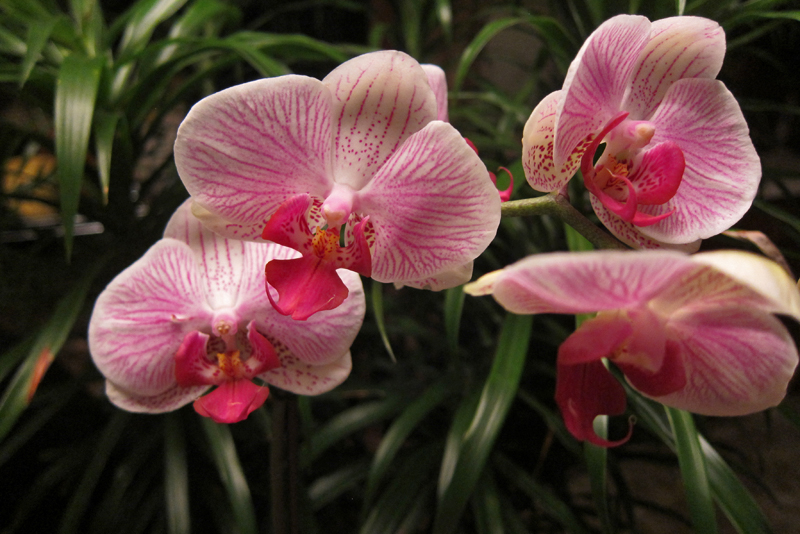 Nobile Dendrobiums are a section of the Dendrobium family which produce flowers which are especially attractive for hobbyists. The defining visual factor is the "eye" in the center of the flower which contrasts with the outer color of the blossom. My favorite is the one with a dark eye, generally a dark maroon color, with a yellow or pink outer ring which provides a wonderful contrast. The flowers are produced on short inflorescences near the stem or cane of the plant so that the whole plant appears to be covered with flowers.
The cultural requirements for these Dendrobiums are different than the Phalaenopsis types. In early spring when new growth is evident, increase watering and fertilizing and reduce the amount of light. During this period they grow well with Phalaenopsis conditions. Then in the fall stop fertilizing completely, increase the amount of light, and reduce watering. They need a drop in temperature during the nighttime hours to initiate flowering, so indoor growers should attempt to put the plants outside at night until freezing temperatures appear. A cooler room near a window after that should be sufficient. Normal flowering is during January and February in the northern hemisphere.
It is extremely important to follow this schedule with Nobiles, or you will get lots of growth but no flowers. Some growers recommend almost completely reducing watering during the fall months to the point that the canes start to dry up before watering again. Since the plants are semi-deciduous this will cause the leaves to drop so I don't recommend that. For both attractive leaves
and
flowers, just cut back to about half of what you normally water.
These plants, as most Dendrobiums, like to be pot bound so should be grown in the smallest pot possible. They seem to do well in clay pots and these provide a good base for the plants which can grow fairly tall, about 2 feet or 60 centimeters, for standard size plants. Some can get bigger. Supports to train the canes as they grow are useful in order to keep the plants a pleasing shape. Some Nobiles are sensitive to minerals in water, so try to use filtered water or rainwater.
Repotting should be done after flowering and done every two years for best flowering. Nobiles are well known for producing keikis (baby plantlets) and these can be cut from the mother plant when the roots are about 2 inches, or 5 centimeters long.
Here's a good selection of pictures from
Orchids by Hauserman
.
You Should Also Read:
Repotting Your Orchids - Dendrobiums
Dendrobium-The Spray Orchid
Falling leaves - Dendrobiums


Related Articles
Editor's Picks Articles
Top Ten Articles
Previous Features
Site Map





Content copyright © 2022 by Susan Taylor. All rights reserved.
This content was written by Susan Taylor. If you wish to use this content in any manner, you need written permission. Contact Anu Dharmani for details.