Shifting Your Orchid Outside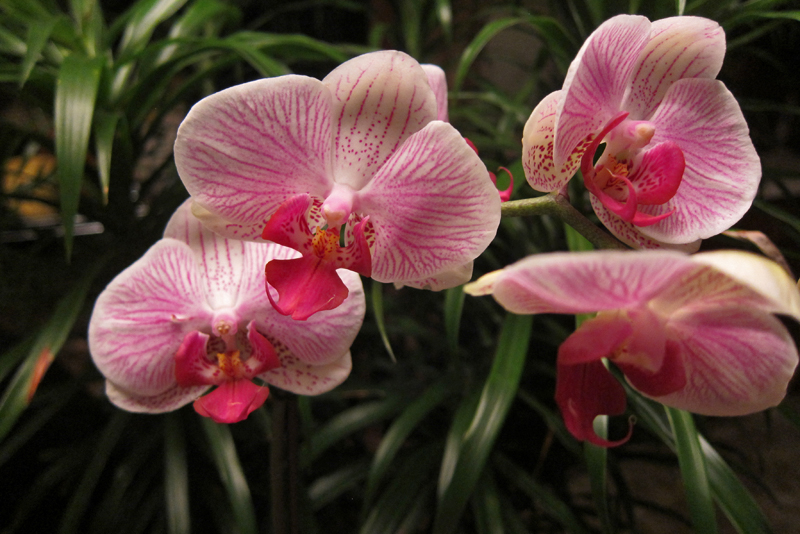 With the rise in outside temperatures, you can start thinking about moving your orchids outside. Though orchids are quite adaptable, still they too require time and care to acclimatize. Adapting to new environment is called acclimatization. When growing inside, orchids adapted to the environment prevailing inside. That means the orchids are now growing under controlled but favourable conditions. So, when you shift them outside you need to be careful about a number of things.

• You need to keep a closer eye on the weather, the outside conditions are more unpredictable.
• Another important point to be noted is that orchids growing outside are more prone to insects and pests attacks.
• The basic needs of air, water, sunlight and temperature needs constant monitoring.

Why
• Shifting orchids outside once the weather turns favourable is good for growth.
• Plants will be exposed to pollinators.
• You do not need equipment like humidifiers, misting systems etc.

How
• Move the orchids according to their temperature requirements. Depending upon the prevailing temperatures outside and the temperature preferences of the orchids. For example, temperate orchids (orchids that tolerate low temperatures) can be moved outside earlier, when the outside air has some chill. While the warmth loving orchids should be moved outside only when temperatures reach the acceptable level (to the orchids).
• Acclimatizing to the outside temperature in stages. Because inside there is more protection from outside elements.
• Keeping the orchids under some protective in the beginning, like under a tree or overhead shade, can go a long way in helping the plants to survive. Keep the orchids in a place where the sunlight is reflected rather than falling directly on the orchids.
• If it does not rain much and is more dry than wet in your area, then try to retain the moisture in the orchid containers for a little while longer, this is because the plants may find it difficult to adjust to the dry atmosphere of the outside in the beginning. This can be done by layering the potting mix with moss on the top. It will not only help in retaining the moisture but also protect the roots from sudden dip in the temperatures. Humidity around the orchids can also be increased by placing a water-filled container under the plant or in near vicinity. Avoid crowding of orchids because it is like an open invitation to pests.
• Orchids will be requiring more frequent watering outside. Water according to need rather than a fixed schedule, as some orchids use up water faster than others.
• Orchids will also need protection, if strong winds are a common occurrence.

Sources
1. Gogoi, Kiran, Kumaria Suman and Tandon, Pramod. 2012. Ex-situ conservation of Cymbidium eburneum Lindl.: a threatened and vulnerable orchid, by asymbiotic seed germination. 3 Biotech. 2: 337 – 343.



Subscribe to the Orchids Newsletter for update on new articles on orchids. Subscribers to the newsletters need not fear that their emails will be disclosed to third parties. As it is the policy of Bellonline.com of not disclosing the emails to anyone, this includes even the editors on the site.

You Should Also Read:
Pest Control in Orchids
Growing Orchids as Houseplants
Growing Orchids in Summer


Related Articles
Editor's Picks Articles
Top Ten Articles
Previous Features
Site Map





Content copyright © 2023 by Anu Dharmani. All rights reserved.
This content was written by Anu Dharmani. If you wish to use this content in any manner, you need written permission. Contact Anu Dharmani for details.