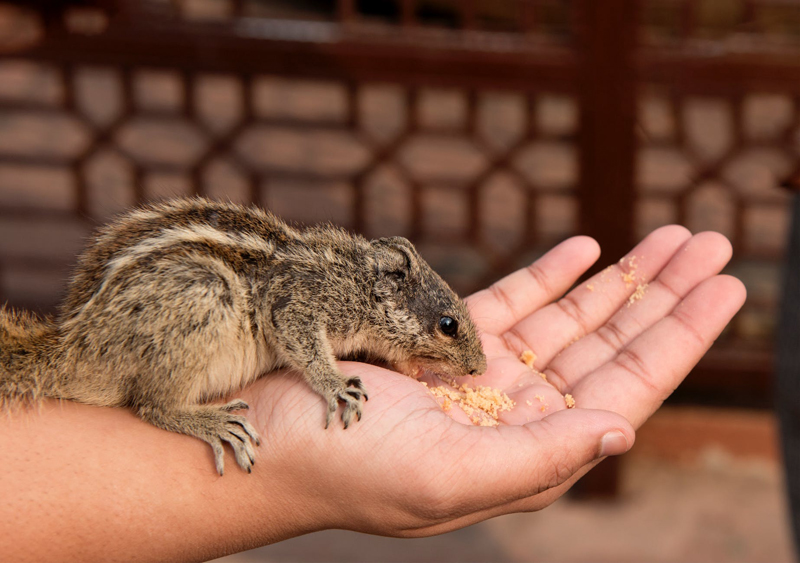 No matter how cute your pets looks, all dressed up in costume for Halloween, please don't forget pet safety! Even pet costumes can be dangerous.
One very important thing to consider is safety. Many dangers, even hidden dangers, come along with the territory of Halloween and Halloween costumes. Strings that strangulate or materials that are flammable, poisonous substances, cool glittery things that could cause an animal to choke or a material that could be toxic. Noises that could scare your pet into flight, and I do mean both definitions of the word flight. Children and adults, people that your pets would normally recognize will look and possibly smell entirely different.
One fatal disaster I witnessed on a Halloween night many years ago. It happened to a ferret and a young girl. The young girl had put her treat bag on the counter top when she entered the house. A short while later, without her parent's knowledge, she grabbed her treat bag and sat in a chair. She wanted to see what goodies she had in the bag. She dropped the bag on the floor next to the chair. She had been tired, wasn't thinking, and went off to bed. She found her ferret dead the next morning. The ferret had choked on a hard-round piece of candy.
I would think twice about inviting your pets to Halloween parties. Any holiday party is a prime time for disaster to strike. Really think twice before inviting your pet to a party.
A friend of mine dressed as a pirate and had his macaw on his shoulder. He had even rehearsed the bird to say several cute pirate phrases. Thankfully, this didn't end in disaster, though it could have. Between the vapors from the dry ice in the punch, strange noises from the stereo, strangely dressed people he didn't recognize at all, the bird, even though his feathers had been clipped, glided down to the floor and was fearfully running between everyone's feet. My friend yelled out for everyone to stop moving. Thankfully, they listened; the macaw's owner held his arm out for the macaw to perch. He hurried his bird to his cage for the rest of the night.
Be ever so watchful during Halloween and other holidays. Since there is nearly an infinite number of different exotic pets it makes it impossible to describe every possible scenario of dangers lurking. Remember the old saying the more people watching our kids, the more likely they aren't being watched at all! Everyone presumes someone else is doing the watching!
Related topics:
Halloween Costumes for Pets
How to Care for the pet ferret
ferret supplies
Ferret Clothing
Amazon has a 24-hour cookie. So, if you follow my link today, and then decide to think about the purchase the link will expire in 24 hours. By all means think about your purchase but please go back through my link so that I get credit.
My Exotic Pet Shop - opens a world of products safe for your pets from A-Z including product and book reviews
Keep your pets from underfoot especially during parties and get to-gethers.
If you have a comment about this article, if you have a question, or just want to say hello and get to know other pet owners, stop by the Exotic Pets BellaOnline Forum!
Comment Here
Follow Exotic Pets BellaOnline on Twitter
Scroll
down a wee bit and subscribed to the Exotic Pets Newsletter; it's free, secure, and confidential!
If you have enjoyed my exotic pet articles I know you will enjoy my brand new EBook. Ferrets: A Complete Guide is an EBook
for novice ferret owners, experienced ferret owners, and people that are considering a ferret for the first time. Great as a reference guide or a standalone care book for ferrets.
Ferrets: A Complete Guide
Easy download, instant access, and inexpensive for one of the best books available on ferrets!
This is also a way to help support Exotic Pets BellaOnline. We donate our time and BellaOnline is a non-profit site, all revenue except for expenses (servers and whatnot - no salaries period!) is donated to charity. Paypal and credit cards! Only
$3.99,
big savings when books don't have to be printed, also saves our natural resources!
This site needs an editor - click to learn more!

You Should Also Read:
Exotic Pet Site Map
Ferrets: A Complete Guide EBook $2.50
Exotic Pet Shopping (the safest for your pets)




Related Articles
Editor's Picks Articles
Top Ten Articles
Previous Features
Site Map





Content copyright © 2022 by Diana Geiger. All rights reserved.
This content was written by Diana Geiger. If you wish to use this content in any manner, you need written permission. Contact BellaOnline Administration for details.