Candy Striped Phalaenopsis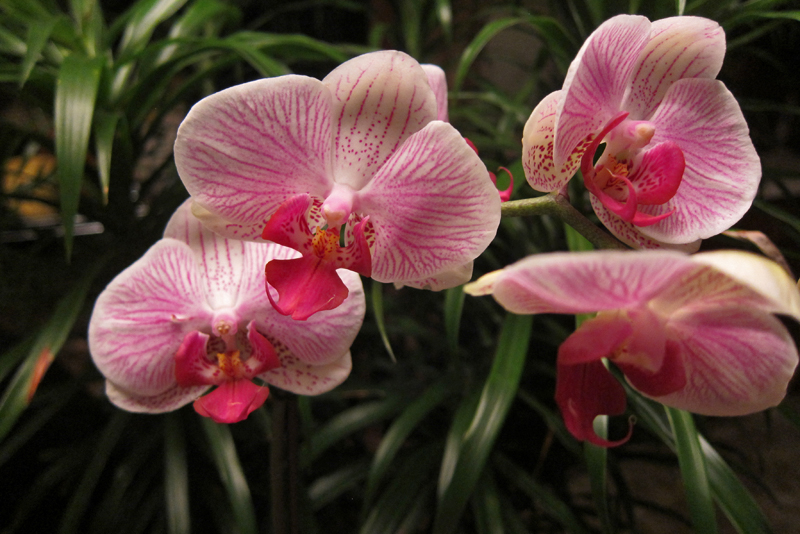 One of the most exciting upgrades in Phalaenopsis breeding has been the introduction of
candy striped
flowers named for their lighter backgrounds with darker stripes. The first ones were white with pink to purple stripes. Then pink background with darker stripes, sometimes with spots in the middle of the flower appeared. A real breakthrough appeared with
Phal. Balden's Kaleidoscope
which has a yellow to golden background with bright orange/red stripes. This particular cross is a vigorous grower and many varieties will produce multiple spikes with side spikes. A well grown mature plant is spectacular.
These Phals are grown the same way as the regular Phals and require cool fall evenings to induce the spikes. Temperatures between 50 and 60 degrees Fahrenheit, or 10 to 15 degrees Centigrade, will encourage spiking and once the spike is about 2 inches, or 5 centimeters in height, the plant can be returned to regular conditions.
For best presentation of the flowers, Phals should be grown facing one direction to the light. Put a marker on the side of the pot to show which side should be facing the main source of light so that if you move the pot for watering or checking for insects you can correctly place it back. Start staking the inflorescence when it is about inches, or 10 centimeters, high giving yourself enough height on the stake for that particular plant. Attach at about 2 inch, or 5 centimeter intervals. Then when the buds start to appear, allow the spike to turn toward the light and bend slightly so you will have the nice arching spray of flowers that make such a great show.
Once your plants have started to produce buds, you must guard against bud blast. This is the sudden drying up of the buds all at one time after they have formed. Bud blast is most commonly caused by low humidity or air pollution. In the home environment, put your Phals on a humidity tray and make sure that they are away from any source of gases. Even ripening fruit close to the plant will affect the buds. Gas from ovens should also be avoided and cigarette smoke can cause problems.
When purchasing a new plant, be sure to get a healthy one. If you are purchasing from a non-orchid nursery, only buy the plant if there is already a flower open so you can see exactly what you are getting. Look for a plant with healthy leaves and roots so that you will be able to enjoy it for years to come.
You Should Also Read:
Phalaenopsis--Pick a good one
Reflowering Your Phalaenopsis
After Your Phal Flowers


Related Articles
Editor's Picks Articles
Top Ten Articles
Previous Features
Site Map





Content copyright © 2018 by Susan Taylor. All rights reserved.
This content was written by Susan Taylor. If you wish to use this content in any manner, you need written permission. Contact Anu Dharmani for details.