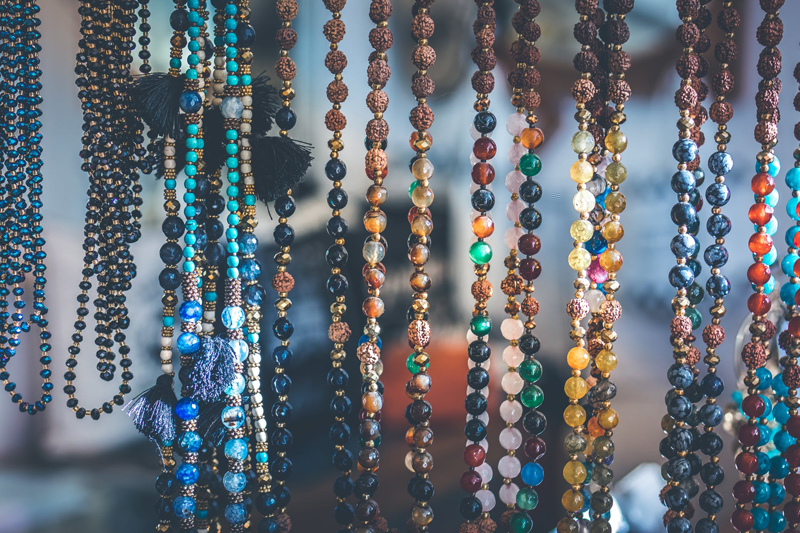 A lot of people would like to start making metal stamped jewelry, but don't really know where to start. This is a list of the tools and supplies you'll need to get started, and a basic overview of how to design simple washer necklaces.
You can get the basic supplies from
Rings and Things
, I've always been very happy with the service I've gotten from them.
You'll need:
Stamps
of course. Stamps for metal are made of tempered steel. If you're just starting, I suggest just one set of alphabet or an alpha-numeric set to start and see if you'll like it. For the washer necklaces shown, I used 1/4 inch letter stamps. Anything 1/4 inch or under will work on these washers.
Bench block
or something similar- for years I used a railroad bearing that was a nice heavy big cylinder. Now I use a mini bench block. It's big enough for these projects. Label one side of it to use with steel hammers and stamps. The other side will be for using rubber or leather mallets to flatten pieces and work harden them. You'll probably use this for wire work as well.
Hammers
- when you're just starting, you can use your household hammer for the stamps and buy a jeweler's chasing hammer to add texture.
Liver of Sulfur
or other oxidizing agent. I use liver of sulfur. This will darken silver or copper, then you take off the oxidation on the surface leaving the recesses dark. It makes your letters and texturing very visible.
Steel wool
- the fine kind, 0000 or 000.
Also helpful:
Wire
Chain or cord
Beads!
A metal hole punch- you can get this from Rings and Things as well and you may find you use it more than you think you would. The 2 hole metal punch they carry works very well. Each side is a different size, you place the punch and tighten it down by hand until it goes through the metal.
Practice metal- start with something inexpensive like copper.
Which brings me to the washers I used for these necklaces. They are copper washers, and copper wire for accents and to attach beads.
Start by marking your stamps if they need to be marked so you know which side of the stamp is the top of the letter. A bit of nail polish on one side will work just fine.
This design is very simple. It's just a washer with a word stamped on it, and 24 gauge copper wire wrapped around it for texture and interest. It can be put on a strand of strung beads, or attached to a bracelet.
Figure out what word you want on it, and center the stamps carefully. You can see I wasn't careful enough and the V just goes over the inner diameter of the washer. Little mistakes add to the charm of hand stamped jewelry.
Place the first stamp, holding it with your non-dominant hand, and hit the top of the stamp with a hammer sharply. You want to hit it fairly hard because if you hit it more than once, the stamp could jump slightly and not be in the same place. Repeat with the rest of the letters. If you aren't happy with the placement or the impression, that's okay, flip the washer over and start again. That's why we are using copper. It's very inexpensive.
Wrap the rest of the washer in wire.
This one is a little more complex, but not much more.
In this one, I stamped the letters first, then randomly stamped the bottom washer with letters. Wrapped the bottom washer randomly and deliberately messy and flattened it with a hammer.Then I punched holes in both of them, and put them together with an 18 gauge copper jump ring.
And on to the beads! This one I stamped the word on it, then punched a hole in the top of the washer and used 24 gauge wire wrapped around a bead and attached the bead through the hole. Then I wrapped the washer with wire and added little spirals. Put on a jump ring and it's all together. You'll want to use glass, crystal or other hard, not porous beads if you're going to use liver of sulfur. Also watch for finishes that can be messed up with the liver of sulfur.
After you finish a few pieces you're happy with, it's time to darken them with your oxidizing solution.
To use liver of sulfur- It's not as scary as it's about to sound and it's very easy to use, you just need to take some safety precautions. Work in a well ventilated area, and use a dust mask and gloves to handle it. Start by getting a piece about the size of a pea from your container. A small container will last a very long time. Seal the container back up. Get 2 paper cups, fill one half up with very hot water and the other one with cold water. Dissolve the piece of liver of sulfur in the hot water, stirring with a plastic spoon. Put your pieces in it. They will get very dark very fast. Then put them in the cold water to rinse them and stop the oxidation. Discard the solution, it's not re-usable.
Take the pieces out of the cold water and let them dry, then use the steel wool to polish them. This will bring out the copper color on the high parts leaving the low areas darkened, including your stamping.
When you're ready to move up to silver and more stamping, remember if you're doing a lot of pieces with liver of sulfur that silver has to go in first. It's okay to use copper after silver, but don't use silver after copper.
I used washers that I found in a great set on Amazon.com. The links below are affiliate links, which means that I will make a small amount of money if you buy using my link. It won't affect your price on the item. The first link are the ones I used.
You Should Also Read:
Book Review- Wired Beautiful
Earth Day- re-purposing for beading
Wire Shawl Pins


Related Articles
Editor's Picks Articles
Top Ten Articles
Previous Features
Site Map



Follow @shala%5Fbeads
Tweet





Content copyright © 2023 by Shala Kerrigan. All rights reserved.
This content was written by Shala Kerrigan. If you wish to use this content in any manner, you need written permission. Contact Shala Kerrigan for details.