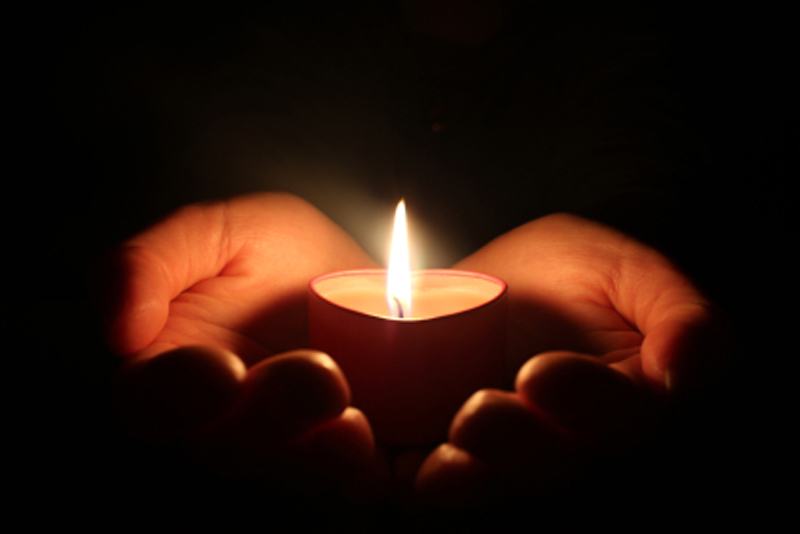 The Fool has felt the effects of karmic actions in the Wheel of Fortune. Although he was totally unaware of what he was doing, his actions created chaos in the world of Tarot. And, he was told by the beings in the Wheel that he must face the consequences of his actions by walking through the darkness of his soul.

As he and his small dog Wisdom trudged through the still falling snow and cold of winter, he pondered upon his next action. Right from the beginning of his journey he had joined with and become the people he met. But, that had created a chain of cause and effect. Fortunately the situation had been rectified by the beings in the Wheel of Fortune, but he was still very confused.

Eventually, he caught a glimpse of a lady dressed in a red robe and seated on a throne.

"How odd that she would be sitting there in the midst of a blizzard," he thought. He started forward to join with her, but then realized that this was now a forbidden action. So, he went to her and sat at her feet.

She was dressed in the red robes denoting wisdom, but her tiny white shoe sticking out from beneath the robe indicated her purity of thought. In one hand she held a double edged sword indicating impartiality, victory and logical thought. In her other hand she held a scale indicating the balance of cause and effect. Her whole appearance indicated balance and equality.

The conversation that ensued between Lady Justine and the Fool had a whole lot to do with the balance of life. She explained to him that everything in life was based upon duality. Good/bad, right/wrong, both indications that human thought is based entirely upon opposites. One could not recognize one without the other. And, since the Fool had created chaos in the lives of others, he must now feel that chaos in his own life.

She went on to say that this delicate balance of cause and effect is the only way that humankind can learn in a three dimensional often imperfect world. Everything is connected by a fine web of life, and each sentient being is a tiny stitch in a much larger tapestry. Each of these tiny stitches is just as vitally important as another. There is no discrimination based upon worldly factors when it comes to karmic action and reaction.

When Justice appears in a reading, expect that there will be consequences to your actions.. both good and bad. What might seem harsh or unreasonable is often a result of a much bigger picture. And, eventually, it will all make sense in the grand scheme of things.

The Fool stands up, shakes off the snow and continues on his way...




Related Articles
Editor's Picks Articles
Top Ten Articles
Previous Features
Site Map





Content copyright © 2022 by Linda J. Paul. All rights reserved.
This content was written by Linda J. Paul. If you wish to use this content in any manner, you need written permission. Contact Linda J. Paul for details.