To do well on the Critical Reading section (formerly the Verbal section) of the SAT, it is essential that you have a strong vocabulary. The benefits of increasing your vocabulary go beyond help with the SAT. People with larger vocabularies can read more quickly and with better understanding, understand conversations more thoroughly, and are often viewed as having higher intelligence.
The techniques listed here are for those who want to improve their vocabulary for the SAT or for other reasons at low or no cost:
Listen Carefully
It is easy to mentally skip over unfamiliar words when listening to people talk. Consciously pay attention to the words that are used can help stop this mental skip. Once you learn to tune in to what people are saying, you will begin to hear more unfamiliar words in a variety of settings: TV, audiobooks, and conversations. Write down new words, and then look them up in a dictionary.
Read for Pleasure
The more you read, the more your vocabulary will grow. Read what interests you -- graphic novels, science fiction, romance, newspapers -- if you like what you read, you are more likely to read more actively and learn more. It can be helpful to read different authors because authors tend to have their own favorite words. Reading material from different writers will expose you to a greater number of words. Write down unfamiliar words, and then look them up in a dictionary.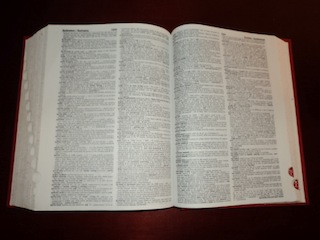 Word of the Day
Many online dictionaries will send free emails each day containing a word and its definition. Reading these emails can introduce you to a new word each day. For the new word to become part of your vocabulary, it is helpful to keep track of the new words you learn and refer to them often.
Question of the Day
College Board, the company that produces the SAT, also offers a free email question of the day to those who sign up for this service. These questions will give you a realistic idea of the level of vocabulary and other skills needed for the SAT.
SAT Preparation Books
Preparation books written for the SAT often have a list of common words with definitions seen on the test. Check with a library or your school counselor to see if there are testing preparation books you can borrow. If possible, attempt to borrow a recent edition.
SAT Preparation Courses
There are many courses out there designed to help you raise your scores on the SAT. High school students may have credit-bearing elective test preparation courses available to them. You may find free or low cost training programs offered at colleges, libraries, and elsewhere in your communities. There are more expensive options available in the private sector.
Take the PSAT
The Preliminary SAT (PSAT) allows you to practice taking a test with questions similar to what you will find on the SAT. This will give you a chance to see the level of vocabulary words you will see on the SAT. High school students should discuss this test with their school counselor. Some high schools cover the cost of this test for their students.
Index Cards
Write down unfamiliar words on one side of the card and the definition on the other. Carry some cards with you everywhere you go. Any time you find you have a few extra minutes (such as when you are waiting in line or waiting for a friend), pull out the cards and quiz yourself. If you have friends who are also trying to improve their vocabularies, you can ask each other the questions on the cards.
Practice Using New Words
For new words to truly become part of your vocabulary, it is important to use the words. Try using some of the new words in your everyday life. Friends who are trying to improve their vocabulary can make a point to use the new words in their conversations and emails with each other. It can also help to use these new words in writing. Until you become comfortable with the words, it is often best to limit your vocabulary practice to friends, family, or with teachers who know that you are practicing. Attempting to use new words on professional work, such as college admissions essays, can make your work sound awkward or stilted.
The use of some or all of these techniques will improve your vocabulary and performance on the Critical Reading portion of the SAT. Increasing your vocabulary will also improve your reading and understanding of conversations and books. Knowledge of more words will also allow you to select the most fitting word choice, which will improve your written and oral communication.