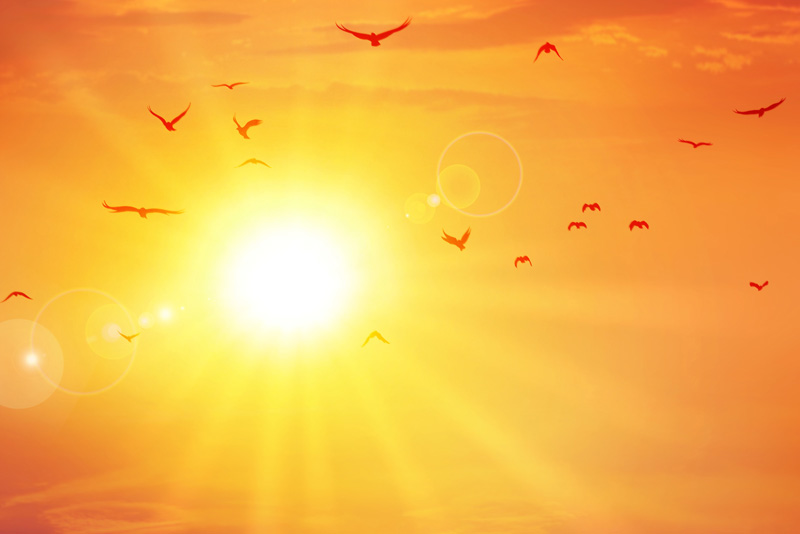 Are you a worrier? Do you often feel anxious? The dictionary describes being anxious as worry or anxiety due to anticipation of a danger. It is the feeling that something is wrong or that something will be wrong.
There are so many distressing events in life that it is tempting to consider anyone who doesn't worry, out of touch with reality. Reading the newspaper, a visit to the doctor or watching TV can start us on a downhill spiral of anxiety and fear. The Bible tells us that we are not to worry; and for good reason. Chronic worry affects our physical well being, interferes with appetite, destroys relationships, interferes with sleep and job performance. It causes fatigue, headaches, and stomachaches. In an effort to cope, people are often led to harmful lifestyle habits such as overeating, smoking, or the use of alcohol or drugs.
However, the Bible tells us not to worry. Instead, we are to rejoice. Paul wrote this to the people of Philippi. He even repeated himself, "I will say it again; Rejoice!" They were to let their gentleness – a Christ-like consideration of others – be evident. These are not the qualities of people consumed by anxiety.
Philippians chapter four gives some directives.
The apostle Paul told the people of Philippi that they were not to be anxious about anything, but in everything, by prayer and petition, with thanksgiving, they were to present their requests to God.
Prayer is our approach to God. To approach God with thanksgiving requires an attitude of the heart. It requires trust in Him. Petition is presenting the requests for what we need. Petition with thanksgiving requires remembering past answered prayer and being thankful in advance for the way He will answer our prayer now.
Paul said that when they would do this, "the peace of God, which transcends all understanding, would guard their hearts and minds in Christ Jesus. The word 'guard' used here is a military concept that depicts a sentry standing guard. God would stand guard over their hearts with His supernatural peace. The peace of God is not a simple psychological state of mind, but rather, an inner tranquility based on peace with God. This is the opposite of anxiety
You may think that this is easy to say but hard to accomplish. Paul finishes his directive by giving them something to do instead of worry. He told them how to gain control over their thoughts. "whatever is noble, whatever is lovely, whatever is admirable- if anything is excellent or praiseworthy- think about such things."
We can rejoice. We can have the inner joy that comes from knowing Christ. There are troubles in this life and it is easy to get discouraged but focusing our attention on Christ allows us to rejoice in Him. It allows us to find joy in our close relationship with the Lord of life. We know that there will be an end to our troubles because we know Who holds our life in His hands.

A Walk With Women of the Bible
E-Book by Lynne Chapman
Join me in getting to know some amazing women of the Bible
while we extract valuable insights and lessons from their lives.
You Should Also Read:
Anxiety or Peace of Mind
How Do I Overcome Fear?
Stress Relief a Lesson From the Bible


Related Articles
Editor's Picks Articles
Top Ten Articles
Previous Features
Site Map



Follow @LynneChapman
Tweet





Content copyright © 2022 by Lynne Chapman. All rights reserved.
This content was written by Lynne Chapman. If you wish to use this content in any manner, you need written permission. Contact Lynne Chapman for details.