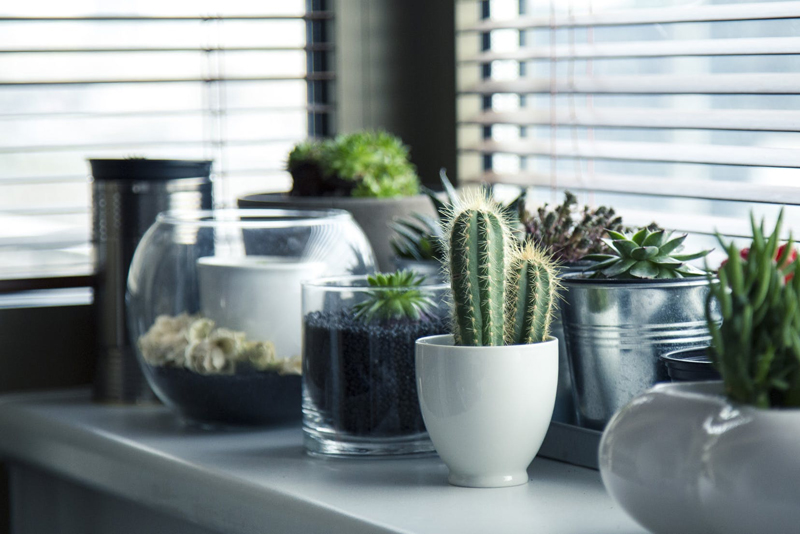 Cycas revoluta, commonly known as the Sago Palm, is an interesting and strange-looking plant that isn't a palm at all. The Sago Palm is a member of the Cycad family making them virtually "living fossils". Of all the Cycads still found in the world, the Sago Palm is by far the most often seen variety; it is common as a landscape plant in warm climates and is frequently seen in botanical gardens and glasshouses.

The Sago Palm needs plenty of sunlight to thrive. Keep it near the brightest window you have; southern exposure is best, though western or eastern will usually be okay as well as long as the plant gets direct sun for a few hours. Plants that don't get enough sun will seem to stop growing or have unattractive, thin growth.

Watering your Sago Palm can be a little tricky. These plants do not like too much water and can easily rot if water is left to sit. This is one of those plants where watering from below is usually recommended. Pour the water into a dish or saucer beneath the pot and let it be wicked up. If you do want to water from above, try to avoid getting water on the plant itself. Use a potting mix that has good drainage, or add extra perlite. The potting mix should be allowed to dry out pretty well between waterings; I would wait until the soil is dry about an inch and a half down to be safe.

Scale and Mealy Bugs are the insect pests most likely to be seen on your Sago. Treat infestations using horticultural oil or, if you catch it early enough, by dabbing off individual insects with alcohol. Test a small portion of the area you intend to treat before applying anything to the whole plant. Also, if you are using a liquid spray, be sure that it doesn't sit in pools anywhere between the leaves where it can potentially trigger rotting.

Propagation of Sago Palms is done by seed or by rooting of pups, offsets that grow from the base of the plant. It is recommended that you wait to remove the offsets until they are about 5 inches in diameter. Use of a rooting hormone is usually very beneficial, and the plantlet should be rooted in perlite in a slightly shady, protected area until it is strong enough to be planted in a pot of its own.

All parts of the Sago Palm are toxic if ingested, so be aware of the danger if you have pets or children. Signs of poisoning begin to appear about 12 hours after the plant is ingested and include vomiting, diarrhea, bruising and lethargy. Ingestion of Sago Palm causes liver failure and even with immediate treatment results in death more than half the time. Some people keep pets and Sagos without ever having a problem, for instance, if their pets do not chew on the plant. Keep the plant out of reach of pets and children if you do keep one in your house.



This site needs an editor - click to learn more!

You Should Also Read:
Mealybugs
Repotting a Plant
Houseplants Newsletter




Related Articles
Editor's Picks Articles
Top Ten Articles
Previous Features
Site Map





Content copyright © 2022 by Lisa Beth Voldeck. All rights reserved.
This content was written by Lisa Beth Voldeck. If you wish to use this content in any manner, you need written permission. Contact BellaOnline Administration for details.