Guest Author - Marjorie Colletta
There are a variety of cast ons that are commonly used, knitted cast on, cabled cast on, two needle cast on, and provisional cast on. One of my favorites is the long tail cast on. The trickiest part of this cast on is knowing how much yarn to have in the tail. This cast on creates a smooth and elastic edge that is very simple for beginners since you only have one needle to contend with at first. This cast on sets you up to start on the wrong side of the item you are knitting. Try it and see if you like it better than other cast ons you already know how to do.
To begin this cast on find the end of the yarn and for a swatch, start about 3 feet in. This amount will vary greatly depending on the number of stitches you are casting on to start. Make a U, with the tail closest to you, and insert the forefinger and thumb of your left hand into the loop with the yarn and tail falling into the palm of your hand (figure 1).
Next insert needle from front to back. And slip needle tip under the yarn in front of the thumb (figure 2).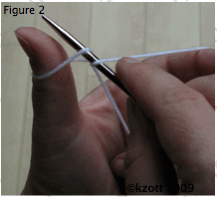 And over the yarn in front of the forefinger (figure 3)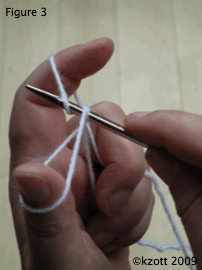 and pull through loop on thumb (figure 4).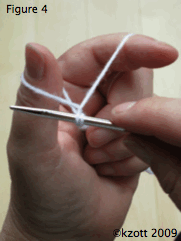 Then slide the loop off of your thumb and repeat, sliding your thumb back into the center of the U. The first time you do this you will create two loops on your needle (figure 5), but each subsequent time you will get only one loop.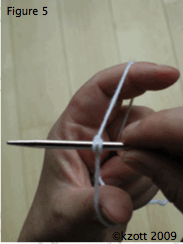 If your pattern starts on a right side row, you will need to do a set up row of all purls before you start your pattern.
This is a nice smooth cast on that is elastic. Generally, it is a matter of preference, if a designer has a specific cast on they need you to use, they will tell you in the pattern notes. Try a few different cast ons and see which you like best or heck, do one cast on one time and a different cast on for a different item, that way you won't get tired of always doing the same thing.