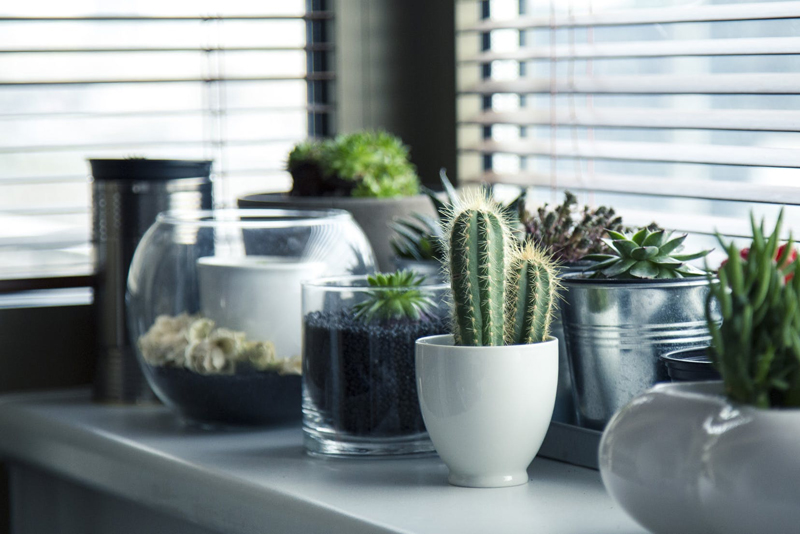 Anthuriums are common foliage and flowering plants in the Arum plant family. There are several types of Anthuriums including palmate and pendulous varieties, but here I focus on the flowering type. Some common names include Flamingo Flower, Boy Flower, Oilcloth Flower and Painted Tongue. All of these names are an attempt to describe the flower of the plant, which consists of a spadix and spathe like all members of the Arum family. The flowers resemble those of the Peace Lily, and are usually red, although they can be found in pinks and white as well.

Anthuriums require bright, indirect light. Placing them within a couple of feet from an eastern or western window usually does the trick, or you can put it right on a northern windowsill (assuming you are in the northern hemisphere). In the winter months direct sun is tolerated but you will still want to monitor the plant to be sure the leaves don't get scorched.

Don't allow your Anthurium to dry out too much between waterings. These plants appreciate consistently moist potting mix. Watering once a week will do if the plant is in a big pot, but check it at least twice a week if the plant is in a smaller pot. Anthuriums like to be a little pot-bound and if you grow it in a smaller pot it will need more frequent watering. If the mix has dried out about half an inch down it is time to water again. If you fertilize when you water, keep it to every other week. Fertilization can be cut in half during the winter months.

Most Anthuriums thrive in a warm and humid environment. They will be happy if you keep them misted or on a pebble-tray and prefer temperatures in the mid-70's. Temperatures below 55 degrees Fahrenheit are to be avoided; be careful where you keep your plant during the winter. Drafty windows and areas near entryways can be silent killers.

Propagation of Anthuriums is done by division of the root-ball. The best time to do this is during re-potting, which should be done in the spring. Again, Anthuriums like to be somewhat pot-bound, so don't re-pot unless you need to. If you absolutely need to re-pot and the plant doesn't need a bigger pot, you can always re-pot into the same pot or one of the same size.

Like all Arums, Anthuriums are considered toxic. They contain calcium oxalate crystals which can cause skin irritation and can cause swelling of the throat if parts of the plant are ingested. Most people won't have any problem with this plant, but if you have sensitive skin, children or pets, you may want to take extra precautions.



This site needs an editor - click to learn more!

You Should Also Read:
Peace Lily
Aglaonema, the Chinese Evergreen
Houseplants Newsletter




Related Articles
Editor's Picks Articles
Top Ten Articles
Previous Features
Site Map





Content copyright © 2022 by Lisa Beth Voldeck. All rights reserved.
This content was written by Lisa Beth Voldeck. If you wish to use this content in any manner, you need written permission. Contact BellaOnline Administration for details.