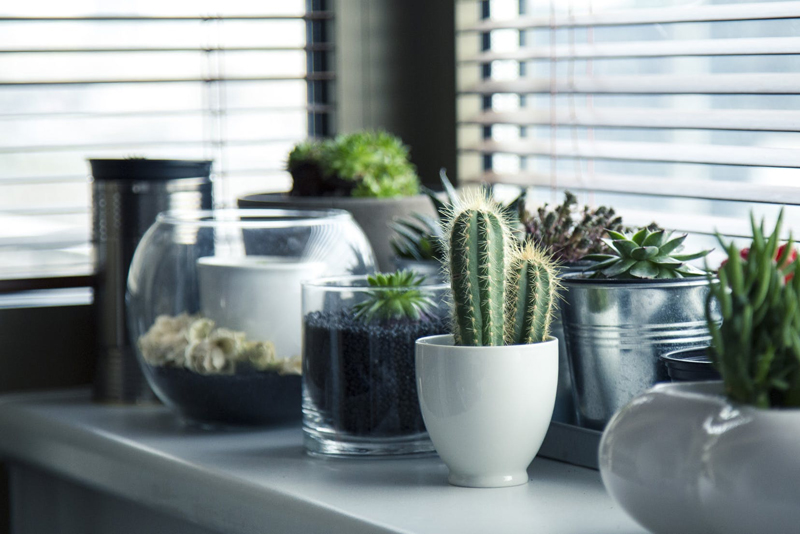 With over a thousand known species, you might expect it to be difficult to recognize a Peperomia when you've seen it. Fortunately, only about 50 Peperomia cultivars are common as houseplants. Most are cared for and propagated in similar ways.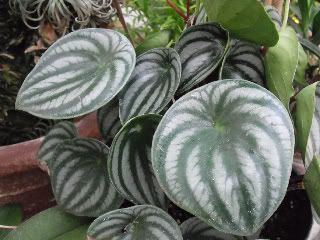 Peperomias are native to tropical South America and Africa. The temperatures found inside the average home are perfect for growing happy Peperomias. Most types are compact and don't get more than about 12 inches tall.
The first time I saw one of my Peperomias flower, I wasn't sure what was wrong with my plant! The flowers are not exactly showy. They are thin, spiky stalks, and tend to be messy, spilling pollen everywhere. The flowers on my Watermelon Peperomia were just 2 to 3 inch long off-white scentless mess-makers.
Peperomias like bright, diffuse light. They can be quite happy in an eastern window or in a southern or western window if some protection is provided from the strongest sun of the day.
When watering your Peperomias, consider that most varieties would prefer to go a little dry. There are a couple of cultivars that need consistently moist soil, but most can handle drier medium. I usually let my Peperomia 'Jayde' go dry until the soil nearly separates from the sides of the pot.
Peperomias are most often succulent and have fleshy leaves and stems. This makes them highly susceptible to rotting out. You can avoid this by watering from the bottom (sub-irrigation) or by watering lightly and somewhat more often from the top, taking care to avoid getting water in the crown. If you choose the second method, but sure to periodically run fresh, fertilizer free water through the pot until it runs freely from the bottom. This will help prevent salts from accumulating that may burn the roots.
Propagation of Peperomias is a simple. Herbaceous stem cuttings or leaf cuttings are the preferred method, but sometimes it is necessary to do semi-hardwood cuttings. Peperomias tend to get a little woody as they age, but this doesn't need to prevent you from propagation. If you are unsure whether the cuttings will take, apply a rooting hormone before sticking.
Re-pot Peperomias in the spring, or when you have observed active growth. You should try to do this with most plants, but it is especially important with plants like Peperomia that rot easily. Take care to select a pot and media that provides plenty of drainage.
This site needs an editor - click to learn more!

You Should Also Read:
Repotting a Plant
Recognizing and Treating Root Rot
Houseplants Newsletter




Related Articles
Editor's Picks Articles
Top Ten Articles
Previous Features
Site Map





Content copyright © 2022 by Lisa Beth Voldeck. All rights reserved.
This content was written by Lisa Beth Voldeck. If you wish to use this content in any manner, you need written permission. Contact BellaOnline Administration for details.