Drop picot, Down picot, Inward facing picot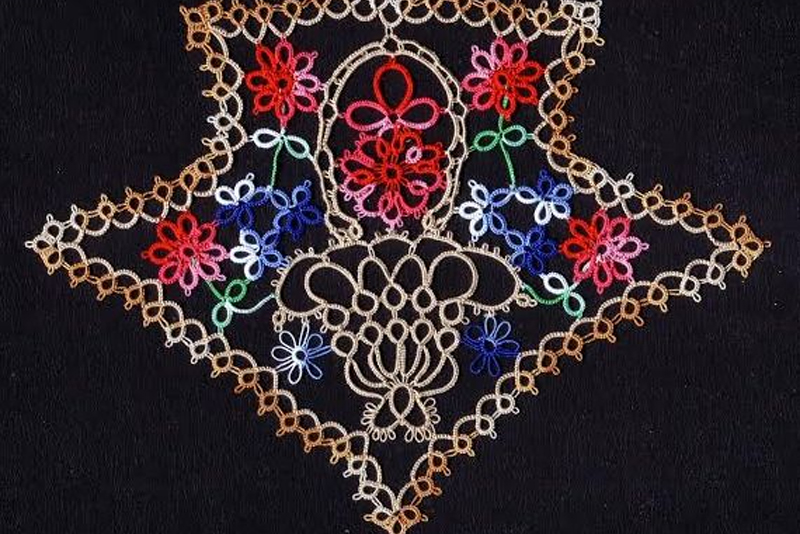 This article is expanded from the Aug. 11, 2013 article on the inward facing picot which accompanied the pattern of the piano scarf edging which introduced the drop picot. The drop picot is also called the down picot or the inward facing picot as seen in Superbowl Sunday Snowflake ©Georgia Seitz 1-31-99
In these articles, the drop picot was discussed:
1. The down picot or inward facing picot may be a loop of the core thread held out for later joining. You can use a paper clip, safety pin or even a loop of thread to create the space to which the chain joins later. (This is the same method used to make a self-closing mock ring.)
2. You may reverse work, make a regular picot, reverse work again and continue. Or,
3. You may make a regular picot, fold it down and tat over it to hold it in position.
Do not compress too tightly.
These two articles generated two questions.
1. What differences does it make in which method you use?
2. How does it affect monochrome thread as opposed to two separate colors of thread?
In this sample of the piano scarf edging, Stephanie Wilson has used the drop picot to make joins a certain points. She tatted with a solid color thread. You must look closely to identify the join that has the drop picot.
In this second sample of the piano scarf edging, Stephanie Wilson has also used the drop picot but she is also tatting with two different color threads. It is much easier to spot the drop picot joins. You will note that the drop picot join shows up because it will be a different color from the picots on the ring to which it is joined.
The drop picot join shows a blip of color when tatted with two different color threads. No color spot is seen when tatting with one color of thread. This small difference is not really noticeable. But it might be a spot of question if the tatting is being exhibited. The judge would have to be a tatter to understand why the irregular color blip is present.
You Should Also Read:
Down Picot
Piano Scarf Edging 1916


Related Articles
Editor's Picks Articles
Top Ten Articles
Previous Features
Site Map





Content copyright © 2022 by Georgia Seitz. All rights reserved.
This content was written by Georgia Seitz. If you wish to use this content in any manner, you need written permission. Contact Georgia Seitz for details.