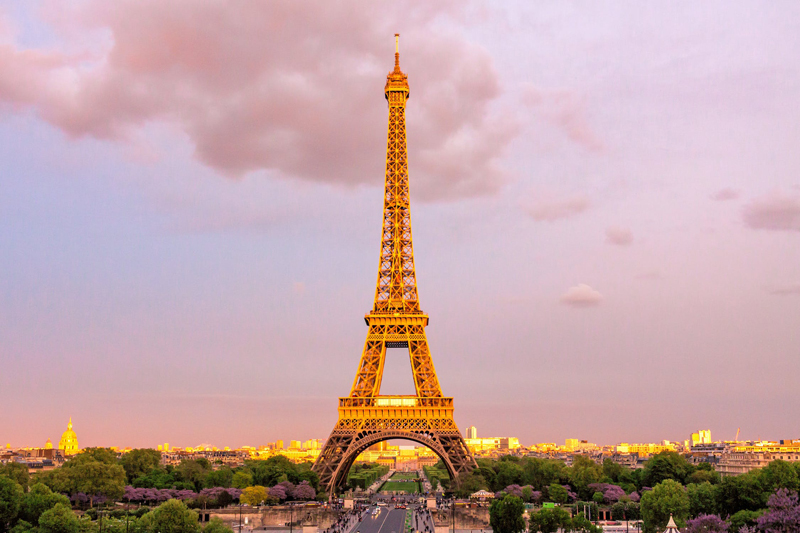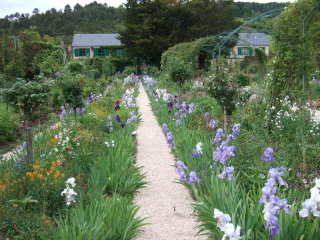 Nestled into Normandy lies the village of Giverny where sober stone cottages line lost streets and English gardens flourish. In June hollyhocks, thistle, lavender and poppies raise their heads to the summer sunshine. Would-be Impressionist painters have made pilgrimages here to learn the loose brush strokes of the movement. Monet chose to spend the last four decades of his life in Giverny establishing his garden and feverishly turning out art.
Though it is not a glimpse of his work that lures visitors but a window on his life. Inside the house furniture remains untouched. In a black and white photograph he, unkempt in a shaggy beard and wrinkled suit, poses jovially amongst simple possessions. The gallery of paintings behind him have found their way into museum collections; gift shop replicas are all that remain. Monochromatic color schemes, walls washed and detailed in blue hues, cluttered with Japanese woodblock prints seem a page out of Alice in Wonderland with furniture painted to match. After a quick tour, coming out of the sunshine-colored dining room and through the kitchen, the manicured rows of bulbs and flowers are at your feet.
Traipse up and down the aisles then make you way through the sub terrain passage and out into the Japanese garden. It is here that Monet painted in plein aire and all the familiar characters are present: the green bridge over the water, lily pads, the spiky petaled flowers they feed, and weeping willows that line the waters edge forming umbrellas of shade. Savour the simple pleasure of a garden promenade, a colorful moment of sunshine and birdsong.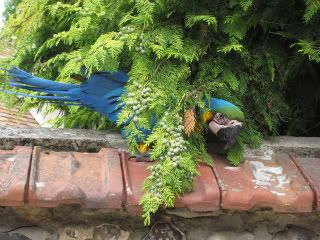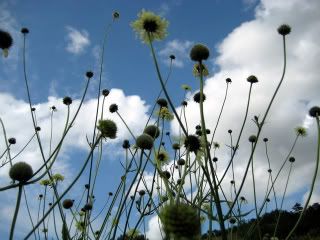 Leaving the house, we encountered the neighbor's gem-colored Parrots sunning themselves from treetops perches. We crossed the path and entered the American museum. Currently exhibited is "Portrait of a Lady: American Paintings and Photographs in France." I enjoyed gazing onto the life-sized chalky skinned women of privilege that Sargent presented, head to toe draped in taffeta. Photography was just becoming viewed as art in the 1800's. These first experimentations are presented as small sepia prints. Because I prefer portraits, I was less taken with the content of the other exhibit, "At Leisure," which presented the goings on of everyday life.
Touring the museum helps to make a day of an outing to Giverny. In their gift shop I enjoyed browsing the photography, art and culture books with titles like, "The Best Places to Kiss in Paris." Outside, in the rectangular gardens that punctuate the museum, an array of pod shaped flowers are projected on thin stems into the wallpaper sky of fluffy clouds and blue.
Allow yourself about 15 minutes to cue up outside as Monet's home and garden are a popular attraction. You can pack a picnic but can't bring it inside, though there are plenty of other scenic spots to linger. To satisfy a sweet tooth, artesinal ice cream is sold by the scoop along the road. The next village over, Vernon, has a beautiful cathedral set amidst many half-timbered houses. Facing the church, walk down the street to the left and pop into the first boulangerie. They sell a rainbow of macaroons of which my favorites are caramel, rose and poppy called coquelicot in French.
After spending an afternoon in the country, if the toll road traffic is in your favour you'll be back in Paris in an hour. To visit Monet's canvases stop at the Orangerie where his water lilies are presented like wallpaper encompassing entire rooms, or the Marmotan Monet that hosts a vast collection including cathedrals, train stations and seaside oil paintings.
You Should Also Read:
Monet's Giverny
The American Art Museum at Giverny


Related Articles
Editor's Picks Articles
Top Ten Articles
Previous Features
Site Map





Content copyright © 2022 by Melissa Demiguel. All rights reserved.
This content was written by Melissa Demiguel. If you wish to use this content in any manner, you need written permission. Contact Melissa Demiguel for details.