Some Irish Christmas Traditions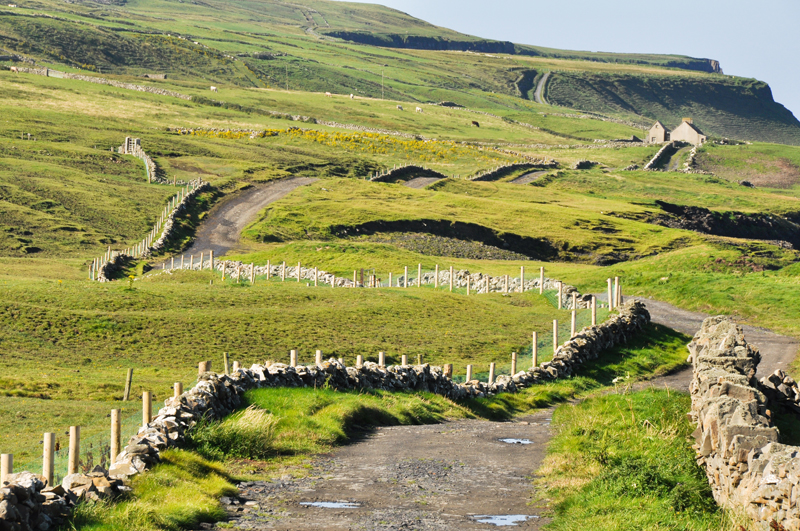 While there are always regional and family variations there are a number of traditional features to the Irish Christmas season. While snow is rare, the weather is watched with hawk like vigilance as the country mobilizes for the festivities.

1. An Irish Christmas is an extended holiday. There are bank holidays for Christmas Day, the 26th December (St.Stephen's Day in the Republic; Boxing Day in the North), as well as New Year's Day. If Christmas Day or the 26th falls on a weekend this automatically means the Monday and Tuesday are public holidays. This can mean that if you judiciously use your vacation day allocation you can have ten to twelve days holiday. Many businesses just close for the interval between Christmas and New Year.

2. The Christmas holiday is the annual Irish extended(and extensive) family event. While I often explain that Thanksgiving is the usual extended family get together holiday in the USA, Christmas is the sacrosanct Irish family holiday, with elaborate logistics required for who is hosting which day's get together. It becomes an extended, moveable feast over the twelve days of Christmas. There can also be traditional tears before bedtime, too.

3. Are you a Christmas cake or Christmas pudding family? Or have you abandoned convention and embraced the alternative dessert sherry trifle? The first Sunday of Advent is traditionally 'stir up Sunday' when you would make that dense, dried fruit laden cake or pudding; one Irish American friend used to call Christmas Cake 'Granny's doorstops'. Like the Halloween Barm Brack, little trinkets to tell your New Year fortune are supposed to be stirred in to the mix with 'good wishes'. Everyone in the family is supposed to give the cake mix at least one stir! Over Advent the cake or pudding is 'fed' brandy or whiskey. In the final week the cake receives a layer of marzipan and royal icing will top the cake. On the day, the pudding is given a final steam and is served with brandy butter, the equivalent of hard sauce.

4. Increasingly, people are illuminating their homes with twinkly lights and putting glowing Santas on their front lawns. Given the price of electricity, the outdoor illuminations are restrained compared to the USA examples seen in the media. The old tradition was to light a candle in the window on Christmas Eve to light the way and welcome the Christ Child. Battery powered candles are still the most prevalent house illuminations. While retail areas light up by the end of November, out in the countryside it is considered a bit heathenish to light up your house before the holiday of the Immaculate Conception on December 8th.

5. While this tradition is passing into the mists of myth there are still pockets of rural renaissance of the Straw Boys or Mummers. These straw outfits are fantastical, with woven horse or bull head dresses. In area of Fermanagh and Leitrim, bands of Straw Men would roam the districts of Fermanagh and Leitrim on 26th December, making merry and music to entertain households in exchange for a tipple or two. Playwright Vincent Woods, who was born in 1960, can remember Straw Boys visiting his homeplace in Leitrim as a very small child. So vivid was this childhood memory that he incorporated the Straw Boys in his play "At the Black Pig's Dyke." The Straw Boys are unrelated to the Wren Boys St. Stephen's Day tradition where a wren would be hunted and ritually sacrificed. It is a remnant of pre-Christian Yule traditions that have transformed over centuries. The Straw Boys do perform, but these days generally in small theatres or open air events rather than in your front room, often to raise money for a charity.

The wren in now sadly endangered, so goes free and unmolested. However, in some rural areas, that cannot be said of the fox for many local Hunts 'Tally Ho' out in their pink jackets. The more things change, the more they stay the same it would seem.

6. Midnight Mass or Choral Evensong? Since my partner hails from a two cathedral city you can partake of a Nine Carols Service at Armagh's Protestant St. Patrick's Cathedral and then catch Midnight Mass at the Roman Catholic St. Patrick's on the hill opposite. Although Ireland is increasing secular, there is still a strong attachment for lapsed church goers to make an annual appearance for a service.

Food is important. From the Ballymaloe Cookery dynasty you can get tips on what to prepare for your Christmas feast with some inspiration from Ballymaloe maven Darina Allen.




You Should Also Read:
City of Saints and Scholars


Related Articles
Editor's Picks Articles
Top Ten Articles
Previous Features
Site Map





Content copyright © 2022 by Bee Smith. All rights reserved.
This content was written by Bee Smith. If you wish to use this content in any manner, you need written permission. Contact Bee Smith for details.