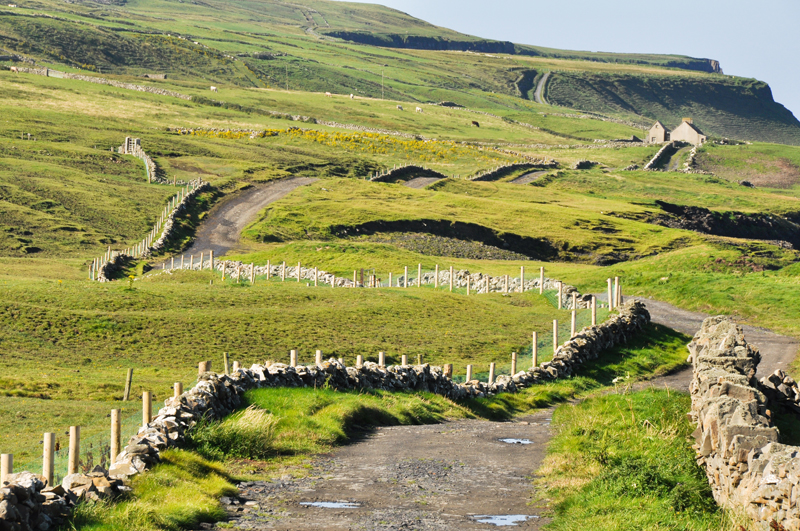 County Cavan recently hosted A Taste of Cavan Food Festival to showcase the county's top chefs and artisan food producers. County Cavan sprawls across Ireland and is a wide county stretching east to west. Its borders touch Ulster counties like Monaghan, Louth and Northern Ireland's Fermanagh, as well as Midlands' counties like West Meath and Longford and the gateway to Connaught, County Leitrim. All of these counties are strongly agricultural and include low lying topography, as well as moorland uplands. In terms of Ireland's agri-food business, Cavan has the credentials to host this Food Festival that is emblematic of the New Taste of Ireland.

It is worth noting that Ireland's agri-food business accounts for 7% of Ireland's GDP according to the Central Statistics Office (CSO). Moreover, the agri-food business accounts for 10% of all of Ireland's export income according to Teagasc, Irelands agriculture and food development agency. Ireland's agri-food business sources 71% of its raw materials in Ireland. So when you find an Irish food product you can be fairly sure that most of what is in the package has been sourced within the island of Ireland. The Irish take food very seriously indeed. Irish food means more than brown bread, apple tart and salt beef.

Most of Ireland's farms would be considered fairly small by many countries' standards. The CSO notes that the average Irish farm is no more than 32 hectares, or just fewer than 80 acres. Small farmers are ingenious and have diversified into artisan food production, as well as eco-tourism in the past five years. Cheese making, artisan sausages, hand churned ice cream, jams and honeys are becoming profitable income streams for Irish farmers.

Cavan's home grown celebrity chef, Nevan Maguire, topped the Taste of Cavan Food Festival bill. This Cavan success story highlights the rise of younger chefs, such as Rachel Allen and Richard Corrigan, who are giving Irish cuisine a well-deserved heightened culinary profile.

Nevan Maguire is an interesting example of how Irish cuisine has changed over the last twenty years. He is not yet 40 years old but his MacNean Restaurant has garnered many 'best Ulster restaurant' awards over the past decade. His reputation has grown since reopening the family restaurant just over ten years ago. He has become a regular celebrity chef on Irish television. Now he has also opened his MacNean Cookery School as a spin off from his television show and cook books.

Maguire has, literally, kept close to his roots. His family had the MacNean House Restaurant in Blacklion, Co. Cavan, although the family business became a casualty of Northern Ireland's troubles, closing in the 1980s after bomb damage. Apparently, he took to the chef's toque at an early age, reportedly, 12. His professional training was also had locally. He trained in Fermanagh's College of Food in Enniskillen, about 15 miles from Blacklion. He then did as all serious chefs must do, travelling to get hands-on training in other restaurants; he started at Paul Rankin's award winning Roscoff in Belfast before moving on to restaurants in continental Europe.

As head chef and proprietor of MacNean House, Maguire has been a loyal booster of local organic market gardeners and small growers. He has built a film studio behind his home in Blacklion, which he shares with his wife Amelda and toddler twins.

A sample menu for MacNean House Restaurant really does highlight the tastes that can be had close to Blacklion. This part of Cavan is less than an hour from the Atlantic coast and seafood features strongly, especially in the menu's "Study in Shellfish"- Prawn Kataifi, Seared Scallop, Crab Ravioli and Poached Oyster. Ryefield Cheeses feature on the menu and are sourced from Baileborough on the eastern side of County Cavan. The Thornhill Duck Breast on the menu is so local that they are reared less than a mile from where Maguire resides.

This combination of respecting locally sourced ingredients with new cooking techniques and flavors influenced from abroad sums up the renaissance in Irish food and cuisine.




You Should Also Read:
A 'New' Traditional Irish Food


Related Articles
Editor's Picks Articles
Top Ten Articles
Previous Features
Site Map





Content copyright © 2022 by Bee Smith. All rights reserved.
This content was written by Bee Smith. If you wish to use this content in any manner, you need written permission. Contact Bee Smith for details.