A 'New' Traditional Irish Food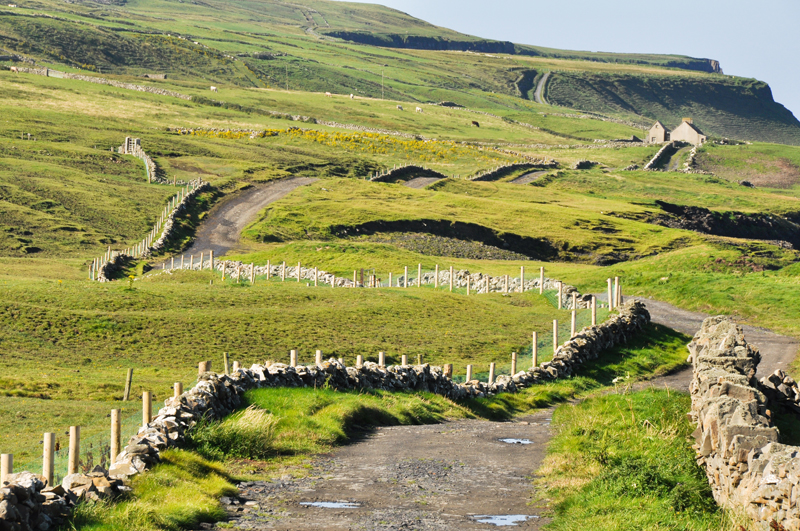 Seaweed is not just a new-fangled 'super food'. There has been a long tradition in Ireland of including the sea vegetables in the Irish diet. There may have been a decline, along with eating the fish Pollack, with it being branded 'Famine food'; there was some shame attached to subsistence foods that helped some survive the Irish Potato Famines of the 19th century.

But now seaweed is back in vogue. Co. Sligo seems to never have completely let go of its seaweed eating culture. Enniscrone now hosts an annual Seaweed Festival. While celebrating seaweed's culinary gift to the table, Sligo also hosts two seaweed bath house spas. Elsewhere in Ireland, the antioxidant properties of seaweed are found in locally manufactured soaps and cosmetics. In Ballycastle in Northern Ireland there is the Auld Lammas Fair each August with the signature delicacies of 'dulse and Yellow Man'; the former is a red seaweed rich in minerals, vitamins and trace elements, while the latter is a local, high glucose, jaw breaking candy.

In Sligo a local woman, trained as a medical doctor, grew up in a household that not only kept an organic cow, but also an organic garden. They used the coastal seaweed to fertilize the garden but they also harvested it and used it in everyday cooking. Prannie Rhatigan has written The Irish Seaweed Kitchen.
This recipe book, with glamorous food photography, combines her scientific background with her enthusiasm for reviving this Irish food culture ingredient.

In the interests of full disclosure, I have to admit I have met Prannie, and know her brother-in-law, a fellow tour guide. Because of our mutual links with Leitrim's The Organic Centre, I was one of a wide network of people who were asked to recipe test for the cookbook back when the recipe collection was still just a possibility. But I was also the perfect person to try the recipes. I had never eaten anything with seaweed and, apart from sushi, didn't know you could cook with it. Or that it actually constituted one of your Five a Day vegetable quota.

But I am a keen supporter of the organic movement in Ireland, as well as a keen cook. I was given the seaweed required for the typed out recipe. I brought the kedgeree and the carrot dulse bread along to a Sunday afternoon gathering where Prannie evangelized the benefits of seaweed. On our plates were the proofs of just how versatile and tasty seaweed is as an ingredient. I walked out of Eithna's Kitchen in Mullaghmore converted to eating seaweed.

The cookbook is a good general guide to seaweeds. I have learned that in Ireland alaria is similar to the Japanese wakame sold in health food shops. Kelps are the equivalent of Japan's kombu. Nori, what wraps up sushi, is also the ingredient of what the Welsh call laver bread and the Irish call sloke. Carrageen, or Irish moss, has more uses to it than setting a blanc mange. My personal store cupboard stand by is dried sea spaghetti. I add it so soups and pasta dishes and it passes without comment from diners who usually reserve conservative opinions about such recipe innovations.

The cookbook, far from just packed with recipes, also includes guidelines for foraging for your own seaweed, the best times to harvest it, how to store it and methods of cooking with it. The excellent photographs are a useful guide to beginners to identify the seaweed you come across when beachcombing.

A friend, John Wilmott of Celtic Ways, makes the most glorious roasted, toasted and ground condiment that makes his seafood chowder literally out of this world. The simplest recipe in Prannie cookbook is Dulse 'Crisps', dried dulse fried in oil or butter. But be warned: these are potentially habit forming.

To immerse yourself in Prannie's Irish Seaweed Cookery Experience you can get the book here:



You Should Also Read:
Tay So Strong the Spoon Stands to Attention
The Great Ulster Fry Breakfast Plate


Related Articles
Editor's Picks Articles
Top Ten Articles
Previous Features
Site Map





Content copyright © 2022 by Bee Smith. All rights reserved.
This content was written by Bee Smith. If you wish to use this content in any manner, you need written permission. Contact Bee Smith for details.