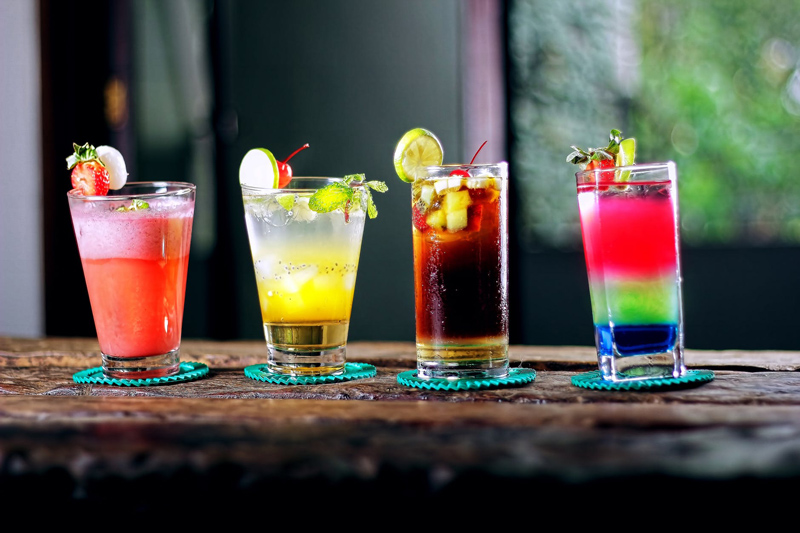 Let's start with proof. The mojito in my hand right now is made from rum, a drink from the Caribbean Islands in the Gulf of Mexico's Caribbean Sea. All rum is made from sugar cane but each island uses it differently in the distillation process. Proof, or measure of the beverage's alcohol content by volume, is established during the distillation process but there was a time when proof on the high seas was questioned. Thanks to those long-ago questions in faraway places, every bottle of booze sold in the United States today is required by law to include the liquor's proof in a prominent location on the bottle's label.

Crewmen for the British Royal Navy spent enough time in the Caribbean Sea in the early 1700s to develop such a fondness for the islands' rum that it soon became a part of an honest day's pay. From 1731 until 1970, members of the royal navy were served up with a half pint of rum every day. This daily ration of one cup (one half pint) of rum should have contained about one half cup of pure sugar-cane alcohol if all was well. All was not well, however, any time the rum's alcohol content was not up to measure; the men were being shorted of their day's pay.

How could these sailors, traveling the high seas for months at a time, know they were getting their fair share of rum? If shorted in rum, were they being shorted in other compensation as well? These guys needed proof they were getting what they earned.

They turned to gunpowder.

To test the alcohol content of their rum, sailors would douse a small mound of gunpowder with just enough of their daily rum ration to dampen it enough to catch fire. If the gunpowder caught fire quickly and easily, the fire was said to be proof the rum is strong and true. Rum-doused gunpowder that did not catch fire was clear proof the rum was watered down or inferior in other ways. A full day's work for less than a full day's pay made life very difficult when surrounded by the briny deep.

Alcohol will cause gunpowder to combust, or burst into flame, but only if the alcohol content of its liquid base (in this case, rum) is potent enough. To combust gunpowder, alcohol content must be at least 57.06 percent by volume of its base. Since combustion was the threshold for establishing proof of purity of the rum, liquors containing 57.06 percent alcohol by volume was said to be 100-percent proof that the drink is pure and drinkable. Our labels today would indicate this is 100-proof rum.

The British navy's method for determining proof proved popular in the Colonies, where the American system of weights and measures established proof as a percentage representing almost twice as much alcohol per volume as actually exists. That 57.06-percent Caribbean rum, for example, would be sold as 114-proof booze in the US today. That seaman's ration of half a pint would contain 57 percent pure distilled alcohol (ethanol) and 43 percent water and flavoring agents (congeners).

Reading labels sure beats carrying a bag of gunpowder into your favorite watering hole, doesn't it?

You Should Also Read:
Tequila Mojito Recipe
Cocktail Word Origin
Blood Alcohol Content


Related Articles
Editor's Picks Articles
Top Ten Articles
Previous Features
Site Map



Follow @drinkandbemerry
Tweet



Content copyright © 2022 by Sandy Hemphill. All rights reserved.
This content was written by Sandy Hemphill. If you wish to use this content in any manner, you need written permission. Contact Sandy Hemphill for details.