Wines in Fifty Shades of Grey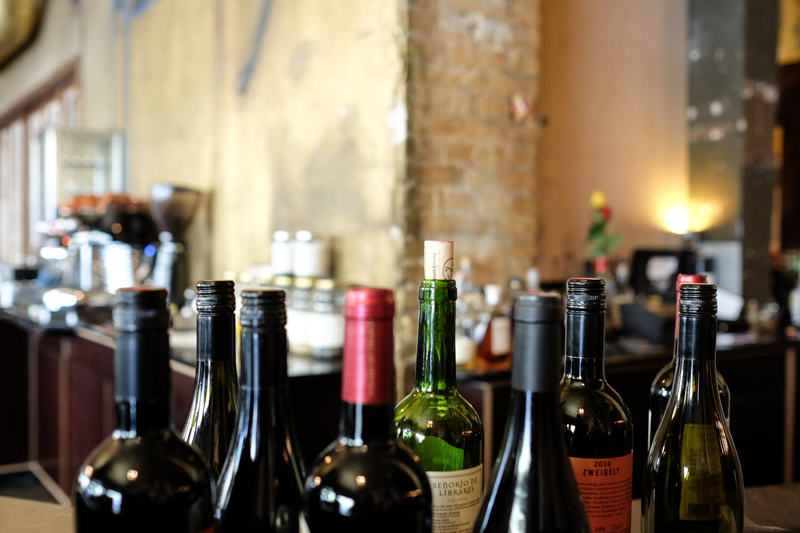 Wineries mentioned in the Fifty Shades of Grey trilogy have reported increased enquires and there is a growing craze among fans for dinners that feature the food and wines mentioned in the books.
Unfortunately many wines are not clearly identified, but it is clear that author EL James, or her characters, favour dry white wines and pink Champagne.
The first wine mentioned in Fifty Shades of Grey is Pouilly Fumé which Anastasia and Christian drink with bread and cheese on their first night at his apartment at Escala. Pouilly Fumé is a crisp dry white Sauvignon Blanc from the Loire region of France. Fumé means 'smoky' and the limestone on which the Sauvignon Blanc grapes grow gives the wines a smoky or flinty edge.
In the United States the name Blanc Fumé is a synonym for Sauvignon Blanc. Robert Mondavi was the first in America to label his Sauvignon Blanc as 'Blanc Fumé'. The name was inspired by Pouilly Fumé and used by Mondavi because at that time Sauvignon Blanc was unfashionable. Nowadays Blanc Fumé usually refers to a Sauvignon Blanc that has had some wood aging, but Pouilly Fumé is mostly unoaked.
Next wine is Pinot Grigio consumed with nettle soup and venison at Cuisine Sauvage, near Olympia while travelling to Portland. Cuisine Sauvage appears to be fictional, but could be based on Olympia's La Petite Maison. Italian Pinot Grigio has become very popular recently. Some say that is because it has been made with little flavour and is inoffensive. The (real) Heathman Hotel that features in the books has offered a $2,750 "Fifty Shades of Grey" package in which they replace Pinot Grigio with an Oregon wine, Boedecker Cellars "Old Vine" Willamette Valley 2010 Pinot Gris that comes complete with a little grey tie draped around its neck. Gris and Grigio are two names for the same grape but Oregon Pinot Gris is distinctly different from Italian Grigios.
Christian passes an unnamed white wine mouth to mouth to Anastasia while she's tied up.
Later they have Sancerre with oysters and codfish while discussing their contract at the Heathman Hotel. Sancerre is a French Sauvignon Blanc from the opposite bank of the Loire River facing Pouilly Fumé. The Heathman Hotel currently has one Sancerre on their list, Domaine Andre Neveu 'les longues fins'. Domaine Andre Neveu is located in the pretty small town of Chavignol and is run by Andre's daughter Valérie and her husband Thomas, who harvest, vinify and sell everything themselves.
The next two wines mentioned are the same, Bollinger Grande Année Rosé 1999. The first bottle is drunk out of teacups by Christian and Ana on graduation; the second bottle is given as welcome gift by Christian to Ana and Kate on their move to Seattle.
Bollinger is a well known and well respected Champagne house. While most Champagnes are non-vintage in order to keep a consistent house style through the years, when there is excellent harvest many Champagne houses decide to release a vintage wine, made from grapes harvested in that year alone. As is the Grande Année Rosé 1999. This particular wine is pink, or as the French call it, rosé. Exceptionally for France, pink Champagne can get its colour by the addition of a small amount of red wine, and that is the case here with 7-8% of red Pinot Noir.
At Escala Christian and Ana enjoy Chablis with Chicken Caesar salad. Chablis is a wine region attached to Burgundy, in France. Chablis wines are nearly always made from Chardonnay, usually unoaked and are crisp, dry and invigorating. Although, given the fondness of the couple for Sauvignon Blanc it could be a bottling from the little known Saint-Bris Chablis appellation which exceptionally makes Sauvignon Blanc.
When Ana and Kate go to meet the Grey family at the Grey's house on Sunday evening, Carrick Grey pours a pale pink Prosecco. For dinner they have an unnamed 'red wine'. Prosecco is a sparkling wine from northern Italy. It made by less expensive process then Champagne and has a lighter froth and is usually softer and sweeter.
When Christian meets Ana and her mother in Georgia the women have Cosmopolitans and Christian a Hendricks Gin and tonic. The Cosmo cocktail was a favourite in TV's Sex & The City and is made with 3 parts citrus vodka, 2 parts cranberry juice, 1 part Cointreau and 1 part fresh lime juice and served in a martini glass with a lemon twist or lime wedge. Hendrick's is a modern brand, founded in 1999 in Scotland but made with rare historic stills, one dating from 1860, bought at auctions. Hendrick's recommends cucumber as a garnish and that is what Christian chose.
The last drink mentioned in Fifty Shades of Grey is a Sancerre which accompanies Pasta Alle Vongole when Ana returns from Georgia and dines with Christian at Escala.
Do your tastes match thoseof Christian and Ana, tell us on our
forum
.
| | | |
| --- | --- | --- |
| | Peter F May is the author of Marilyn Merlot and the Naked Grape: Odd Wines from Around the World which features more than 100 wine labels and the stories behind them, and PINOTAGE: Behind the Legends of South Africa's Own Wine which tells the story behind the Pinotage wine and grape, also available for the Kindle, Nook and iPad. | |
---
You Should Also Read:
Wines of Fifty Shades Darker
Wines for a Fifty Shades Dinner
Vin de Constance - From Dickens to Fifty Shades


Related Articles
Editor's Picks Articles
Top Ten Articles
Previous Features
Site Map





Content copyright © 2022 by Peter F May. All rights reserved.
This content was written by Peter F May. If you wish to use this content in any manner, you need written permission. Contact Peter F May for details.