Wines of Fifty Shades Darker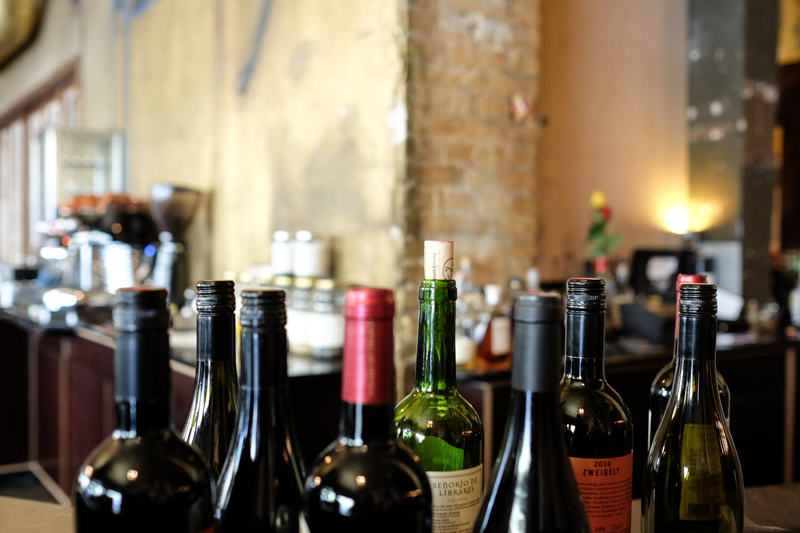 In Fifty Shades of Grey all the wines came from France or Italy but Fifty Shades Darke introduces wines from the new world.
Christian picks an Australian Barossa Valley Shiraz at Le Picotan restaurant in Portland. But we get no more information about the exact wine. I couldn't find a restaurant named Le Picotan – which translates to 'The Peck' - however there is a French style restaurant called Le Pigeon nearby that seems to match and they list one Barossa Valley Shiraz at $125. It's a Kaesler 'Old Vines' 2006. This wine comes from 45 year old vines, has not been fined or filtered and has a thumping 16% alcohol by volume. Kaesler, which dates from 1893, say the wine "will never be overtly fruity. It is best suited to those who prefer a savoury style".
Pinot Grigio is paired with stir-fry chicken with noodles when Christian and Ana dine at Ana and Karen's new apartment in Vancouver, Washington, on the other bank of the river from Portland, Oregon.
The couple's favourite Champagne, Bollinger Grande Année Rosé 1999, is cracked open at Escala before they leave for a charity event, where an unnamed Champagne is served on arrival.
Anastasia is given a card listing the wines to be served with each course. Full details are given of each one.
Alban Vineyards Estate Roussanne 2006
accompanies salmon tartare with crème fraiche and cucumber on toasted brioche.
Alban Vineyards is in California's Edna Valley, in southern San Luis Obispo County. It was the first American winery solely dedicated to Rhone varieties. Roussanne is a scented white grape that originated in the northern Rhone region of France where it was first mentioned in 1781. The 2006 vintage of this wine has 25% Viognier blended in which gives it more complexity and weight. Robert Parker's Wine Advocate rated it 91 points.
The second course of roasted Muscovy duck breast, creamy Jerusalem artichoke puree, thyme-roasted Bing cherries and foie gras was paired with
Domaine de la Janasse Châteauneuf-du-Pape 'Vielles Vignes' 2006
. This wine, from old vines (vielles vignes) is 80% Grenache with 10% each of Syrah and Mourvèdre. Robert Parker scored it 96 points. Chateauneuf-du-Pape is the region and means 'Popes new castle' which refers to seventy years from 1308 when Pope Clement V moved the papacy from Rome to Avignon on the Rhone river.
For the dessert course they went to South Africa for the stunning
Klein Constantia 'Vin de Constance' 2004
which was served with sugar-crusted walnut chiffon candied figs, sabayon and maple ice cream. Vin de Constance is a modern recreation of one of the famous wines of history. It is made from naturally very sweet Muscat grapes.
The final course was local cheeses and breads accompanied by
Alban Vineyards Estate Grenache 2006
. Continuing the Rhone theme with a second wine from Alban Vineyards, named after owner/winemaker John Alban. Grenache is one of world's most planted red wine grapes. This one gained 96 Parker points.
Armagnac was drunk at the Fairmont Olympic Hotel. Armagnac is a brandy from the French region of the same name.
Ana and Christian go for Adnams Explorer Beer when they have seafood chowder before going sailing. The Adnams brothers bought a brewery in Southwold on the south-eastern coast of England in 1872. But this beer is modern, first brewed in 2004. It was inspired by American blond beers after Adnams' chief brewer visited the USA and uses Columbus and Chinook hops grown in Washington's Yakima Valley.
After sailing Christian and Ana drink Frascati with bruschetta and risotto in Bee's Italian bistro. Frascati is a light Italian white wine from the region around the town of Frascati south of Rome. It was more famous than it is now, but long been a standard on Italian restaurant wine lists. It is a blend of Trebbiano and Malvasia.
After their exertions in an elevator Ana and Christian dine at his apartment at Escala. They have an unnamed white wine with coq au vin. Traditionally coq au vin (rooster in wine) is a hearty stew made with red wine that stains the chicken pieces deep dark red, and it's usual to serve red wine with it. There are white wine versions, known as coq au vin blanc or naming the wine, such as coq au Riesling.
For their next dinner at Escala they again have an unnamed white wine with chicken pot pie.
It's a change of Champagne from their usual Bollinger when they have Cristal with sea bass, asparagus, sautéed potatoes, and Hollandaise sauce at Christian's Club, the 'Mile High' (in reality the Columbia Tower Club) on the 76th Floor of Seattle's Columbia Tower. Cristal is a brand made by the Roederer Champagne winery. It comes in an unusual clear glass bottle without a punt – the depression usually found at the bottom of wine bottles. Roederer first had this special lead crystal glass made in 1876 for the Russian Court after Tsar Alexander, fearing for his life, demanded clear bottles in which explosives could not be hidden.
Christian asks for a Budvar beer with dinner at home. This is unusual as the beer is marketed as Czechvar in the USA. Budvar is brewed in the Czech Republic by the Budweiser Budvar Brewery and known there as Budweiser Budvar. After trademark disputes with the American Budweiser brand the USA beer continues to be sold in North America as Budweiser but as Bud in the EU, while the Czech beer has the rights to Budweiser Budvar in the EU but is labelled as Czechvar in the USA. And the American company that distributes Chechvar is Anheuser-Busch, makers of Bud!
An unnamed white wine is served when Ana cooks a poached salmon steaks for Christian birthday lunch at Escala, and Champagne and Lemon Martinis. There are two main types of recipe for this cocktail, those made using a lemon flavoured vodka and those made using lemon juice.
Do your tastes match those of Christian and Ana, tell us on our
forum
.
| | | |
| --- | --- | --- |
| | Peter F May is the author of Marilyn Merlot and the Naked Grape: Odd Wines from Around the World which features more than 100 wine labels and the stories behind them, and PINOTAGE: Behind the Legends of South Africa's Own Wine which tells the story behind the Pinotage wine and grape, also available for the Kindle, Nook and iPad. | |
---
Thanks to
Jennifer Do
for suggesting Le Picotan is based on Le Pigeon. Jennifer travelled to Washington and Oregon visiting locations in the book and she enjoyed dinner at Le Pigeon which she tells me "had a laid back type of feel as described in the book. There is a red brick wall on one side of the restaurant The restaurant is also located in an industrial area like Jose's art show was. See https://jdomakeup.blogspot.co.uk/2012/08/how-to-plan-your-perfect-fifty-shades.html
You Should Also Read:
Wines in Fifty Shades of Grey
Wines for a Fifty Shades Dinner
Vin de Constance - From Dickens to Fifty Shades


Related Articles
Editor's Picks Articles
Top Ten Articles
Previous Features
Site Map





Content copyright © 2022 by Peter F May. All rights reserved.
This content was written by Peter F May. If you wish to use this content in any manner, you need written permission. Contact Peter F May for details.