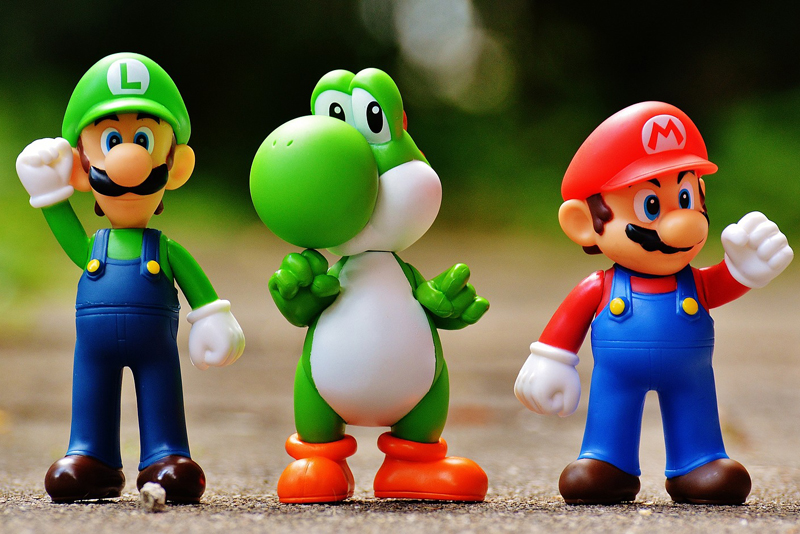 The Nintendo Wii U Console is finally a Wii which stands shoulder-to-shoulder with the XBox 360 and PlayStation 3. It offers HD video and can still play old-style Wii games as well.
I played and tested with our Wii U for a full month before posting this review. I wanted to make sure that the console behaved well throughout that time, and that we could get past any normal breaking-in highs and lows that tend to come with new consoles.
The console definitely is update-heavy. There have been several times that we've turned it on and had to sit through 20 minutes of fresh updates before playing a game. So it's important, when you first get it, to set aside time for doing those system updates. You can't always just turn-on-and-play. If you're planning to set aside an hour of gaming after dinner, it's a good idea to check the unit BEFORE dinner so you can update during dinner if necessary.
The video quality is now on par with the XBox 360 and PS3. The old Wii had always gone with the "poor-video-but-cheap" mantra, which certainly worked for a while. However in our modern world where many people have HD TVs, it became a bit rough after a while. On the down side, the old Wii could play GameCube games. This new one cannot. So if you still have GameCube games lying around, you'll have to keep a separate system to play them.
Speaking of things the WiiU can't do, it can't play any video DVDs - either standard or BluRay. That seems quite a shame. Half of what we use our PS3 for is playing movies. So again something to know. If you have a WiiU you'll still need a DVD player for your video watching.
I definitely recommend you get the 32 GIG unit. It fills up quickly.
Our set came with an included copy of NintendoLand - I'll review that separately. Suffice to say it had some fun mini-games and some less than fun ones, as most compilation sets do.
The console comes with the special WiiU tablet but NOT any normal WiiMotes which you definitely will want. So make sure you get your hands on one or more WiiMotes. The old ones that went with the Wii work perfectly fine.
The WiiU tablet is quite fun. It's an entirely separate screen and with some games you can play the WiiU games on it for times that someone else wants to watch the main TV. For many games you use that tablet as a secondary screen. For example in Zombie U you use the tablet to manage your inventory and map. In Super Mario a second player can "build blocks" for the main player to step on. In some of the NintendoLand games one player uses the screen while other players watch the main screen. This makes it especially fun to play "hiding" games like the ghost hunter one, because the ghost really can hide. He can see where he is on the tiny screen, and the others looking at the main screen have no idea.
Like any other console purchase, much of it comes down to how you personally will use the console and what type of games you play. If you want an all-in-one console that also handles media center types of activities, the PS3 might be better for you. If you love the Super Mario series, that's only on the Wii. If you already had a Wii and had GameCube games, know that you'll lose access to those GameCube games. If you adore the Wii, love the Just Dance games on it and are OK with it just being a gaming machine, you'll probably love the extra quality graphics and extra features of the Wii U.
We have both the normal Wii and the Wii U, as well as an XBox 360 and PS3. We use each of them for different types of activities. In terms of the Wii U, we do enjoy greatly the use of the tablet with games, especially multiplayer games. I think the tablet will be a big factor in upcoming games, and I'll be curious to see if the other systems begin to push hard in this direction as well.
I'd suggest you think twice if you could only have one, single console and you wanted to be able to watch movies on it. Or if you really wanted to play GameCube games on your console. In those cases, other consoles might fit your needs better.
Well recommended.
Rating: 5/5
We purchased this game with our own funds in order to do this review.
Buy the Nintendo Wii U Console from Amazon.com


Related Articles
Editor's Picks Articles
Top Ten Articles
Previous Features
Site Map





Content copyright © 2023 by Lisa Shea. All rights reserved.
This content was written by Lisa Shea. If you wish to use this content in any manner, you need written permission. Contact Lisa Shea for details.