Heavenly Parenting On Earth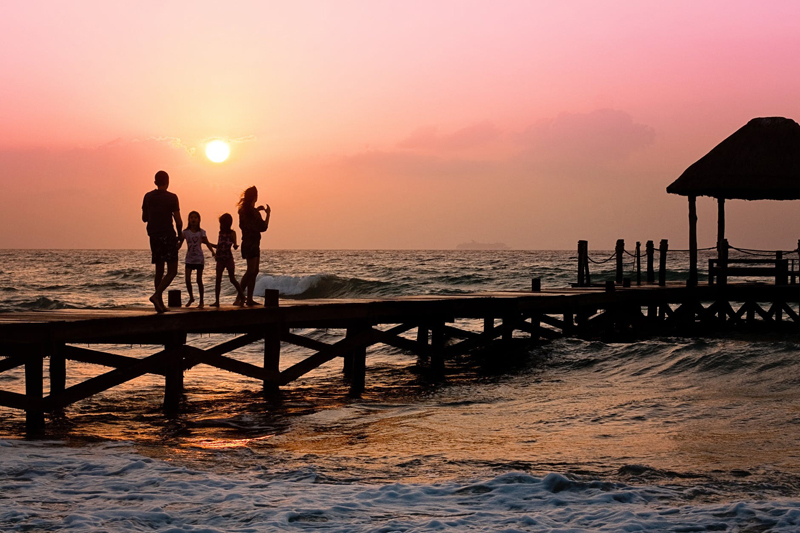 How many times have you heard someone say, You have no idea how much you can love another person until you become a parent. I guess it's true enough to have earned its place as one of the marvelous discoveries that happen when we have children and all of the sudden find ourselves back in that state of rapid learning we lived in when we were kids--filled with wonder and enthusiasm for the profound and little truths each day reveals, as each moment's pedestrian reality opens another delightful universal secret. We suddenly understand why people take 50 pictures in a row of a three-week old laying asleep in exactly the same position. We further understand why these people then post each image of this heretofore unseen baby behavior on Facebook. (And why Facebook friends who have also entered this realm of altered reality indulgently "like" at least 40 of these 50 virtually identical pictures.) A passionate interest in the philosophy of The Wiggles seems entirely rational—vitally important, even—and, yes, we finally realize the depth of a human being's capacity for love. After seven infertile years of yearning, trying and waiting for children, this all-consuming emotion did not really surprise me once my slobbery miracles began to arrive. I suppose I already felt that love well in advance of mine even being conceived. What did blow up my spiritual awe-o-meter was the realization of how much Heavenly Father loves me.

While no mortal is able to fully comprehend the divine, we are made in the image of this unknowable God. In this life we prepare to meet this God. (Moses 2:27; Alma 34:32) More, our purpose is to emulate this God and His perfect son so that we may become like Him.

"Behold, what manner of love the Father hath bestowed upon us, that we should be called the sons of God: therefore the world knoweth us not, because it knew him not. Beloved, now are we the sons of God, and it doth not yet appear what we shall be: but we know that, when he shall appear, we shall be like him; for we shall see him as he is. And every man that hath this hope in him purifieth himself, even as he is pure." (1 John 3:1-3)

The truth is this awesome and terrible Deity, that reigns over all creation, is also our loving and intimately involved father, and so not entirely beyond our reach, not completely unknowable after all. One difference between LDS theology and that of other Christian denominations is that others believe human beings are fundamentally different from God—essentially a separate species--that we did not exist prior to our lives here in mortality, and that once our days on earth are fulfilled, we will shed these cumbersome bodies forever and dwell as spirits, hopefully in heaven, praising God for eternity. By contrast, the LDS understanding is that we are God's children. He is not just our "father" in the sense that he created us, as he did camels and sharks and maple trees, but He is our father as we are fathers and mothers of the children we conceive or adopt. And while we will surely praise Him forever, hopefully dwelling in His presence, we, as His sons and daughters, were made to grow into and become much more, as we develop and improve throughout the eternities, drawing nearer and nearer to our Heavenly Parents. The very earth He created for us is waiting and preparing to evolve into paradise—a perfected version of what it currently is. (Tenth Article of Faith)

He shows us the way. What we experience—do, learn, feel, create—is a crude imitation of what our Heavenly Parents do. What they experience and do is an exalted, perfected version of our clumsy efforts. Our Father is not sitting on a golden throne atop a cloud watching our little human dramas with detached curiosity, while occasionally smiting someone here, and ensuring the outcome of a football game there. Go back to that breathless, awe-inspiring discovery of parental love that comes bundled with your first pack of newborn diapers and that grainy image of a precious blob on that first ultrasound. His love for us is even greater than our love for our precious babies.

Watching ourselves care for our children offers great insight into the care that is showered upon us from the source of all life. I know, sometimes it feels as though we are utterly alone. And once we become adults it's no longer feasible or appropriate to be scooped up in a parent's arms, comforted and cared for the way children are. If Father is tending to us in the same way we do our children, how is that we don't always know it? This, too, is a phenomenon mirrored in mortal relationships. Sometimes our kiddoes are inconsolable for a while, in spite of our presence and unwavering care. When one of my children cries and cries and will not be comforted, I am right there just the same, leaning over that second-grade boy, offering loving words and rubbing his back, or gathering my infant girl's four limbs in my two hands to help her regain that physical sense of security she recalls from the womb. The hurts we experience in this world are jarring to body and spirit. It is no wonder that sometimes children become so caught up in the immediacy of what they are feeling that our presence and love—which surrounds them constantly—does not instantly soothe them. The hurts and challenges of adulthood are just as shocking and harsh, in spite of our having had an entire childhood to get used to them. As adults we are even more likely to fail to hear or feel comfort than a colicky baby or seven-year old who finds a monster under his bed, in spite of that comfort having surrounded us our entire lives.

When one of my little ones is hurt or scared or sick or sad or uncertain or….there is nothing else in my world more pressing. My youngest child was born just a few weeks ago. I sat by my infant's bed in the NICU for 23 days. A unique set of circumstances made it so it was truly in her best interest that I stay with her rather than going home at night. For much of that time there was no room or bed for me, so I sat up in a chair night after night. I was overwrought emotionally, exhausted, hurting physically, and yet, flowing through me, body and spirit, was unflagging gratitude that she and I had both made it through the pregnancy, and a sure knowledge that there was no other place on earth I would choose to be, nothing else I would rather do than be there hovering--changing her, rocking her, feeding her, watching her breathe in a vigil that made it feel as if the night was watching with me. One of these "watching nights" in particular my body was trembling with the effort I had asked of it, and every part of me hurt. I held her against my skin, careful not to dislodge any wires or the tube in her nose, and distantly realized that the dampness gathering on her downy head came from my eyes.

I was beyond weary, missing home with my husband and other children, foggy and aching. I tried to pray, but I was too empty to say anything coherent. Like my toddler crying Mama no, I found myself just whispering, Father please…Father please…Father please. As I rocked to this quiet cadence I realized that as weak as I was in the depth of that watchful night, I did not rock and weep alone, and that I'd felt His presence even in the most frightening and painful moments surrounding the pregnancy and birth. I knew that my Father wept with me. As I felt her breathe softly, and felt my throat clench with love and amazement, merely at the tininess if her hand, I knew that He, whose daughter she also is, adores her as well. And hard as it is to comprehend—so hard—He feels that way about me, too.

His infinitely strong arms were around me then, along with His watchful, patient gaze, and will be every pedestrian moment of my life, whether I know it or not. No, It is neither feasible nor appropriate to crawl into someone's lap and surrender once we are grown-ups, but to our Heavenly Parents we are still in our infancy, and their love is perfect—free of the weakness, fears, inexperience, bad experience, subconscious agendas and inadequacies that we mortals (spiritual infants) are still subject to. He sent us here, as I will one day send my children off to missions, college, marriage, knowing we were not through growing, and would certainly continue to need Him. As far away from heaven as we travel, as mature as we may become, His care and supervision will never waver, though He will allow us to turn away from Him if we choose, in spite of His pain at our refusing His care. "…how oft would I have gathered you as a hen gathereth her chickens, and ye would not. O ye house of Israel whom I have spared, how oft will I gather you as a hen gathereth her chickens under her wings, if ye will repent and return unto me with full purpose of heart." (3 Nephi 10:5-6)

We will always be his babies, as our teenagers and twenty-somethings, and middle-aged baldings will always be ours, and the moment we choose to return, we will find Him still there, watching over us. Our Savior reminds us, "Behold, ye are little children and ye cannot bear all things now; ye must grow in grace and in the knowledge of the truth. Fear not, little children, for you are mine, and I have overcome the world, and you are of them that my Father hath given me…" (Doctrine and Covenants 50:40-41)

What a gift and privilege it is to be given little ones to care for and nurture, to feel even the smallest bit of that love Heavenly Father feels for us, and rejoice in knowing that someday we may experience its fullness.



Related Articles
Editor's Picks Articles
Top Ten Articles
Previous Features
Site Map





Content copyright © 2023 by Jamie Rose. All rights reserved.
This content was written by Jamie Rose. If you wish to use this content in any manner, you need written permission. Contact Jamie Rose for details.