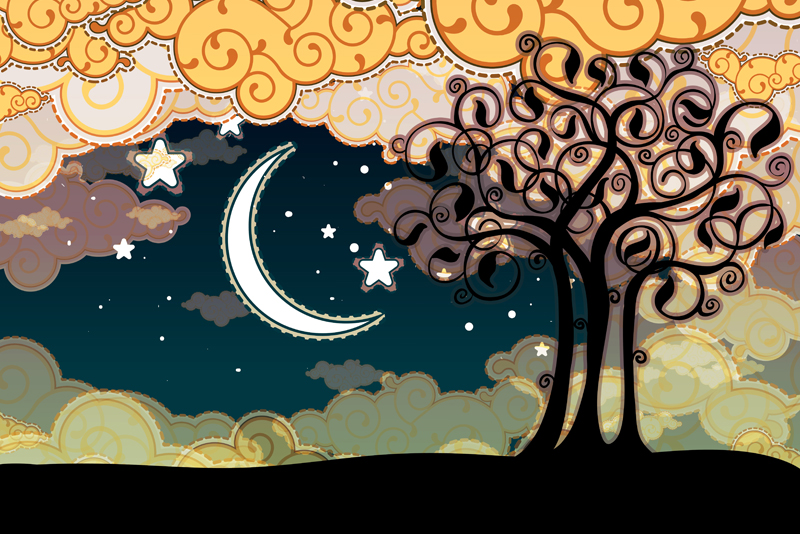 These days lavender is associated more with the cosmetics industry and aromatherapy than magick, but not that long ago it occupied a prime position in Witches' spells and cures as an antiseptic, calmative, and protective herb. It is under the Element of Air, and is ruled by the planetary energies of Mercury which meant to doctors, herbalists, and Witches of the Middle Ages that it was connected with the mind. It also had a reputation as a herb that could encourage affection, making it popular in love potions and aphrodisiac scents.

Lavender essential oil is also easy to extract with a simple steam process, rather than the more complex solvent system that many other essential oils need. This makes it one of the few oils that can usually – but not always – be used safely on the skin, or in cooking via the flowers that produces it. Some people can be allergic to lavender in all its forms so before using it check that you, or the people who come in contact with it, are not one of them!

As with most herbs for magickal use it's best to grow your own. Lavender grows well in dry sandy soil so it doesn't have to be watered every day if it's in a container indoors, once a week is fine. Its biggest weakness is cold, so remember to plant or put the pot somewhere sheltered but in direct sunlight. You can grow it from seed, but it is easier to propagate from cuttings. This is especially useful if you want to use lavender from a particular strain, or from a bush that has been found to be effective in magick or potion making.

First of all peel a side branch off the main stem of lavender. It will come off with a strip of bark attached. Trim this off close to the base of the stem, but avoid cutting off the base of the branch itself. Remove the bottom leaves so that you have a clean stem to insert into the earth then do so. Some magickal gardeners like to increase the chances of it rooting by dipping the end of the former branch in rooting powder, which is available from a number of sources including hardware shops and gardening centres, before inserting it into the earth

Having prepared the container with gritty compost insert the former branch into the soil up to the base of the first set of leaves at the edge of the pot. Repeat with other sprigs in a clockwise direction while mentally raising power and/or attuning the plant to your magical intent. Leave about two finger-widths between each plant. When the planting and ritual are finished water the compost well with water - which may also be magickally charged – and cover the pot with a clear plastic bag which is tied or secured with an elastic bag so that there is a humid atmosphere around the cuttings.

Place the pot in a warm place out of direct sunlight and leave for four to six weeks, watering occasionally. By then the sprigs should have begun to develop roots. Then you can cut a corner of the bag off to allow the air to circulate, water once a week and a few weeks later, the bag can be removed. Leave the cuttings a full moon cycle or two to allow them to become well rooted then they can be put in their own pots, or in the garden if it is spring or early summer.

Once you have access to lavender there are several ways of using it. As an incense you can scatter the fresh or dried flowers directly on a lit charcoal block, or soak the stems and flowers in saltpetre/nitre (Potassium nitrate) and allow to dry. Then they can be lighted like incense sticks and will burn in the same way.

Lavender has also been used as a home remedy, both as an antiseptic and for 'ailments of the head'. One recipe that combines these two aspects is Lavender Vinegar:

Ingredients:
• Eight oz dried lavender flowers
• One pint cider vinegar
• ½ pint rosewater (usually found in the cake aisle of most supermarkets)
Place the flowers in a screw-topped jar, add the vinegar, and leave for a week in a cool dark place, shaking vigorously every day. At the end of the week strain the vinegar through a large sieve lined with muslin, then stir in the rosewater, Bottle and use as required.
The two main uses for this are as an antiseptic wash for superficial grazes and cuts, and as a poultice for relieving headaches caused by tiredness and stress. In the latter case the vinegar is dabbed onto the temples and allowed to evaporate while the person is sitting or lying down quietly.

Lavender's relaxing properties can also be used to help counteract insomnia in combination with other herbs in a special herbal pillow. The formula, told to me by a Witch from a traditional coven was:
• One handful dried hops
• One handful dried lavender
• One handful dried lemon balm, or lemon thyme
Mix all the ingredients together and fill a muslin bag to be placed under the pillow, or use it as stuffing for a small handcrafted pillow to be placed under the main pillow. The handfuls can be small (more like a palmful) or large, depending on need and how the person reacts to the mixture.
The Witch also suggested lying in bed with your head pointing to magnetic North, and your feet to the South. Aligning yourself with the Earth's magnetic field like this was supposed have a soothing effect on the magnetic fields surrounding the human body.
There are many other uses for lavender in both ritual and spellwork but, by understanding the basics, you can learn to tailor them to your own needs and spiritual path. Lavender is an excellent herb to experiment with as its association and effects are mainly beneficial making it an ideal herb for use in healing and attracting love spells. The best way to find how effective it is for you is to use it in these aspects and see what happens- let me know on the forum what uses you find for it!

You Should Also Read:
Herbs and Magick


Related Articles
Editor's Picks Articles
Top Ten Articles
Previous Features
Site Map





Content copyright © 2022 by Ian Edwards. All rights reserved.
This content was written by Ian Edwards. If you wish to use this content in any manner, you need written permission. Contact Ian Edwards for details.