Knitting Modular Shawls, Wraps, and Stoles Review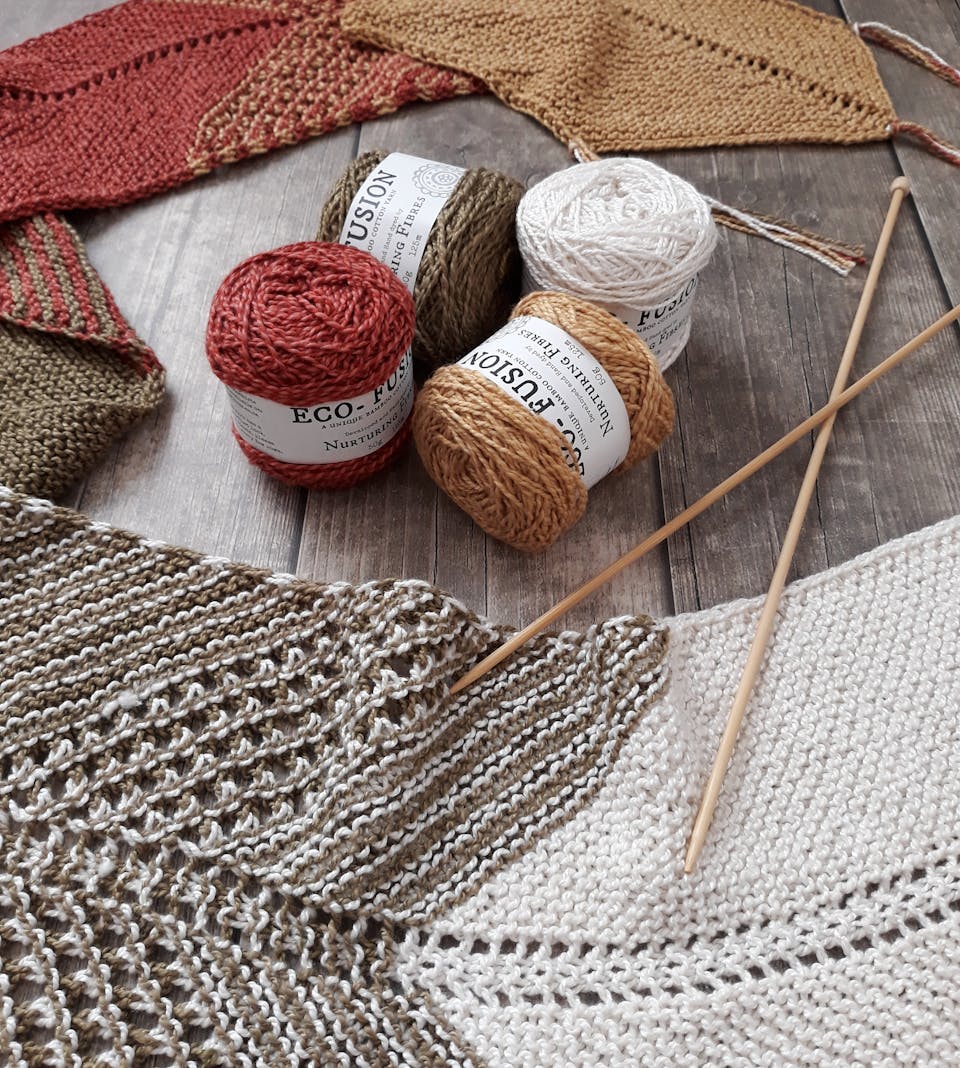 There are pattern book collections, and there are instructional manuals for specific techniques. Melissa Leapman has written Knitting Modular Shawls, Wraps, and Stoles, which fits into both categories. If you enjoy knitting the aforementioned objects, and if you enjoy creating custom designs, you are going to love this book.

Melissa Leapman has successfully published both individual patterns and collections for a number of years. Knitting Modular includes a few bespoke patterns, but the majority of the tome is set up so that you, the knitter, are also the creatrix. She begins by breaking shawl construction down into seven steps: silhouette, stitch pattern, background texture, cast-on tab, border, and bind off. These ten pages are the meat and potatoes of the book; if you understand how these work together, you can then move on to determining your own specifications. I would suggest re-reading this section more than once, as you will be using it to put together your personal choices.

The majority of Knitting Modular is devoted to different pattern stitch choices. These are divided into seven different groups: side edgings, simple fabrics, mix-n-match edgings, horizontal and vertical insertions, lower borders, and perpendicular borders. Each of these sections contains a stitch dictionary, with the vast majority of space given to the wedge area. And with good reason; this is likely going to be the main part of your garment.

Following the stitch dictionary sections, there is a Gallery of Shawls that includes twenty different shawl patterns put together using the different elements earlier described. Even if you do not want to make any of the predetermined garments, this section is worth some scrutiny, as it will show you how to mix and match the different pattern stitches. Again, this is a part of the book worth reading more than once.

The end of the book gives resources that may prove useful to knitters. By far the most intriguing one is the last to be listed, the Stitch Multiple Cross-Reference Chart Here, math phobic knitters will be able to reference what kind of wedge patterns work with what kind of other elements without having to subtract or add stitches at each section. For example, a six stitch multiple wedge will work with horizontal insertions made up of multiples of two, six, or twelve stitches, but not with those that need eight. A wedge that uses a fourteen stitch multiple will need a fourteen stitch border. This is the kind of information that elevates this book above a simple stitch dictionary; this is a third section that should be reviewed when putting a shawl together.

People who prefer to pick out and use patterns as they are written will probably find this book to have too many choices. Those with advanced designing skills will not need the formula offered. Those who reside between these two extremes, however, will enjoy the creativity offered and will no doubt make many, many garments from these instructions.

Disclaimer: I am not affiliated with Melissa Leapman. I received this book as a gift from my family.

Leapman, Melissa. Knitting Modular Shawls, Wraps, and Stoles: An Easy, Innovative Technique for Creating Custom Designs, with 185 Stitch Patterns. Story Publishing, North Adams, Massachusetts, 2018. ISBN 978-161-21299-69.



Related Articles
Editor's Picks Articles
Top Ten Articles
Previous Features
Site Map





Content copyright © 2021 by Korie Beth Brown, Ph.D.. All rights reserved.
This content was written by Korie Beth Brown, Ph.D.. If you wish to use this content in any manner, you need written permission. Contact Korie Beth Brown, Ph.D. for details.