Non-Alcoholic Gluhwein Recipe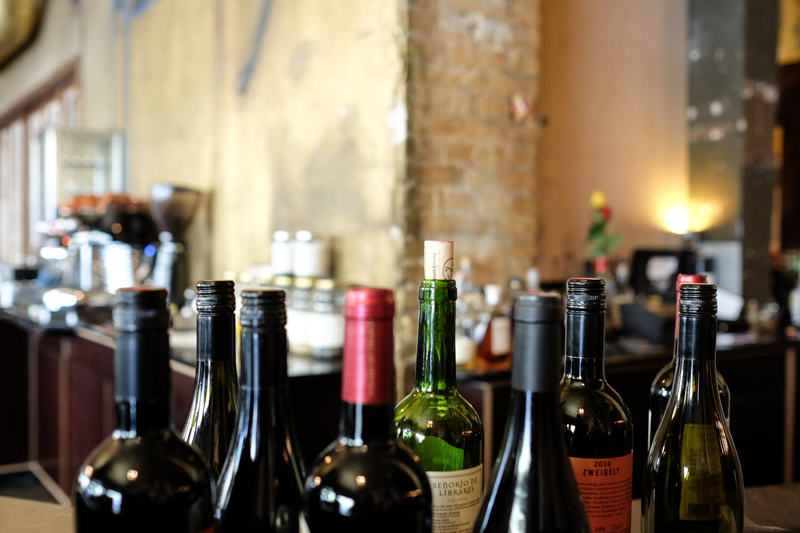 Glühwein is German for 'mulled wine'. It is a warming winter drink of red wine heated with fragrant Christmas spices and fruit.
A reader has asked me for a recipe for a non-alcoholic Glühwein. My first thought was that it is a contradiction in terms, since the very name means warmed wine. Any warm drink without wine could be Glüh, or warmed but it couldn't be wein.
A warmed spiced fruit drink would be a perfectly pleasant alternative, but could I make a drink that tasted like Glühwein without using alcohol?
Let's consider what qualities red wine offers. Wine has acidity, fruit flavours and tannins. And it has around 13-14% alcohol which gives it something no fruit drink has, which wine lovers describe as 'body'.
So we could replace the wine with a fruit drink and add tannin and acid.
Grape juice is the obvious choice, since wine is made from grapes. Acid could come from the juice of lemons.
For tannin make a cup of strong black tea, using Assam or English Breakfast. Put a teabag in a large mug, boil water and pour the water into the mug as soon as the water reaches a rolling boil. Leave the tea to steep for ten minutes then remove the tea bag. The tea should be dense black, and should you sip it, you'll find it puckers your mouth with its tannin.
My Glüh-nine-wein Recipe
Makes around 8-10 servings
Ingredients:
• 750mL of grape juice.
• 2 - Cinnamon sticks – Cinnamon is very traditional. Break the sticks into pieces 1 – 2 inches each
• 8 Whole Cloves – again a traditional ingredient
• 2 lemons
• 1 Tablespoon runny honey
• 1 heaped teaspoon mixed ground Christmas cake spices – or equivalent amount of any off allspice, nutmeg, coriander mixed together
• Water – wineglass full
Method
1. Put water in large pan and place over medium heat.
2. Add cinnamon honey and spices.
3. While honey is melting cut the lemons into quarter lengthways, then cut them in half so you have 16 pieces. Push one of the cloves into the skin of half of the pieces and add to the pan.
4. Pour in all the grape juice.
5. Bring the heat up to a gentle simmer and then turn the heat off.
6. As soon as it is cool enough to taste, test it for sweetness and tannin. The drink should be sweet enough since grape juice is considerably sweeter than wine. If you can taste a light 'grip' of tannin in the background, add a little more tea.
7. Let the pan stand for an hour or longer so the flavours develop.
8. Warm gently before serving and spoon out into a heatproof glass.
Notes:
The idea of pushing the cloves into the orange is so they are not loose in the drink. If you do not do this stage you should consider straining the drink so that people don't get the surprise of a whole clove in their throats.
Variations
Instead of grape juice you could try a de-alcoholised wine. Fre Wines make two reds, a Merlot and a Red Blend. Either will do as a base.
To get a more intense grapey flavour, add a handful of raisins into a mug and pour on boiling water, leave to steep for an hour and add to the pan.
Let me know what you think about what I am calling Glüh-nine-wein (meaning mulled-no-wine) on our
forum
.
| | | |
| --- | --- | --- |
| | Peter F May is the author of Marilyn Merlot and the Naked Grape: Odd Wines from Around the World which features more than 100 wine labels and the stories behind them, and PINOTAGE: Behind the Legends of South Africa's Own Wine which tells the story behind the Pinotage wine and grape, also available for the Kindle, Nook and iPad. | |
---
You Should Also Read:
Glühwein - German Mulled Wine Recipe


Related Articles
Editor's Picks Articles
Top Ten Articles
Previous Features
Site Map





Content copyright © 2022 by Peter F May. All rights reserved.
This content was written by Peter F May. If you wish to use this content in any manner, you need written permission. Contact Peter F May for details.