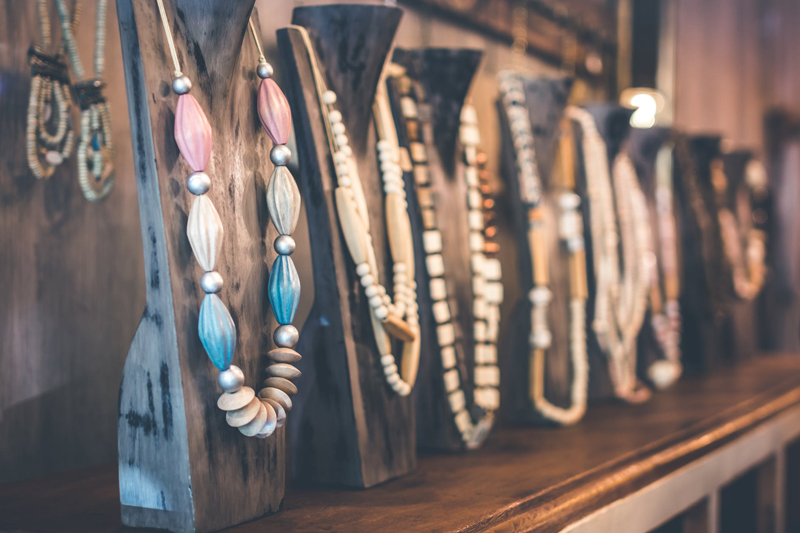 The Spiral Rope is one of my favorites. They are easy to do and look fantastic. The Spiral is an easy stitch, it consists of the base beads and the beads that make the spiral around the core beads.The Spiral Rope can be used in many different projects for many different uses. You can use it just the way it is, as a bag strap, a necklace, bracelet or an anklet. If you make very short ones, they can be used ad earrings to match your necklace or what ever you chose to do.
The materials you will need:
* size 11 seed beads in two colors. About 8 grams each. One is for the core bead and the other is what will go around to form the spiral.
* Nymo size D
* Size 12 beading needle. (Personally, I always use the Big-eye needles.)
* Bees wax or Thread Heaven- to condition the thread.
***I used bigger beads so you can see what I'm doing better.
Here is how you get started;
1. Cut about a 3 foot piece of Nymo thread. condition the thread with bees wax or Thread Heaven which ever you prefer. Then you will want to stretch your thread, so your work won't sag later.
2. Thread up your needle. Slide on a stopper bead so your work won't slide off. Leaving an 8 in. tail.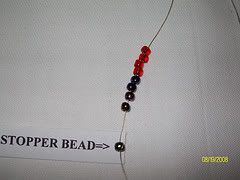 4. Take your needle and go back up through the four core beads to form a loop and pull tight. Keeping the spiral (outside) the beads to the left.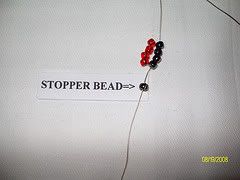 5. Add 1 core bead and 4 outside spiral beads. Let them slide down to your work.
6. Take your needle up through the last 3 core beads and the core bead you just added. (Always 4 core beads at a time) Do not pass through the very first core bead on your thread.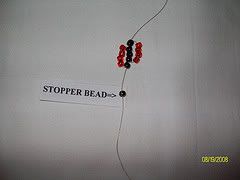 7.Pull thread until your work comes together. Flip this newly formed loop over to the left. Always hold the core beads to the right and the outer spiral beads to the left.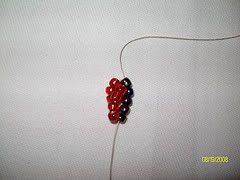 8. Repeat from step 3 until you have the length you want. Make sure you keep pushing the top beads over. See how it begins to spiral as you go?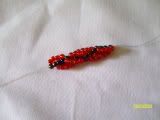 Some other variations are:
* Changing the sizes of beads.
*Chang the quantity of the outer beads.
* Put a large focal bead in it.
Experiment with different colors, sizes of beads, and different lengths. There are so many different ways you can go with this style of stitch. The different looks you could come up with are endless.


Related Articles
Editor's Picks Articles
Top Ten Articles
Previous Features
Site Map





Content copyright © 2021 by Debbie Witenski. All rights reserved.
This content was written by Debbie Witenski. If you wish to use this content in any manner, you need written permission. Contact Susan Mendenhall for details.