Hedgehogs - Interview with Z. G. Standing Bear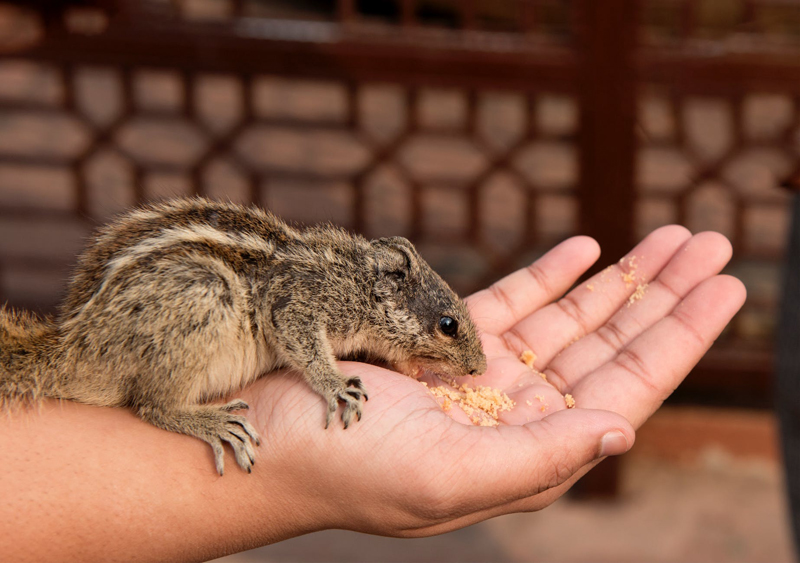 Z. G. Standing Bear is a Vietnam combat veteran and retired Army officer. He was also a college professor at Colorado State University having taught criminology, forensic science, and justice ethics, and a variety of other subjects.
Standing Bear is mixed-blood Native American with ancestors that are Mohawk, Wampanoag, Micmac, Scotch, and Irish.
"I spoke Mohawk before I spoke English (thanks to living with my grandmother - next door to my home - while my both parents worked). It was a delightful childhood," said Standing Bear.
Z. G. Standing Bear is also a long time advocate of animals and exotic pets. He is currently the treasurer of the International Hedgehog Association (IHA).
Zug G. Standing Bear

In 1991 the African Hedgehog was gathered in African and sold prolifically in the wholesale pet market in the United States. The USDA ceased the importation of the Hedgehog in 1994 allowing unscrupulous individuals to gain huge profits off the hedgehog.

"The price of a breeding pair of hedgehogs during that period went as high as $5,000, and they even merited a front page article in the Wall Street Journal" said Standing Bear. "But, as fad pet trends often move, they fell out of favor and were replaced by other fad pets, and so the profiteers moved on, leaving in their wake thousands of inbred hedgehogs and a litany of bad pet care literature."

According to Standing Bear, a few of the original breeders stayed on and founded the International Hedgehog Fancier's Society (IHFS), a British Columbia nonprofit society.

"Conflicts within that organization caused the holder of the charter to disband the organization, and telephoned me in 1999 to see if I could reinvent it in the USA. I did so, and today the International Hedgehog Association (IHA) is the oldest pet hedgehog organization in the world."

He has also had years of personal, hands on experience with hedgehogs and wolves. Standing Bear and his wife Virginia Lynch (Forensic Nursing and Forensic Health Science) had lived in South Georgia.

"In Georgia we had two Eastern timber wolves as pets (littermate sisters), whose names were Akwe'kon (Ahk-WAY-go)(Mohawk for 'everyone, all of us, related') and Iot'kon (Yo-go)(Mohawk for "spirit woman"). It's a semi-long story where they came from, and as far as I can tell they had a small percentage of Belgian Malinois shepherd on their father's side," said Standing Bear. He explained that his house backed up to the Okeefenokee Swamp in Georgia, "the girls ran free there for six years without incident except for one copperhead bite."

In 1995 they moved to Fort Collins, Colorado to be near three of their four daughters. He explained that his youngest daughter is a captain at the Arizona State Penitentiary in Florence, AZ. The wolves didn't adjust to the move, frequently escaping from the back yard. This incident led him to his first experience with an animal rescue.

"We funded a run for them at Wolves Offered Life and Friendship (W.O.L.F.) rescue west of LaPorte, Colorado on 185 acres in a very remote area. But I used to go up there almost every weekend to run with them, so much so that the president of the wolf rescue invited me to be on the board of directors, so I became the treasurer of WOLF," said Standing Bear.

He held that position until they moved south 150 miles to Divide, CO, "The girls came with us, by that time 12 years old, and slowed down considerably with arthritis.

In 1996 his wife Virginia, who was an avid gardener, became smitten with hedgehogs which she had seen at a plant nursery. In 1996 she came home with a hedgehog as a pet.

"As I was arguing with her about her decision, she placed the hedgehog on the floor and changed the subject to deciding on a name for her. The hedgehog promptly disappeared, and stayed disappeared for four days. We decided to name her Flash." said Standing Bear.

It wasn't long before they acquired a second hedgehog from one of his students who graduated and was entering the Peace Corps. His student had purchased the hedgehog from a pet store in Maryland in 1993.

"Since this was well before any commercial breeding began in the USA, Thelma was the only hedgehog to come here that I know of, that was actually born in Africa," explained Standing Bear.

Their third hedgehog came from the first store where they had bought Flash.

"The store owner called me and asked if I wanted a free hedgehog, because several purchasers kept returning her and demanding their money back because she was 'too wild,'" said Standing Bear. He explained that the hedgehog was friendly but also energetic. This hedgehog became known as Louise.

His fourth hedgehog Rosie had been a classroom pet. But when elementary school teacher in Denver found a couple of students using the hedgehog as a golf ball batting her around the classroom during recess, she promptly removed the hedgehog from the classroom. The hedgehog was returned to the store. The store owner called Standing Bear.

"I was on the road to becoming a hedgehog rescue. What sealed my fate was the fact that I essentially killed Flash through bad diet choices at the young age of 22 months by following the directions in a very bad pet hedgehog care book," said Standing Bear.

That is why the book that Standing Bear reviewed is important, it is an excellent book, and according to Standing Bear there are far more bad pet hedgehog care books than there are good ones. Hedgehogs: A Complete Pet Owners Manual by Sharon Vanderlip, DVM. A Complete Pet Owners Manual

"So, of our first four hedgehogs, Flash was the first to die at age 22 months from liver disease. Thelma was the next to travel on, but she was almost 4 years old when she arrived, and so succumbed to kidney failure at age 5. Louise made it to age four, but gave up when she could not run any more due to arthritis (we now provide daily powdered glucosamine and chondroitin with food after age three and it seems to be working). Rose died of complications from cancer, but did make it to age 5. Today, I have cared for 317 hedgehogs' long term and we presently have 45 in residence here. The one to live here the longest was Vula indlela (Zulu for "to make open the way") who resided here for over 5 and a half years. The oldest hedgehog was Reggie, who entered here at four years old, and then made it to live to 8 years and two months (about 100 years of age if he was a human). By the way, Reggie was the slowest hedgehog I had ever encountered. He never even ran on his wheel, just sort of strolled," as Standing Bear related the rest of the hedgehog story.

Seventy-year old Z. G. Standing Bear lives high up at the 9000 foot level of the Rocky Mountains. He is still taking care of a variety of critters. He has authored several articles in the Forensic Examiner and wrote The Gathering: Secretly Saving the World Part One of the Hedgehog Chronicles. He is also the Administrator of The Flash and Thelma Memorial Hedgehog.

Read Standing Bear's review on, Hedgehogs: A Complete Pet Owners Manual by Sharon Vanderlip, A Complete Pet Owners Manual


Diana Geiger Editor Pet Hedgehog article
Diana Geiger Exotic Pets Editor
on
Hedgehogs (Complete Pet Owner's Manual)
Follow Exotic Pets BellaOnline on Twitter!
Exotic Pets BellaOnline on Twitter
Subscribe free
to the exotic pets newsletter. It is quick and easy Just glance to the right or scroll a bit to the bottom and subscribe. I will only bug you once a week :) Be the first to be in the know! Your information is always private!
I am also the Bird editor if you enjoy pet birds subscribe to the Birds newsletter.
Birds BellaOnline
Ferrets: A Complete Guide available in paperback and Kindle. By Diana Geiger (me:) Five star reviews!
Now, also available at Barnes and Noble.
Ferrets: A Complete Guide - Paperback
This site needs an editor - click to learn more!

You Should Also Read:
Exotic Pet Site Map
Ferrets - A Complete Guide Paperback and Kindle
Exotic Pet Shopping (the safest for your pets)




Related Articles
Editor's Picks Articles
Top Ten Articles
Previous Features
Site Map





Content copyright © 2022 by Diana Geiger. All rights reserved.
This content was written by Diana Geiger. If you wish to use this content in any manner, you need written permission. Contact BellaOnline Administration for details.