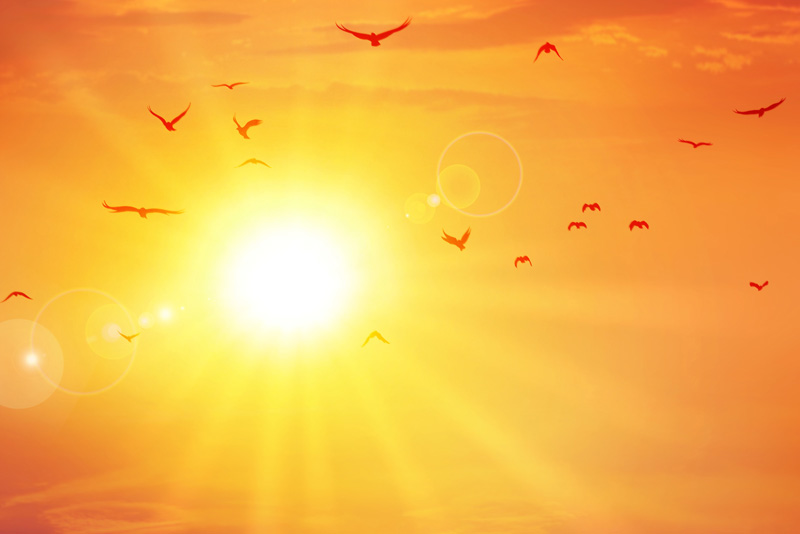 How difficult is it to believe in life after death? As Christians, we insist that we believe that Jesus conquered death. We say we believe. Shouldn't we be able to face anything since even death has lost its power? How often have we recited or sung "If God is for us who can be against us?" (Romans 8:31)
After Jesus' death on the cross, three days in the tomb and His resurrection, He walked the earth for another forty days. I have wondered why, when His next stop would be the right hand of God. I don't know the answer to this but I think He may have stayed to convince His disciples that they hadn't dreamt or imagined it. He did come back from death in the physical body.
During the forty days He gave many convincing proofs that He was indeed alive.(Acts 1:3) He met with disciples and explained the Scriptures pertaining to the death and resurrection of the Messiah. He let the apostles see and touch the wounds He'd suffered during the crucifixion. He ate broiled fish in their presence. (Luke 24:42-43) He even cooked them breakfast. (John 21:1-14)
Even though Jesus had prepared His followers in advance - told them that He would be betrayed and then suffer and die - it took them by surprise. They were so frightened that they ran. Jesus had promised that He would leave the tomb. He had told them this in advance, but could they comprehend the true meaning? I think that even with this "head knowledge" it took those post-resurrection forty days of seeing, hearing and touching Jesus, before His followers could believe in their hearts that He was real. They had forty days of physical proof that Jesus had conquered death. He proved to them that death would not be the end of existence but a step in their eternal life.
Those disciples went on to proclaim the gospel of Jesus Christ. They knew in their inmost being that Jesus died to pay for sin and came back to show real life. Through their belief and the indwelling Holy Spirit, they were able to boldly tell others about Jesus and do it often, even though doing so would mean torture and death for many of them.
Do you proclaim the gospel of Jesus Christ boldly and often? Is it difficult? A salesman once told me that if we really believe in something, it is easy to talk about it. Most of us will never face death for proclaiming the gospel. We may face the milder penalty of ridicule and persecution. The question is, "Is Jesus Christ and eternal life more real to us than the ridicule and persecution?"
It would be wonderful to have Jesus in the physical body letting us touch Him or sharing a meal with us, proving His existence. We do have the Bible reminding us of His promises. We have His Holy Spirit residing within and filling us for His service. He enables us to proclaim His gospel. We are asked to have faith in and act upon what we know to be true. All we have to do is trust Him to supply the opportunity and then to enable us to speak boldly.
Jesus said to Thomas. "Because you have seen me, you have believed; blessed are those who have not seen and yet believed." (John 20:29 NIV)
One day, we will have that close contact with Jesus again. He promised to come back. His Father's house has many rooms and He was going to prepare a place for us. (John 14:1-3)
I pray for the courage to speak His word boldly now.
You Should Also Read:
When God Has Other Plans
Jesus Frees the Demon Possessed Man
Eight Things God Loves


Related Articles
Editor's Picks Articles
Top Ten Articles
Previous Features
Site Map



Follow @LynneChapman
Tweet





Content copyright © 2021 by Lynne Chapman. All rights reserved.
This content was written by Lynne Chapman. If you wish to use this content in any manner, you need written permission. Contact Lynne Chapman for details.