Official Name:
Republic of Chad
Alternate Names:
Chad
Former Names:
French Equatorial Africa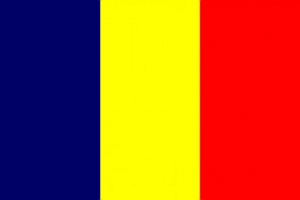 Capital City:
N'Djamena
Flag:
The flag has three vertical bands - blue, yellow and red. The blue symbolizes the sky, hope, and water. The yellow represents the sun and the desert. The red represents progress, unity and sacrifice as well as the blood shed for independence.
Date of Independence:
August 11, 1960 (from France)
National Anthem:
"La Tchadienne" (The Chadian Hymn)
Population:
10,758,945
Size/Area:
496,000 square miles - slightly more than three times the size of California.
Land Locked:
Yes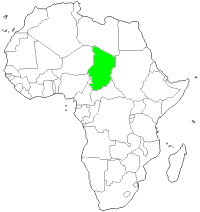 Coastline:
0 miles
Bordering Countries:
Libya, Sudan, the Central African Republic, Cameroon, Nigeria, and Niger
Administrative Divisions:
Chad is divided into 22 regions. Those regions are: Batha, Chari-Baguirmi, Hadjer-Lamis, Wadi Fira, Bahr el Gazel, Borkou, Ennedi, Guéra, Kanem, Lac, Logone Occidental, Logone Oriental, Mandoul, Mayo-Kebbi Est, Mayo-Kebbi Ouest, Moyen-Chari, Ouaddaï, Salamat, Sila, Tandjilé, Tibesti, and N'Djamena.
Major Cities:
N'Djamena, Moundou, Abeche, Sarh, Bongor, Faya.
Languages:
French and Arabic (official). Sara (in the south). More than 120 indigenous Chadian languages and dialects.
Religions:
Muslim, Roman Catholic, Protestant, animist, and atheist.
Major Holidays:
New Year's Day (Jan 1), Easter Monday, Labour Day (May 1), Independence Day (Aug 11), All Saints Day (Nov 1), Republic Day (Nov 28), , Freedom and Democracy Day (Dec 1), Christmas Day (Dec 25), Prophet's Birthday, End of Ramadan, Feast of the Sacrifice
Currency:
Central African CFA franc
Currency Code:
(XAF)
Highest Point:
Emi Koussi at 11,204 feet
Lowest Point:
Djourab at 525 feet
Bordering Bodies of Water:
Lake Chad
Climate:
Southern Chad has a tropical climate while northern Chad is mainly desert.
Major Industries:
oil, cotton textiles, meatpacking, brewing, natron (sodium carbonate), soap, cigarettes, construction materials
Major Agricultural Products:
cotton, sorghum, millet, peanuts, rice, potatoes, manioc (tapioca); cattle, sheep, goats, camels
Natural Resources:
Petroleum, natron (sodium carbonate), kaolin, gold, bauxite, tin, tungsten, titanium, iron ore
Time Zone:
WAT (UTC+1)

Tribes of Africa eBook
This eBook is the most complete listing of African tribes available on the internet. The first section of this book is the tribes sorted alphabetically by country. The second section is the tribes sorted alphabetically by tribe name.
This site needs an editor - click to learn more!

You Should Also Read:
Central African Republic Country Facts
Equatorial Guinea Country Facts
Gabon Country Facts




Related Articles
Editor's Picks Articles
Top Ten Articles
Previous Features
Site Map





Content copyright © 2021 by Jeanne Egbosiuba Ukwendu. All rights reserved.
This content was written by Jeanne Egbosiuba Ukwendu. If you wish to use this content in any manner, you need written permission. Contact BellaOnline Administration for details.