Official Name:
Republic of Cameroon
Alternate Names:
Cameroon
Former Names:
Rio dos Camarões (River of Prawns), Adamawa Emirate, Republic of Cameroun, French Cameroun, British Cameroons, Federal Republic of Cameroon, United Republic of Cameroon
Capital City:
Yaoundé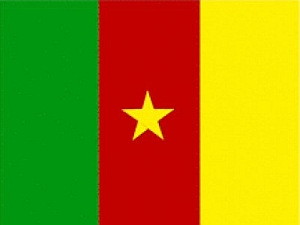 Flag:
The flag has three vertical stripes one each of green, red and yellow. There is a five-pointed star in the center of the red stripe. The size of the central star tends to vary but it is always centered inside the center red stripe. The red represents unity.
Date of Independence:
January 1, 1960 from France. On October 1, 1961 the British Southern Cameroons united with the former French Cameroun.
National Anthem:
Liberté (Freedom)
Population:
20,129,878
Size/Area:
295,424 square miles. Cameroon is slightly larger than California.
Land Locked:
No
Coastline:
249 miles
Bordering Countries:
Nigeria, Chad, Central African Republic, Equatorial Guinea, Gabon, and the Republic of the Congo.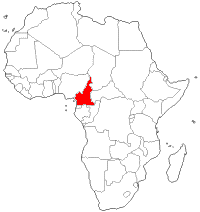 Administrative Divisions:
Cameroon has 10 provinces - Adamawa, Centre, East, Far North, Littoral, North, Northwest, South, Southwest, and West. Each province is further broken down into departments.
Major Cities:
Douala, Yaoundé, and Garoua.
Languages:
English (Official), French (Official),
Religions:
Christianity, Islam, Indigenous, other.
Major Holidays:
New Year's Day (Jan 1), Eid Milad Nabi (Prophet's Anniversary), Youth Day (Feb 11), Easter, Labour Day (May 1), Ascension, National Day (May 20), Sheep Festival (May 21), Ascension of the Prophet, Assumption, Djoulde Soumae (End of Ramadan), Unification Day (Oct 1), Eid Al Adha (Festival of Sacrifice), Hijra (Islamic New Year), Christmas (Dec 25)
Currency:
Central African CFA franc
Currency Code:
XAF
Highest Point:
Fako on Mt. Cameroon at 13435 feet
Lowest Point:
Atlantic Ocean at 0 feet
Bordering Bodies of Water:
Atlantic Ocean
Climate:
Cameroon's climate is tropical. The south near the coastline is humid. The climate becomes progressively drier as one moves northward.
Major Industries:
Petroleum production and refining, aluminum production, food processing, light consumer goods, textiles, lumber, and ship repair
Major Agricultural Products:
Coffee, cocoa, cotton, rubber, bananas, oilseed, grains, cassava, livestock, and timber
Natural Resources:
Petroleum, bauxite, iron ore, timber, and hydropower
Time Zone:
WAT (UTC +1)

Tribes of Africa eBook
This eBook is the most complete listing of African tribes available on the internet. The first section of this book is the tribes sorted alphabetically by country. The second section is the tribes sorted alphabetically by tribe name.
This site needs an editor - click to learn more!

You Should Also Read:
Benin Country Facts
Gambia Country Facts
Mali Country Facts




Related Articles
Editor's Picks Articles
Top Ten Articles
Previous Features
Site Map





Content copyright © 2021 by Jeanne Egbosiuba Ukwendu. All rights reserved.
This content was written by Jeanne Egbosiuba Ukwendu. If you wish to use this content in any manner, you need written permission. Contact BellaOnline Administration for details.