Maple Syrup Season and Maple Pie Recipe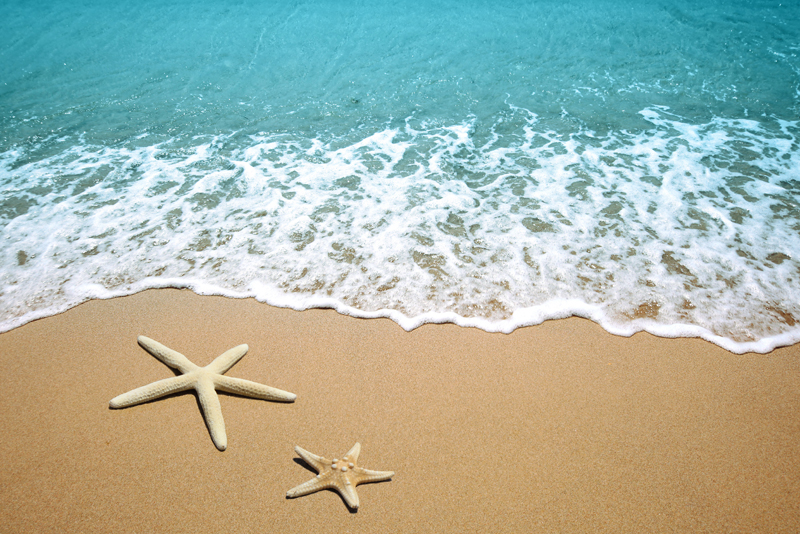 Warm days and freezing nights in early spring mean it's time to make maple syrup. Mid-February, to early April, is a busy time for maple syrup producers. Our neighbors in Canada lead the way in maple syrup production with almost 7 million gallons a year. Here in the United States, Vermont is the largest producer of maple syrup, at about 500,000 gallons a year. Read on for a fabulous Maple Cream Pie recipe.
Most states in the northeast and New England are in the business of "sugarmaking," or "maple sugaring." When the sap of the maple tree begins to flow many sugarhouses welcome guests to visit their sugarbush and to stop in for a maple syrup open house, demonstration, or tour. You can plan a fun day out or a weekend getaway to enjoy this sweet season and celebrate this "rite of spring," in the north.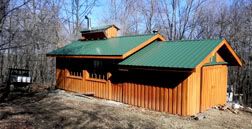 Maple syrup season is a welcome sign of spring in colder climates. Here in Ohio, the Ohio Maple Producers sponsor a March Maple Madness Tour. A number of maple producers open their sugaring operations so visitors can stop in and see how this "liquid gold," is made. The 2022 Driving Tour dates are March 5-6, and 12-13. Info on Ohio's driving tour can be found at https://www.ohiomaple.org/maple-madness.html. This year Ohio is also hosting the Fall in Love with Maple fall tour on October 9th. Many parks and historical venues highlight the sugar season with planned demonstrations, activities, or festivals. You'll find demonstrations of how the earliest sugarmakers, the Native Americans, used hot rocks to boil the sap and turn it into a valuable staple, maple sugar. For Ohio festivities visit www.ohiomapleproducers.com
B & B's and Inns love to plan maple-themed weekends to help guests celebrate sugaring time. The Vermont Maple Producers maple season usually can run from the end of February to mid-April. With the warmer temperatures, many maple producers are starting their seasons earlier in February. You can find maple season activities by region on their website, https://www.vermont.com/activities/maple-producers/. Vermont's 2022 Maple Producers Weekends are March 19-20 and 26-27. For more information on Vermont's maple season visit www.vermontmaple.org. This website also has a lot of information on how maple syrup is made and plenty of yummy recipes.
What would sugar season be without the chance to sample the sweetest of sweets. Pancake breakfasts are normally a highlight of sugar making. There's nothing quite like a pile of warm fluffy pancakes, hot off the griddle, a big dollop of butter, and a pitcher of warm fresh maple syrup to drizzle over the top. And though most of us know how good pure maple syrup is poured over pancakes and waffles, there are plenty of other delicious ways to use maple syrup. If you're a health-conscious eater, maple syrup is one of the easiest of natural sweeteners for our bodies to digest. There are lots of great maple cookbooks out there as well as many good recipes online. One of my favorite maple cookbooks is the Maple Syrup Cookbook, Over 100 Recipes for Breakfast, Lunch & Dinner, by Ken Haedrich.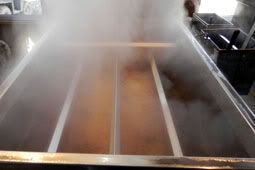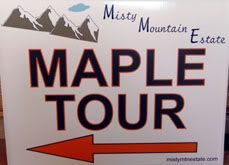 For information on a particular northeast state or Canada's maple festivities, begin by searching the Internet for the Maple Producers Association. The season only lasts four to six weeks so don't wait too long, or you'll miss it. If you don't live where you can get in on the sugaring fun, you can celebrate your own arrival of spring with a bottle of pure maple syrup, and a pile of warm pancakes or waffles. Or better yet, a big bowl of vanilla ice cream with maple syrup. Pure heaven! For maple syrup, honey, fabulous gourmet herb blends visit one of the local producers in my region: www.mistymtnestate.com/
Here's a fabulously decadent, rich maple pie that will make your guests OOhh! and Awww!!!.
Misty Mountain Estate Maple Cream Pie
Use only 100% pure maple syrup
1 can Sweetened condensed milk
2/3 cup Pure maple syrup
1/4 cup Toasted salted pecans or walnuts
2 cups Real whipped cream (or another whipped topping)
1 Baked pie shell or graham cracker shell
Combine condensed milk and syrup in heavy saucepan. Cook over LOW heat stirring CONSTANTLY until boiling. If not starting to thicken, boil an additional minute or two until it does. Cool. Pour into pie shell. Refrigerate two hours. Top with whipped topping and sprinkle toasted nuts on top. Makes 8-10 servings. Refrigerate leftover.
You Should Also Read:
Marvelous Marietta On The Ohio
Quilt Barn Driving Tours
Michigan's Harbor Country


Related Articles
Editor's Picks Articles
Top Ten Articles
Previous Features
Site Map





Content copyright © 2022 by Hazel M. Freeman. All rights reserved.
This content was written by Hazel M. Freeman. If you wish to use this content in any manner, you need written permission. Contact Hazel M. Freeman for details.