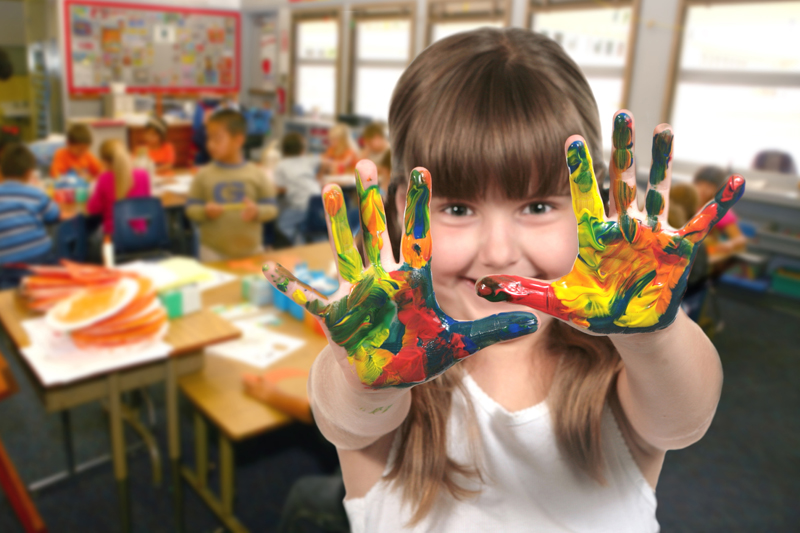 It's fun to have a brand new, original pencil pouch. It�s easy to do and you can make it special and express your individuality.

The project is done with felt which is very easy to work with and comes in many colors. First, take a moment to decide on a theme. To decide on a theme you need to think of your interests. Once the theme is decided the colors will be easier to choose. Or, if you would rather, choose your favorite color first and then think of a theme that goes with the color. At some point you will decide on the background color and the other colors will be chosen to go with your design.

Theme first: Ocean, fish, whales, starfish
Colors: blue, orange, gray, tan

OR

Colors first: Pink, purple, turquoise
Theme: flowers, butterflies, cupcakes

Supplies Needed:
- One felt square that is your background color
- One felt square in each color that goes with your theme or is needed for your design
- One skein of embroidery floss to match each felt square (or "Tacky" glue if you don�t want to sew)
- Button to match or contrast with your background felt square
- Sewing needles
- Scissors
- A few sheets of paper

A big decision you will need to make:
- What size do you want the pencil pouch to be?
- Will it hold just a few pens and pencils and maybe an eraser?
- Do you want something big enough to hold all your crayons?
- Do you plan to use it for your pencil crayons?

Your design:
- Will you freehand the design or copy from a picture or book?

Let's get going now that you have made some of the major decisions-

For purposes of this tutorial we will be making a #10 envelope size pencil pouch for holding just a few pencils, but the process is the same for any size.
On an 8 x 11 piece of paper trace around a #10 business envelope which measures 9- x 4. With a pencil and ruler draw a line 1/2 inch outside that line all around the first line to make a rectangle that is 10- 1/2 x 5 1/2. Cut this shape out - this will be your template for the front of the pouch. On another piece of paper trace the same shape but add 1- � � to the end to make a rectangle shape that is 12 1/2 x 5 1/2.

Cut out the two rectangles from the felt, if you have pinking shears it is a nice way to have the edges look special, but it is not necessary.
Set the larger piece aside while you decorate the front of the pencil pouch. Our pencil pouch is going to be purple with a pink flower on it. Cut out a pink flower and some green leaves and stem that will fit on the pencil pouch front. Lay the pieces on the front and pin them in place. Glue them in place or sew them in place with large running stitches.

Now it is time to sew or glue the front to the back of the pencil pouch. Lay the top piece on top of the back piece and sew or glue it together leaving the end open that has the longer piece.

There are several options for closing this pouch. I like to sew a large button on the front close to the end. And then I cut a slice (for the button hole) in the top of the long piece which will come over the top and button it closed. Sometimes it is easier to use two pieces of Velcro or a decorative safety pin.

You can be as creative as you want to- it is your project and you will be proud of it!






Related Articles
Editor's Picks Articles
Top Ten Articles
Previous Features
Site Map





Content copyright © 2022 by Launa Stout. All rights reserved.
This content was written by Launa Stout. If you wish to use this content in any manner, you need written permission. Contact Launa Stout for details.