Dendrochilum filiforme, The Golden Chain Orchid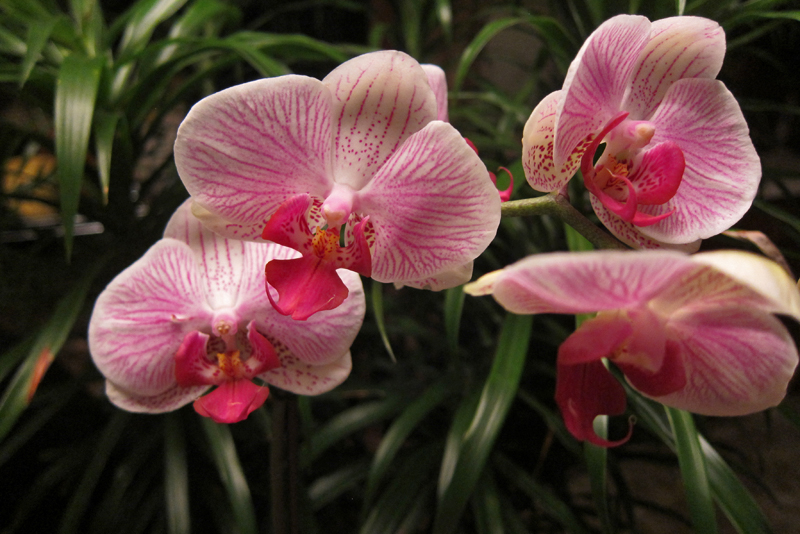 Dendrochilum filiforme
or the Golden Chain Orchid produces a fountain of yellow pendant inflorescenses with tiny flowers. This unusual little orchid is a native of the Philippines where it grows as an epiphyte. It requires good light year round and even moisture. The flowering season is mid-summer. When you click on the link to the Internet Orchid Photo Encyclopedia, be sure you check out all the different pictures of the species.
Most people grow these plants in pots rather than on mountings in order to better display the blossoms. It is important to note that in general Dendrochilums dislike being repotted, so be very careful about the medium you use so you can reduce the number of times that they need to be repotted.
The pseudobulbs are very small and thin, less than 1 inch (2-3 cm) tall, with slender leaves that may reach 5-6 inches tall (12 cm). The flower stems are reminiscent of grass stems and rise from the top of the developing pseudobulbs. They will sometimes reach 8 inches (20 cm) above the plant before turning down where the first flowers begin. The flowers are presented in two rows on the stem and can last for a month or so. They are bright yellow and highly fragrant.
There are approximately 150 species in the Dendrochilum family, all from Southeast Asia from Burma to the Philippines. Virtually all are epiphytic (growing on trees) although there are a few lithophytic (growing on rocks) and terrestrial (growing in the ground) varieties. All exhibit the same fountain flowering shape as described above. Their flower colors range from salmon pink, yellow, and greenish white through crystalline white. Many produce flowers several times a year and most are rather small, although there are some rather large ones. Most are happy in warm through cool conditions so are rather easy to grow for most people.
Here's a link to my article on the Miniature Orchid Series which has a listing of recommended vendors:
Miniature Orchid Series
.
You Should Also Read:
Miniature Orchid Series
Oncidium cheirophorum, a Small Dancing Lady
Equitant Oncidiums or Tolumnia


Editor's Picks Articles
Top Ten Articles
Previous Features
Site Map





Content copyright © 2021 by Susan Taylor. All rights reserved.
This content was written by Susan Taylor. If you wish to use this content in any manner, you need written permission. Contact Anu Dharmani for details.