Techniques - Wire Work & Metalsmithing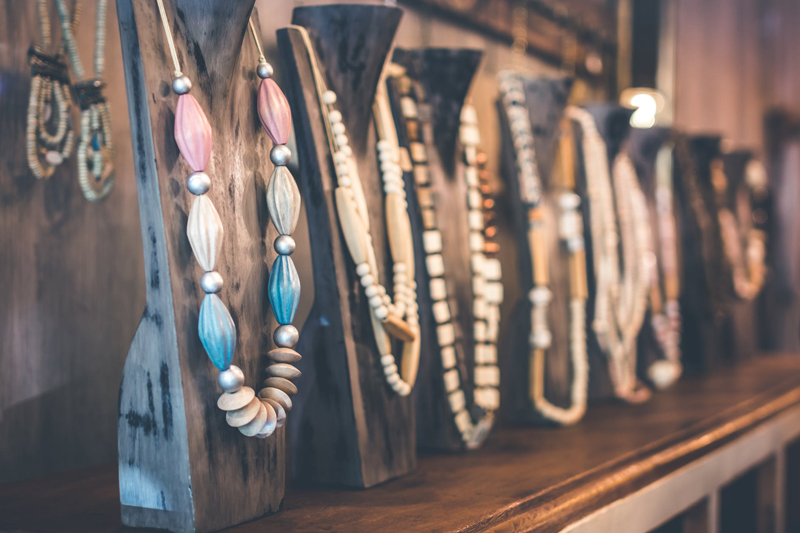 Click here to return to the Introduction to this article series.
Wire Work - Wire Wrap
Wire is a popular and versatile jewelry component that you may want to incorporate into your jewelry, even if it's not your favorite technique. Soft metal wires like copper, nickel, and sterling silver can be easily bent and curled into rings, links, and chain components using a collection of basic pliers and other tools.
These supplies will require a bit of an investment up front, and generally are more expensive than basic bead stringing supplies. However, a decent set of tools will last you many years, if not a lifetime.
Wire work is the favorite technique for making simple drop earrings, and you might even save money on pre-made findings by learning to make your own. Some crafters are attracted to wire work because wrapping techniques can be used that eliminate the need for soldering. As a beginner, you can purchase more affordable wire (typically copper) to practice with, and then move on to pricier sterling silver wire, gold filled wire, and even 24 karat wire, if you'd like.
Metalsmithing
Metalsmithing encompasses many varying techniques for working with metals, including fabrication using metal sheet, casting using molten metal, and raising and repousse. Most of the fine jewelry you see featuring set faceted gemstones and expensive precious metals are created using one or more of these methods.
Unlike the other jewelry making approaches I've described, metalsmithing is not well suited to self-teaching. It's very helpful to take even one introductory class in the area you're most interested in.
The most basic, yet rewarding, metalsmithing methods include shaping of metal sheet (by drilling, sawing, and filing) and soldering. Unfortunately, copper and sterling silver cannot be successfully soldered using a solder iron. You'll need an appropriate torch setup and an array of special chemicals that are harmful if not handled properly.
In fact it's the safety challenges, combined with the cost of equipment and studio setup, that discourage many from venturing into metalsmithing. The best approach is to begin by taking a basic jewelry metalsmithing class in your community. You'll be able to determine whether metalsmithing is for you, and you may even find that the studio where the class is held is available for personal use - eliminating the need to create your own studio and invest in expensive equipment.
Helpful publications:
Other articles in the Choosing a Technique series:
Bead Stringing and Bead Weaving
Links in this article point to websites not associated with BellaOnline.com. BellaOnline.com is not responsible for the material found there.
---
Chris Franchetti Michaels is a writer and jewelry artisan specializing in beaded designs, wire work, and metal fabrication. She is the author of the books Teach Yourself Visually: Jewelry Making and Beading, Beading Quick Tips, and Wire Jewelry Quick Tips. Visit her website BeadJewelry.net for more jewelry-making help and inspiration.


Related Articles
Editor's Picks Articles
Top Ten Articles
Previous Features
Site Map





Content copyright © 2021 by Chris Franchetti Michaels. All rights reserved.
This content was written by Chris Franchetti Michaels. If you wish to use this content in any manner, you need written permission. Contact Susan Mendenhall for details.