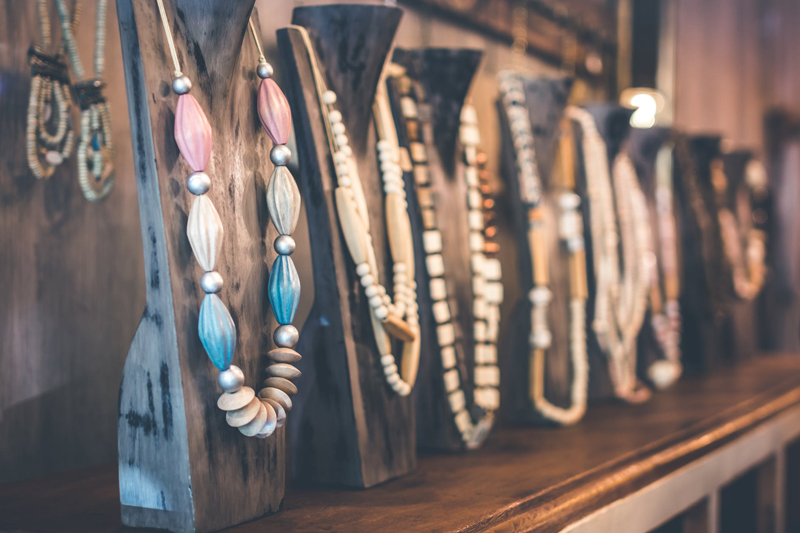 Leather cord is useful for stringing pendants and larger-holed beads, and it can even be woven and braided. Here are some tips to help you better understand the kinds of leather cord available and select the right cord for your projects.
Leather Cord Quality
Most leather cord sold by jewelry supply companies is manufactured in Greece or India. Greek leather cord tends to be higher quality, and it's more expensive than Indian cord. If you compare the two, you'll see that the Greek cord has a smoother surface texture and consistent diameter. Cord from India may be rougher, a little less flexible, and may have slight differences in diameter along its length. Some Indian leather also has a harsh chemical smell, which can be a bit annoying.
Types and Sizes of Leather Cord
The most common type of leather cord is round in shape. It's available in 0.5mm, ~1mm, 2mm, and 3mm diameters. Try to use the largest diameter possible for your single-strand jewelry designs. Use 0.5mm or 1mm for multiple-strand pieces or for weaving, wrapping or braiding.
Leather strip is a flat sheet of leather that has been cut very narrow. It has a squared or rectangular shape, and one side is often smoother than the others. Suede cord is similar to leather strip but tends to be thinner and softer. It is normally buffed to create a velvety texture on at least one side. Leather strip and suede are sized by width. Common widths are 1mm, 2mm and 3mm.
Braided (or woven or bolo) leather cord is round, larger in diameter than simple cord, and usually composed of several strands of leather strip woven together. Cord with 4 woven strands is called 4 ply and cord with 6 strands is called 6 ply. Braided cord may be hand-woven or machine-woven: Hand woven cord has a smoother, more cohesive appearance; and machined cord has a slightly rougher look. Some braided cord is available by the spool, but it is also sold in pre-cut lengths of 36 or 42 inches.
Finishing Leather Cord
You can finish leather cord with fold-over ends, coil ends, or end caps. With end findings that don't crimp or squeeze down over the cord, use a small amount of epoxy glue to hold the cord in place. (Roughing-up the cord ends with fine-grit sand paper before attaching the ends can help the glue to stick.) For a more casual style, try looping the ends and knotting or wrapping them with wire, creating knot-and-loop or bead-and-loop ends, or using adjustable sliding knots or beads.
Leather Cord Care
Leather should be kept away from excess heat and moisture, both while it's in storage and after it has become jewelry. You can apply leather conditioner, like mink oil, to your cord to protect it and make it more pliable. It's always a good idea to test conditioner on scrap leather before applying it to finished jewelry, especially with cord that has been dyed.
Click here to browse current leather cord listings on eBay.
You might also like:
Leather Braiding by B. Grant, available on Amazon.
Some links in this article point to websites not associated with BellaOnline.com. BellaOnline.com is not responsible for the material found there.
---
Chris Franchetti Michaels is a writer and jewelry artisan specializing in beaded designs, wire work, and metal fabrication. She is the author of the books Teach Yourself Visually: Jewelry Making and Beading, Beading Quick Tips, and Wire Jewelry Quick Tips.


Related Articles
Editor's Picks Articles
Top Ten Articles
Previous Features
Site Map





Content copyright © 2021 by Chris Franchetti Michaels. All rights reserved.
This content was written by Chris Franchetti Michaels. If you wish to use this content in any manner, you need written permission. Contact Susan Mendenhall for details.