Easy Handmade Jewelry Gift Ideas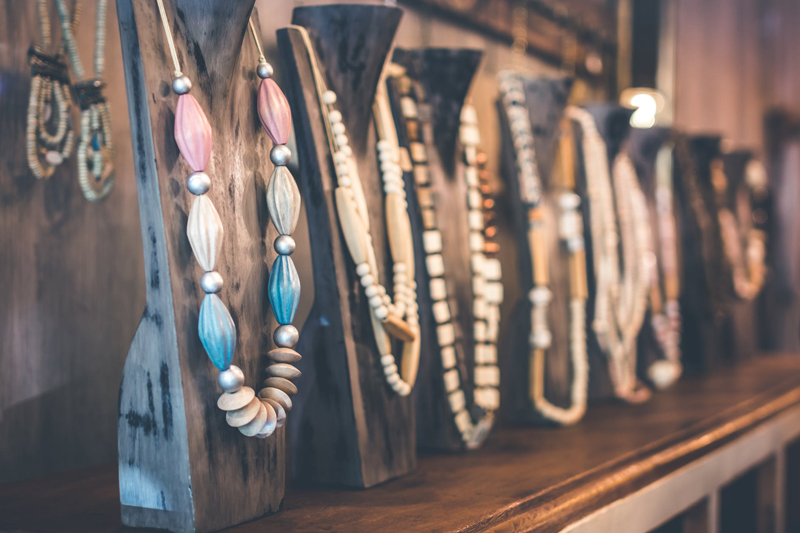 Affordable, quick, but personalized gifts are easy to create if you know the most basic jewelry making techniques. Here are some examples of simple projects to try, along with a few tips on gift sizing and packaging.
Gift ideas for women
1. Purchase a pre-made pendant at a bead store - or re-use a vintage pendant from an old necklace - and string it onto a length of organza ribbon. (If the pendant doesn't have a bail, add a large jump ring through the hole; or fold over the edges of the ribbon, string it through the hole, center it, and knot above the pendant.) Attach metal crimp ends to secure the ends of the ribbon (by squeezing them down using flat nose pliers), and add a premade clasp with jump rings.
These pretty, contemporary-style pendants recently caught my attention online:
~ Taina Heartman pendants, available at FusionBeads
~ Ceramic Dancing Box design pendants, available at ArtBeads
~ Tagua nut slice pendants, available at JewelrySupply.com
2. Check your bead stash for a few nice specimens for simple, bead-drop earrings. Just string a regular bead onto a pre-made head pin (or one you make yourself), make a loop at the top using round nose pliers, and attach the loop to pre-made ear wires (or, again, wires you make yourself). See my notes about packaging your gift jewelry, below, to make your earrings really stand out.
3. Make easy, eclectic multi-strand bracelets and necklaces using a variety of pre-made plain and beaded chains. Connect the ends with large jump rings or pre-made end connectors, and add a premade or wirework clasp. You can find a nice selection of pre-made chains at ArtBeads.com.

Gift ideas for men
1. Many men like the look of simple, leather cord jewelry. (If your gift recipient is vegan, use faux-leather cord instead.) Try making a necklace or bracelet by braiding together several strands of black or brown leather cord, and use wrapped wire or knots to secure the ends. Attach a toggle clasp using jump rings, or make a bead-and-loop closure.
To jazz up the design a bit, try stringing large-hole beads onto the cord as you braid. Some Hill Tribe silver beads and many African beads have holes large enough to fit over the most common sizes of leather cord.
2. Although it's technically not jewelry, a masculine-style key fob also makes a nice men's gift. Make a single strand of ethnic-style beads a few inches long, and attach it to a premade metal key ring. Or, try the leather cord approach again, but this time make a braided loop just large enough to hang over a key hook, and tie or wrap the ends together around a large jump ring that you slide onto the key ring. (As an easier alternative, braid a length of cord a few inches long, beginning with the cord wrapped around the key chain. Wrap or knot the loose end and leave it as a tassel.)
You can find some nice split rings to use for keychains at Fire Mountain Gems and Beads, and leather cord is available by the foot or yard at most brick-and-mortar and online bead shops.
Jewelry sizing
One nice thing about making jewelry gifts is that you can make them in customized sizes to properly fit your gift recipients. Of course, that's only useful when you actually know what size of bracelet, necklace, or anklet she or he wears. When you don't, try to make your designs adjustable by adding an extender chain - or limit your design to something that is "one size fits all," like earrings.
Packaging jewelry gifts
Keep in mind that packaging has a big impact on the perceived value of jewelry; not just from a monetary-expense standpoint, but also in emotional value. You can make a very simple handmade jewelry gift feel special and unique by presenting it in a creative package. For example, try making your own earring cards by stamping or collaging on sturdy paperboard, poking holes for the ear wires using a straight pin. (You can also order customized, decorative cards like the MiniCards available from Moo.)
Bracelets and necklaces can be packaged in cloth drawstring bags or cardboard jewelry boxes with tissue paper. If you want to re-use an old cardboard jewelry box, try collaging it with strips of coordinating origami paper to cover up any branding. Place your small, decorative small box inside a larger, plain packing box for gift-wrapping. (This also makes your gift look less like jewelry, so its contents will be more of a surprise.)
~ Find more crafty gift ideas in the ArtBeads.com Learning Center
~ Learn more about basic jewelry techniques with an illustrated book for beginners
---
Chris Franchetti Michaels is a writer and jewelry artisan specializing in beaded designs, wire work, and metal fabrication. She is the author of the books Teach Yourself Visually: Jewelry Making and Beading, Beading Quick Tips, and Wire Jewelry Quick Tips. Visit her website BeadJewelry.net for more jewelry-making help and inspiration.
You Should Also Read:
Jewelry Making Shop
Getting Started Bead Stringing - Preparation
Leather Jewelry Cord


Related Articles
Editor's Picks Articles
Top Ten Articles
Previous Features
Site Map





Content copyright © 2021 by Chris Franchetti Michaels. All rights reserved.
This content was written by Chris Franchetti Michaels. If you wish to use this content in any manner, you need written permission. Contact Susan Mendenhall for details.