Crochet Jewelry Book Review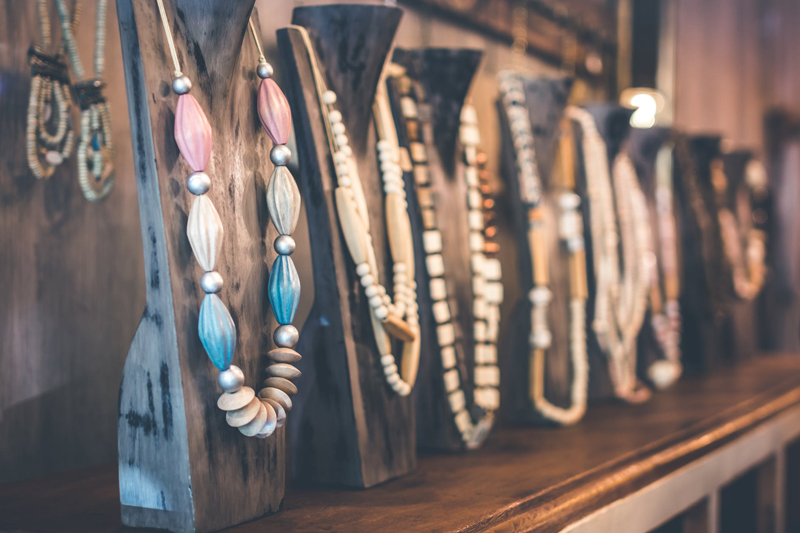 Crocheting first became popular in Europe in the 1800s, and it remains a favorite technique for handcrafting fabric out of yarn. Recent jewelry trends have also embraced crochet as a method for creating bold, uncommon textures in jewelry made from fiber or metal.
In Crochet Jewelry: 40 Beautiful and Unique Designs (Interweave Press, 2007), by Waejong Kim and Anna Pulvermakher, eight experienced designers demonstrate how to make a wide range of fun crochet jewelry projects, from necklaces to earrings to finger rings. Many of these projects look complicated, but they all require relatively basic skills. According to one of the authors, "You don't have to be a crochet expert to make this jewelry - just have fun and experiment."
The first chapter is an introduction to the tools and materials you'll need to get started, and it also covers basic techniques. Most crochet jewelry is made using fiber thread or metal wire (or a combination of the two), but some of the projects here also call for elastic or natural-fiber cord.
All kinds of beads are used in the projects, and some even feature colorful sequins. The findings are similar to those you'd use for traditional jewelry, like clasps, ear wires, jump rings, and base findings. Buttons, plastic rings, watch faces, and belt buckles are also used. The tools and equipment are typical jewelry-making supplies combined with an array of crochet hooks and sewing needles, a hairpin loom, stitch markers, and basic items like sharp scissors and a measuring tape.
The technique instructions in the first chapter are superb. (In fact, I wish I'd had this book several months ago when I started crocheting again and was trying to re-learn everything I'd forgotten.) All the basic, and some of the more advanced, crochet stitches are stepped-out and clearly demonstrated with both photographs and artwork. Shaping, working in the round, crocheting tubes, edging, stitching and finishing are then explained in the same helpful manner. You'll even learn the easiest way to keep track of stitch counts and how to make crocheted edges neat and clean.
The projects begin with the second chapter, which is devoted to necklaces. Here, you can pratice crocheting around beads and get comfortable crocheting with wire. The third chapter contains bracelet and watch-band projects that range from cuffs to loopy fabric chains to rows of crocheted flowers.
Chapter 4 is the earrings chapter. This is where you'll learn how to make trendy crochet earrings, including intricate-looking crocheted hoops and chandeliers. Chapters 5 and 6 cover pins/brooches and finger rings. It can be difficult to find good crochet patterns for these types of jewelry, and this is an excellent source for them.
As usual with Interweave's books, this one is full of fabulous color photos to help you visualize techniques and see what your finished projects should look like. If you love crochet and would like to experiment with some new approaches, or even if you've never crocheted before but would like to try, I think you'll find this book to be useful, fun, and inspiring.
Crochet Jewelry: 40 Beautiful and Unique Designs is available at Amazon.com and most local book stores.
---
To learn more about basic jewelry making using beads, wire, and cord, pick up a copy of my book Teach Yourself Visually: Jewelry Making & Beading, also available at Amazon.com and most fine book stores.
---
Chris Franchetti Michaels is a writer and jewelry artisan specializing in beaded designs, wire work, and metal fabrication. She is the author of the books Teach Yourself Visually: Jewelry Making and Beading, Beading Quick Tips, and Wire Jewelry Quick Tips. Visit her website BeadJewelry.net for more jewelry-making help and inspiration.
You Should Also Read:
Crochet and Knit Wire Jewelry - Book Review
Simple Lace and Other Beaded Jewelry Patterns - Book Review
Advanced Beadwork by Ruth F. Poris - Book Review


Related Articles
Editor's Picks Articles
Top Ten Articles
Previous Features
Site Map





Content copyright © 2021 by Chris Franchetti Michaels. All rights reserved.
This content was written by Chris Franchetti Michaels. If you wish to use this content in any manner, you need written permission. Contact Susan Mendenhall for details.