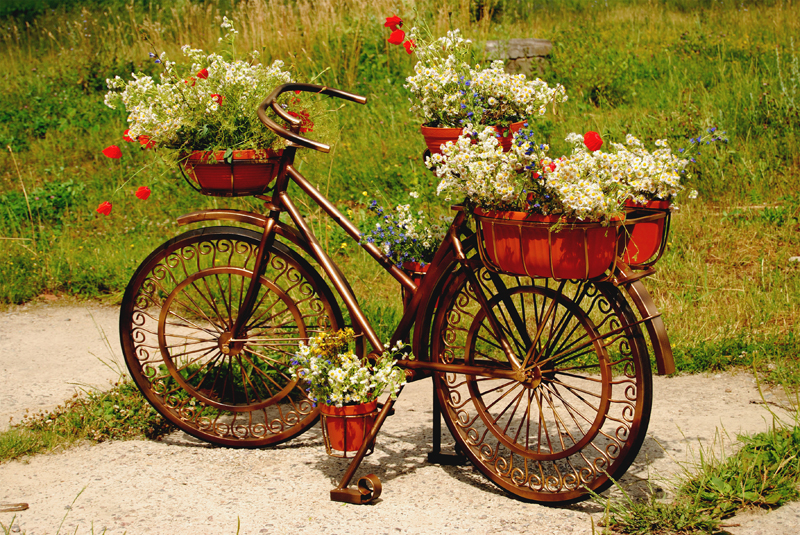 Are things dry around your neck of the woods? Have you had drought for a long time? Are the water restrictions biting? Do you want to be water-wise with your containers? Would you like to conserve water while still having a decent garden? Do you want a minimal fuss garden to care for? Are you away from home for days at a time? If you answered maybe or yes to ay of these pesky questions, then know that there is a way of watering which has been tried and tested for thousands of years, and it works today for modern gardeners, just as it did then.

Fan Shêng-chih who lived in the first century BCE (32 – 7 BCE) wrote an agricultural book which includes information about the use of buried clay pots for irrigation in China more than 2000 years ago, but come to think of it, this system of water usage is probably older than that by far. Other historians tell that the system was brought to America by the Spanish and then adapted for local use by Native American gardeners and farmers. It doesn't really matter where this came from or who started it, it's that we have the knowledge today that's important. They say 'if it ain't broke, don't fix it,' and Ollas are an exact example of that sentiment. This method of using buried clay pots for irrigation is currently alive and well and in popular use globally, in many instances surpassing alternative modern drip irrigations systems.

Otherwise known as Olla (say oy-ya) or clay pot irrigation, these are buried alongside the plants and water is seeps out slowly through the porous clay giving the surrounding plants just the right amount of moisture they need to thrive. It's a very efficient and controlled irrigation system that is ideal for small space gardening, containers and small farmers. Because just the right amount of moisture is released according to the conditions and the plants, plants grow prolifically – it is almost as if the plants and the clay pots talk to each other!

Olla pottery jars and pots come in different sizes and a few designs, but the standard one seems to be like a large inverted light bulb, sort of pear-shaped, with a long neck and round bottom. I have a crystal wine decanter of a similar design. They are hand-made terracotta vessels, unglazed and they come with a lid which stops the water from evaporating.

There are many reasons to use Olla pots for watering, and each, in context, is as important as the other. Water conservation comes to mind immediately, but buried clay pots can be used in dry climates, during drought related water restrictions; in larger contained raised-bed-gardening at any time but especially in areas where there is no fresh water available (in areas affected by salinity for instance). The container gardener who grows anything – flowers, fruit, herbs, vegetables, and not only for than home consumption, will produce high yields and harvests … it is all so simple, I am sorry I never learned about this before!

So – how do you use Olla pots?

Bury them into the soil (in containers or the ground) leaving the neck sticking out. Place them in the middle of your container or demarcated area in the raised bed or garden. By the middle I mean consider the size of the area you are going to grow whatever in, then mark out places for planting the Ollas. It will be easy in a big round container because it will be in the centre – but if you have a rectangular raised bed, then mark a middle line with your finger or a stick then 'plant' your ollas in a zig zag pattern (just off the centre line) about 5 feet apart. That way they will each cover (and overlap a little) a diameter of about 3 feet. Plant your vegetables or herbs in a circle, bigger ones on the outer rim, smaller ones towards the centre, but fill all the spaces - the plants will sort themselves out. This is the idea, but you can decide how the olla pot placement will help the crop you are growing.

Once the ollas and the seedlings etc. have been planted into the prepared soil (as always), fill your ollas with water placing the lid on the top to prevent water loss and insects. Your pot should need refilling every third plus day or so – depending on your conditions and what you have planted. Just top them up daily until you get into your rhythm.

While seedlings are still growing and establishing their root systems, they will need surface watering, but very quickly they will be drawn towards the moist clay jars and will intercept the water before this seeps unused into the surrounding dirt. This absorption is such that plants near the ollas develop strong root systems, grow better, faster, are more resistant to disease and are noticeably healthier with longer seasons. It's amazing what concentrated, regular and 'just-enough-water' does to yields … blooms or edibles!

If you introduce Ollas to your containers and raised beds for watering, your garden becomes self-contained and water efficient, you will avoid run off and evaporation, your water bill is likely to come down, it is a low maintenance and easy to manage system, you will get a high 'production' from whatever you are growing and, just as containers moveable and adaptable, olla self-watering pots are balcony, deck, stoop and patio friendly … and they can be used over and over again, so investing in them seems smart gardening.

What do you want your container garden to do?

................................................................................

CASUAL VISITOR … and just browsing? Why not sign up to the Container Garden newsletter? It won't matter what space or how many pots you have or even how much time you have to spend in your container garden; what will matter is that you get our reminders and good advice and ideas all in one interesting article.



You Should Also Read:
Watering Watchpoints for Plants
Choosing your Container
Water Ideas for Holidays


Related Articles
Editor's Picks Articles
Top Ten Articles
Previous Features
Site Map





Content copyright © 2022 by Lestie Mulholland. All rights reserved.
This content was written by Lestie Mulholland. If you wish to use this content in any manner, you need written permission. Contact Lestie Mulholland for details.