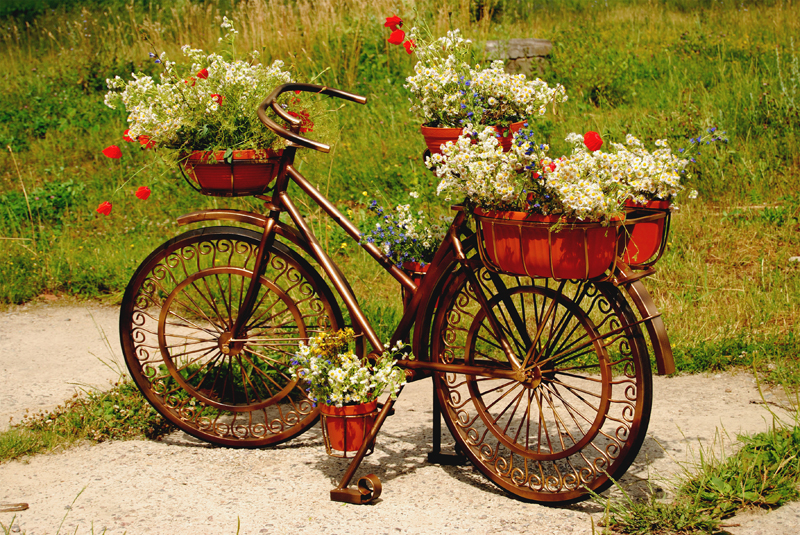 Giving a gift for Valentines' Day? Go green. Go pretty. Go easy to grow. Go give a plant!

Snoopy, that wise dog, said "All you need is love. But a little chocolate now and then doesn't hurt." Of course he was right, and what easier way to find love in your garden but grow something gorgeous? As for the chocolate, that's easy too, just make sure your sweetie behaves when the time comes for giving away a token of love.

With planning, you can fill your containers with heart-shaped flowering plants and leaves for an extended Valentine's Day all year as you contemplate the love that surrounds you all the time anyway.

Below are some notes on just three of my favourites, but a person could write a book like a dictionary just noting down all the names of 'hearty' plants. Treat yourself soon, have some fun and go to the nursery to see what they have in stock or how they can help you.

For a container garden with heart you could:

** grow and train any close knit hedge like Box (Buxus sempervirens) or Sheena's Gold (Duranta erecta) into a heart shape in a low square container. This could be an on-going reminder of how sweet life can be.
** grow and train miniature Ivy over a wire or wooden frame in the shape of a heart.
** make and grow a heart-shaped cactus wreath.
** grow a succulent pot offsetting a heart-shaped design with hard mulch like a white stone surround, a red pot would certainly look lively.
** find a heart-shaped container (or make your own hypertufa one) and plant it up with red and white flowers.

When it comes to gardening with hearts, it's imagination all the way! All of the above garden actions would tick the right boxes for a perennial Valentine's container garden but nature has certainly stepped up to the plate and there is a plethora of versatile and beautiful plants with heart-shape leaves and flowers that provide forever pleasure and are easy enough to grow in pots.

HOSTAS
These perennial plants love filtered sunlight and medium shade and come in many shapes and colours with beautiful leaves, many being heart-shaped. Next time you go shopping ask for 'Hearts Content' or 'Sweetie' or 'Heartsong.' They love moist well-drained soil and are easy to care for. Do not disturb the root ball when transplanting from the nursery, remove the plant carefully from the plastic grow bag and plant it straight into a prepared container of compost, just be careful to leave space at the top of the pot for mulch. Hostas are adaptable and hardy plants, they do not like deep shade, they like bright light or filtered sunlight (not direct sun) and are very well suited to containers. I think you will have a tough time choosing which one – they are all so pretty!

CALADIUM
Oh how nice and colourful these are in combinations of deep red, lavender, pink, whites and greens … all with the most beautiful leaves around, and many heart-shaped to boot! Caladiums are readily available at the nurseries, and are also known as Angel Wings or Heart of Jesus. They are easy to grow and do well in containers.

They are tropical plants and grow from tubers, prefer dappled shade (and bright light but not direct sunlight) and moist, well-drained rich soil. They are so varied that you could have a Caladium container garden only of the different varieties and never get bored. The next time you go shopping ask for 'Candidum' (green and white) or Carolyn Whorton (pink, white and green) or 'White Wing' (green and white speckled with a bright pink spot as the heart dips) These plants are deer and rabbit resistant but WARNING: they are toxic to dogs and cats.

HEARTLEAF PHILODENDRON (aka The Sweetheart Plant – Scandens oxycardium)
Here is an evergreen choice for you … this climber will just go on and on and on and with minimal care will always look lush and green (depending on the variety you choose). It will thrive in partial shade, filtered or indirect light and moderate temperatures but does not like windy spots or wet feet so make sure your container has those ever important clear drainage holes.

Keep well-watered and moist and during hot weather you can mist the leaves. Fertilize regularly with any liquid fertilizer and keep the plant leaves clean and trimmed. This plant is suited to larger containers as a 'spiller', it can be a 'thriller' too if allowed to grow up a centre moss stick and will also do well in hanging baskets. Versatility and hearts together – good news. WARNING: the plant is toxic to dogs and cats (and small children who are wont to eating leaves in the garden!)

For alternative plants similar to the Heartleaf Philodendron, try a GREEN NEPHTHYTIS (aka the Arrowhead plant), another vine climber with pretty green and white-veined leaves – heart-shaped of course, or look for a GOLDEN POTHOS (aka Devil's Ivy) which is a good-looking climber with yellow and green heart-shaped leaves, can grow well in full sun or partial shade and doesn't need deep watering as it has shallow roots – likes moist soil and needs some support for climbing.

If you already have the above plants in your container garden or are looking for other ideas you could try:

** BLEEDING HEART (Dicentra spectabilis or Dicentra Formosa), for arched stems of delicate heart-shaped flowers;
** EPIMENDIUM, is a shady perennial with heart-shaped leaves;
** SIBERIAN BUGLOS (Brunnera macrophylla) is a shady shrub with heart-shaped leaves and tiny blue flowers;
** LILAC comes in a wealth of colours, is a fragrant-flowering versatile shrub with evergreen heart-shaped leaves, and needs 6-hours sunshine daily. Choose a dwarf variety for your containers such as Minuet, Pixie or Munchkin;
** CLIMBING HYDRANGEA would be a dramatic choice if you have a large container and a wall that can support this fragrant vine with heart-shaped green leaves. It is an adaptable creeper, it can do with and flower in full sun or dappled shade and will become a permanent fixture;
** FLOWERING CYCLAMEN (Cyclamen persicum) looks good all the time with its heart-shaped leaves and delicate sweetly scented flowers. It likes bright filtered light, is a firm favourite, avoid watering the leaves (lift them to water the soil)Cyclamen go dormant, and WARNING, it is toxic so keep away from pets and toddlers;
** ANTHYRRIUM … for a double treat as both leaves and 'flowers' are heart-shaped, it likes humid conditions (so spray regularly), filtered bright light and hates wet feet. This is a really handsome plant and would make a fine gift at any time of the year.

Remember always, as with all your containers at ay time, presentation is everything and just as you feel good when you look good – your plants do too!

Go for well-chosen clean, right-sized, uncracked containers, be mindful of individual plant requirements, keep your pots in good shape, plants trimmed, watered, fertilized and mulched and sit back and enjoy nature in action with some of Snoopy's chocolate!

What do you want your container garden to do?

...............................................................................

CASUAL VISITOR … and just browsing? Why not sign up to the Container Garden newsletter? It won't matter what space or how many pots you have or even how much time you have to spend in your container garden; what will matter is that you get our reminders and good advice and ideas all in one interesting article.



You Should Also Read:
Decor Theme Ideas
DIY Hypertufa Pots
Buying Container Plants


Related Articles
Editor's Picks Articles
Top Ten Articles
Previous Features
Site Map





Content copyright © 2022 by Lestie Mulholland. All rights reserved.
This content was written by Lestie Mulholland. If you wish to use this content in any manner, you need written permission. Contact Lestie Mulholland for details.