Measuring Bracelets with the EZ Bracelet Sizer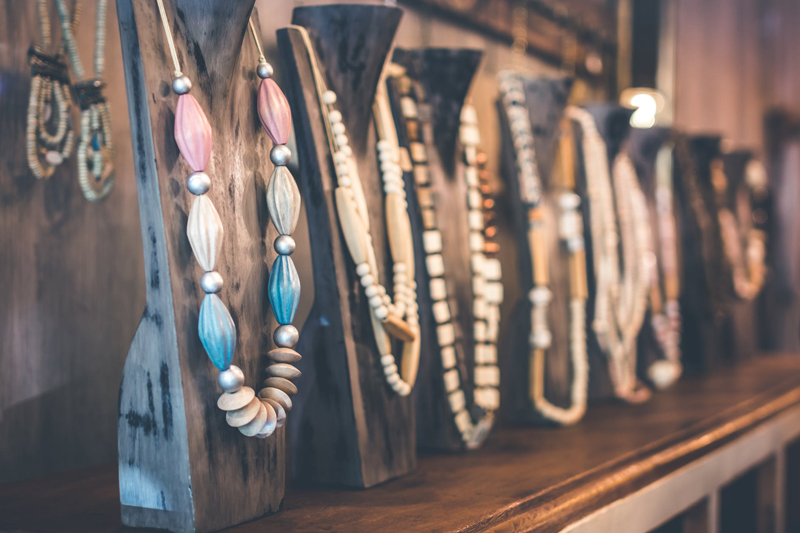 Bracelets are traditionally sized by length. For example, many bracelets are made in 7.5- or 8- inch lengths. This convention works pretty well for most chain jewelry, but not so well for beaded bracelets. That's because a beaded bracelet's fit depends on the diameter of its beads. The larger the beads, the smaller the inside circumference of the bracelet will be. So, the same person will wear a longer bracelet if it has larger beads, and a shorter bracelet if it has smaller beads.
The EZ Bracelet Sizer can help you make beaded bracelets to fit specific wrist sizes, and to better describe the sizes of bracelets you've made. It's a hollow cone made of sheet plastic with size markings along its outer surface. I use the standard model (shown to the right), which covers a range of sizes from a 4-inch toddler's bracelet to a 12-inch anklet. A shorter version - the EZ Bracelet Sizer Mini - measures 5 inches through 8 3/4 inches.
It works like a sized ring mandrel: you can slip a finished bracelet over the cone to measure the bracelet's inside circumference. (Since most people wear bracelets that are about a 1/2 larger than their wrist circumference, you simply subtract a 1/2 inch from the Sizer measurement to determine a bracelet's target wrist size.)
The Sizer arrives as a flat sheet that you'll need to roll into a cone shape yourself, and then secure using a sticky strip. This isn't too difficult, but you need to go slowly and make sure you line up the measurement marks as accurately as possible. (Mine creased a little as I struggled to assemble it, but not enough to cause any real problems.) Once the cone is assembled, you cannot take it apart again. It's relatively soft, so find a safe place to store it where it won't get crushed or pinched.
To make a custom-sized bracelet using the EZ Bracelet Sizer, first measure the wearer's wrist circumference using a measuring tape. Add a 1/2 inch to that measurement to determine what the circumference of the bracelet needs to be. String on the first several inches of beads, then temporarily tape or clamp the loose end of the strand.
Wrap the strand around the EZ Bracelet Sizer at the mark that matches your desired bracelet circumference. Continue adding beads until the bracelet - including its clasp - will fit around the EZ Bracelet Sizer at that mark, then finish the bracelet as usual. (Don't forget to figure in the length of the clasp, or the bracelet will be too large.)
The EZ Bracelet Sizer uses a simple concept, but it works. I find it to be a more accurate way to size bracelets, and helps me communicate bracelet sizes to my customers. It's also affordable; as of this writing, you can usually find one for under $10.00 with free or inexpensive shipping.
I recommend the Sizer especially if you make jewelry to order or if you sell on the internet, since customers are unable to try on your jewelry before they buy it. Just be sure to take the time to assemble the cone properly, and store it in a safe location.
The EZ Bracelet Sizer is available at CreateForLess (click below and enter EZ bracelet in the search box):
You can find the EZ Bracelet Mini at Artbeads (click below and enter EZ bracelet mini travel in the search box):
Some links in this article point to websites not associated with BellaOnline.com. BellaOnline.com is not responsible for the material found there.
---
Chris Franchetti Michaels is a writer and jewelry artisan specializing in beaded designs, wire work, and metal fabrication. She is the author of the books Teach Yourself Visually: Jewelry Making and Beading, Beading Quick Tips, and Wire Jewelry Quick Tips.
You Should Also Read:
Supplies and Tools
Beading


Related Articles
Editor's Picks Articles
Top Ten Articles
Previous Features
Site Map





Content copyright © 2021 by Chris Franchetti Michaels. All rights reserved.
This content was written by Chris Franchetti Michaels. If you wish to use this content in any manner, you need written permission. Contact Susan Mendenhall for details.