Book Review of Brother John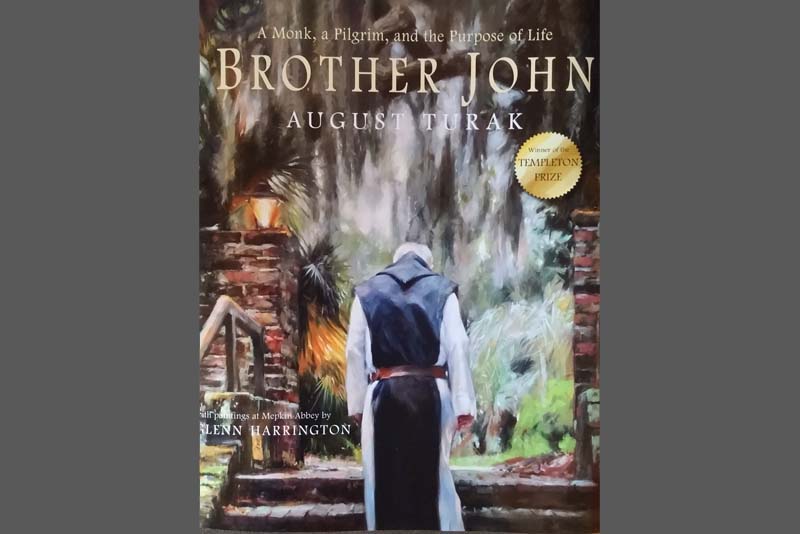 This short book is the true story of a Christmas encounter between the author and an umbrella wielding Trapist monk. August Turak, in the midst of a midlife crisis, found meaning and what he considered the purpose of life while on retreat in a community of Roman Catholic monks.
The book is developed from an essay that won the John Templeton Foundation "Power of Purpose" Essay contest.
August Turak, battling depression, panic and despair, was on a spiritual retreat at Mepkin Abbey. His discovery of life purpose began with a sixty year old Trapist monk by the name of Brother John displaying one small part of his life of service and selflessness. It was midnight, after the Christmas service and party, when the exhausted Mr. Turak began his journey to his room, in the rain. Brother John, who had been up before three a.m. was waiting to walk him across and shelter him with his umbrella. This selfless act by a humble monk sparked an awakening that led to the prize winning essay and to this book.
Though is seems a simple story, Brother John is meant to be read slowly and thoughtfully. Some of the subtle insights can be missed. The author tells of acts of service, not momentous in the eyes of the rest of the world, that might make a difference in possibly one other life. He talks of acts transformed from drudgery to effortless privilege, such as standing in the rain, four hours after bedtime, to help others to their rooms under an umbrella. He writes of trusting in something we don't understand to open ourselves up to the miraculous.
The person the book doesn't mention and my questions as an evangelical Christian.
Does the miraculous change begin with the first step of selfless service or does it begin with accepting the Lord Jesus Christ as Lord of life and thereby receiving the indwelling Holy Spirit? I believe that while any human being is capable of changing their life direction, the only purposeful and lasting change, that can be called miraculous, is rebirth through Jesus Christ. He is the one who provides the power to live such a life.
Not to be missed:
If for no other reason, see the book for the over twenty full color paintings by internationally recognized artist Glenn Harrington, depicting life at Mepkin Abbey. After reading the book twice, I returned many more times to view the stunning scenes. I suggest getting the print version. Brother John is available on kindle, but the media doesn't do the artwork justice.
The setting:
Mepkin Abbey is a community of Roman Catholic monks established in 1949 on the site of the historic Mepkin Plantation located on the Cooper River, north of Charleston, South Carolina.
Note: This book was provided to me free of charge with no request for a positive review. The opinions expressed are my own.
Find it at Amazon.com
Brother John: A Monk, a Pilgrim and the Purpose of Life
For your recreational reading.
You Should Also Read:
God Wrestling Book Review
How to Be Heard in Heaven - Review
Becoming a Vessel God Can Use - Review


Related Articles
Editor's Picks Articles
Top Ten Articles
Previous Features
Site Map



Follow @LynneChapman
Tweet





Content copyright © 2018 by Lynne Chapman. All rights reserved.
This content was written by Lynne Chapman. If you wish to use this content in any manner, you need written permission. Contact Lynne Chapman for details.