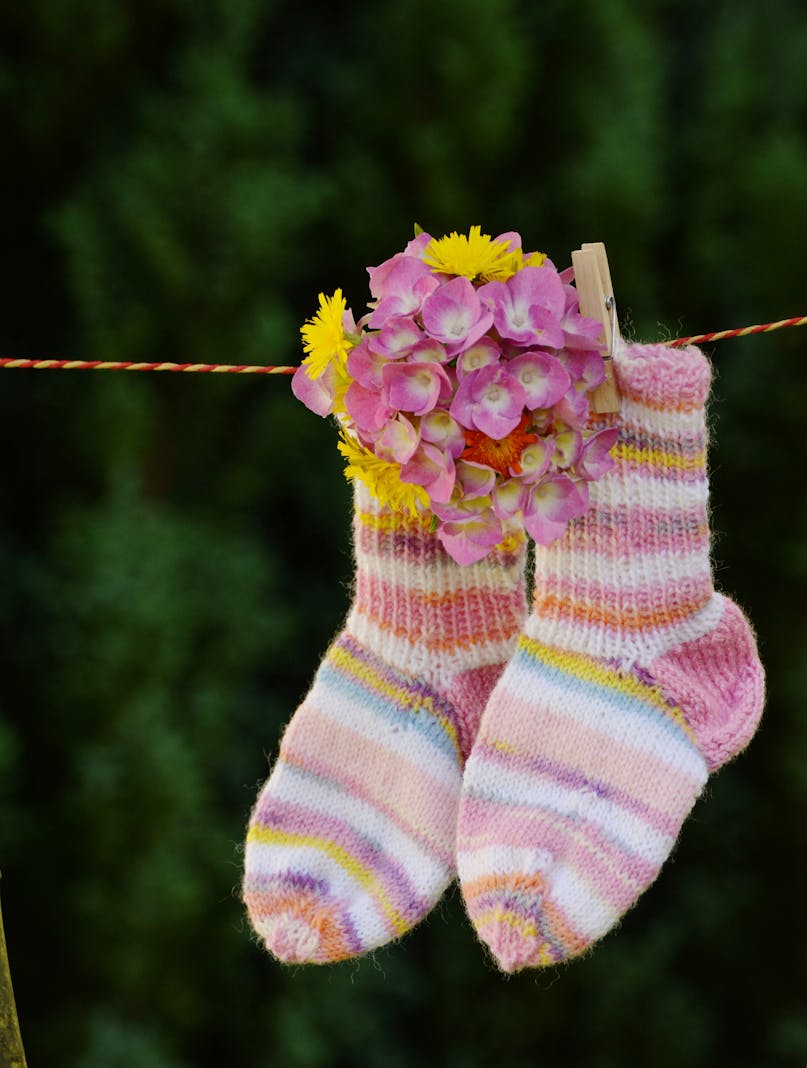 Socks are very small projects, and its tempting to forego the gauge swatch. After all, I reason to myself, I've knitted a dozen pairs of socks to fit my feet. I know the number of stitches to cast on. Do I really need to do this before each and every pair of socks?

Well, there are two answers. One is of course: "yes you do." The other is: "go ahead and skip it, if you're willing to rip out and start over if necessary." While it's true that socks are usually knitted on fingering weight yarn and thus tend to keep their size, the gauge swatch (or first attempt) will tell you a significant amount about how much you will like the final product.

Consider: socks take a great deal more abuse than other articles of clothing. For one, they are often shoved into shoes. For another, they are walked on almost constantly while being worn. Socks thus rub the entire foot, and experience abrasion. For this reason, it makes sense to knit a sock with the smallest knitting needles that comfortably work with the yarn in question.
If you're knitting a sock freehand, however, it's something that you need to consider when you decide which needles to use. Written patterns were probably created by someone who took these facts into account, but if you start the project and end up with a relaxed gauge, realize that the sock will wear out much faster than if you used smaller needles. (Perhaps you're creating house slippers, or socks to be worn primarily when lounging and the wearability doesn't seem to be an issue. On second thought, however…. You're creating a hand-made object, using your time and effort. You're using the best materials you can afford. Don't you want the finished object to last as long as possible?)

For this reason, I generally knit all fingering weight socks on a size 0 needles. This means that the pattern gauge doesn't always match my gauge, which in turn means that I might need to alter the stitch count and thus the pattern. Maybe this means that I'll follow the pattern for the leg but then decrease and then knit in stockinette for the foot section; maybe this means I'll play with the pattern repeat. If I don't feel like doing that much math, I may choose a different pattern, one with a stitch count that will fit my foot measurements.
Keep in mind also that lace patterns are stretchier than stockinette, while cable and stranded patterns are tighter. I've knitted enough pairs using the first that I feel comfortable guessing; I've knitted very few of the latter two and so need to check my gauge more carefully in those situations. A complexly patterned Austrian pattern using twisted stitches? A pattern that calls for heavier yarn? I'd want to make a gauge swatch and then try on the sock after the first few inches to check the fit. I'd also go into the project expecting to rip it out a few times if necessary. This kind of mindset makes the frogging process less onerous for me.

Socks are the bread-and-butter of knitting projects; once you've made a pair, there's a very good chance you'll want to make more. Keep in mind that they need to be sturdier than other wearables and be prepared to spend some time adjusting to make sure that they will fit and wear well. Then cast on, and enjoy your knitting!



You Should Also Read:
Knitting Math for Adapting Gauge
Swatches and Gauge


Related Articles
Editor's Picks Articles
Top Ten Articles
Previous Features
Site Map





Content copyright © 2022 by Korie Beth Brown, Ph.D.. All rights reserved.
This content was written by Korie Beth Brown, Ph.D.. If you wish to use this content in any manner, you need written permission. Contact Korie Beth Brown, Ph.D. for details.